How Digital HRMS is the Solution to Inconsistent Employee Information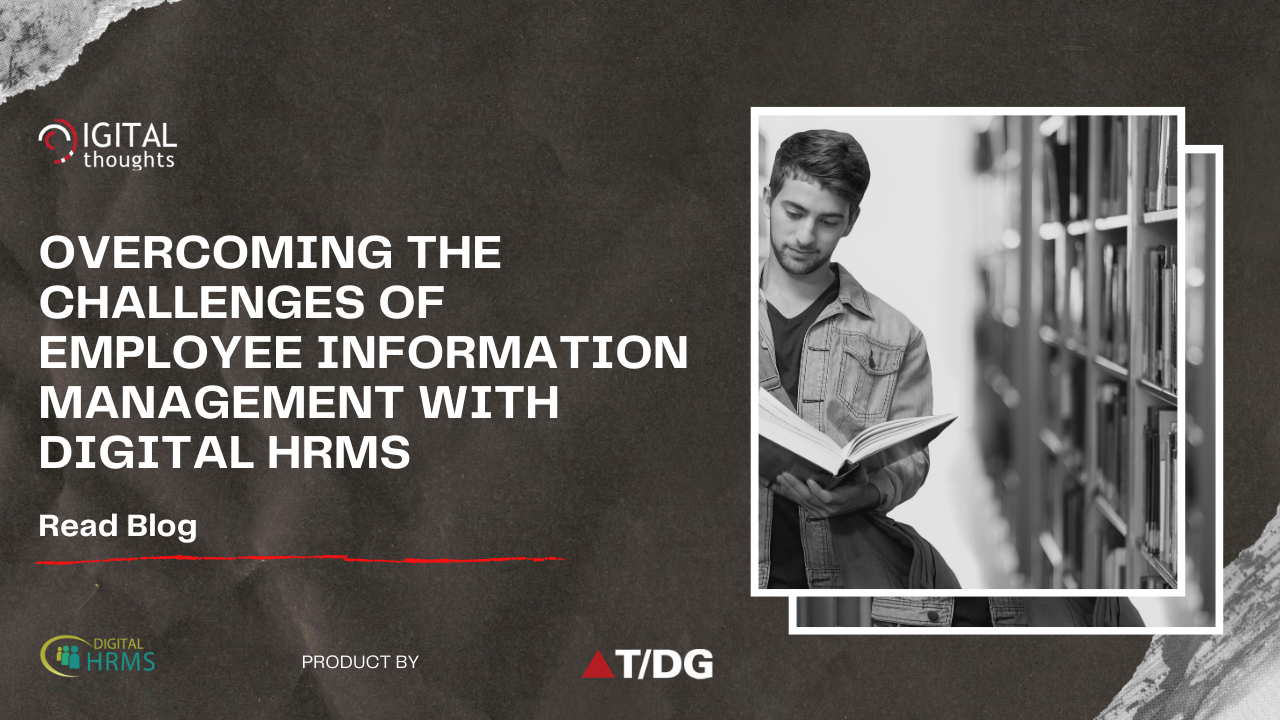 Information management is one of the biggest challenges faced by enterprises today even as data continues to emerge as one of the biggest contributors to the success of enterprises. Today, enterprises are dealing with enormous volumes of data, thanks to digitalization, and the first step towards realising the potential of this data is the right strategy for data management.
The HR department has the responsibility of managing the largest volume of data in an organisation. This is because the HR department manages the data of all the employees in the organisation, in addition to the data from different aspects of employee management – leave and attendance, working hours, productivity management, travel management, and so on. Following are some of the key challenges faced by the HR department when it comes to management of employee information.
Employee Information Management Challenges
Use of paper-based system for managing information
Errors in the data because of the manual process
Limited access to the employee data that is scattered across multiple databases
Finding relevant information a time consuming process
Lack of a systematic approach to information management
Multiple instances of data duplication
Making updates in the data a challenge
No provision for employees to access or modify the personal information
Lack of a search functionality for employee information
Entering information at the time of onboarding a challenge
Not sufficient data available for payroll and benefits administration to the employees
No provision to apply Data Analytics for relevant insights
More time and efforts spent by the HR department to manage and find the information of employees as and when required
So, we see that there are multiple challenges when it comes to employee information management in enterprises today. The solution lies in implementing a streamlined approach with the use of an HR information management software that ensures the information is always up-to-date and the most relevant information is easy to find.
Digital HRMS
is an example of an advanced HR software that is designed for optimal employee information management. The platform stores all the information of the employees in a systematic manner, making it easy to find info as and when required. Following are the key features of the Digital HRMS employee information management system.
Central repository of employee information – personal, academic and employment
Easy search tool to lookup employee information
Provision to view Quick Links to Employee Manual, HR Helpdesk, HR Contact Details, Holiday List, Newsletter, and more. This is customizable.
Provision for employees to download documents from the system that are uploaded by HR/Admin
Time-saving bulk information update feature
Configurable role-based access to information
Detailed reports and email notifications
Dynamic workflows

Want to discover more about how Digital HRMS can help you manage employee information more effectively? Now, get Full access to Digital HRMS Free for 90 Days. Available for Limited Period only.
Visit our website
www.digitalhrms.com
or drop us an email on
marketing@digitalhrms.com
and our team will get in touch with you.Now, get Full access to Digital HRMS Free for 90 Days. Available for Limited Period only. Discover the Digital HRMS Mobile App for
Android
and
iOS
users.