How to Ensure Your HR Software is GDPR Compliant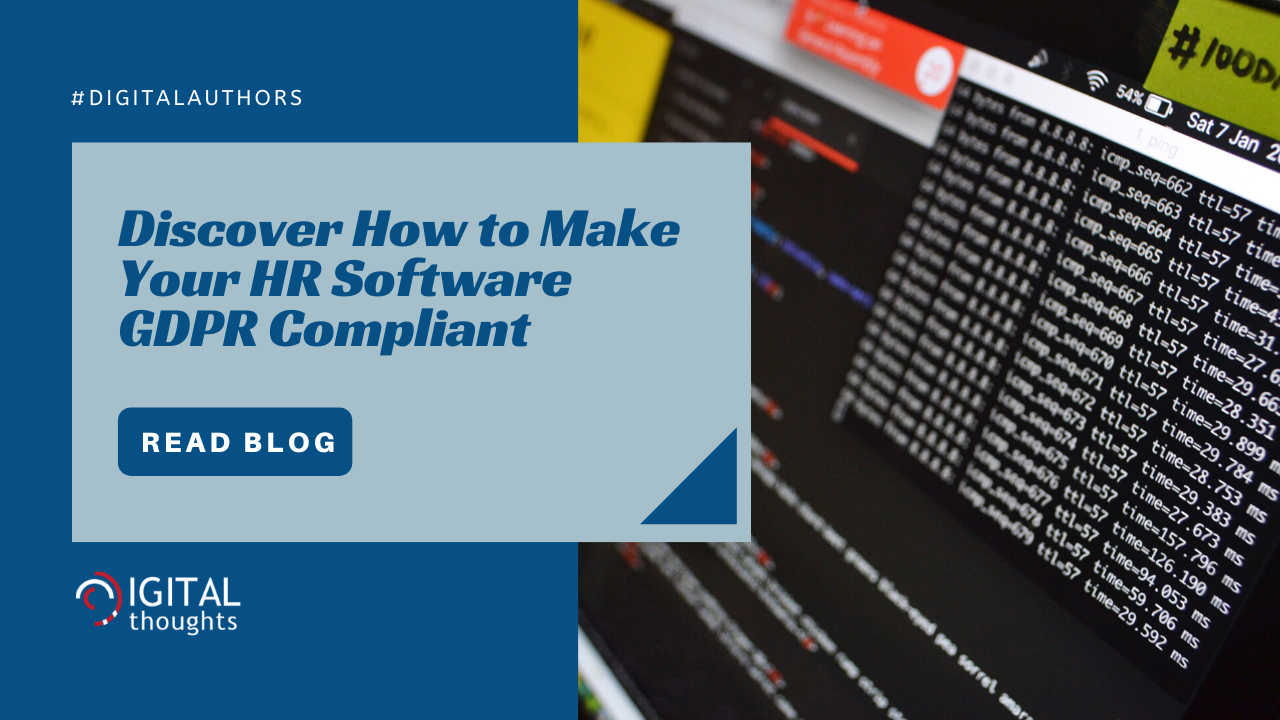 Today, the HRMS software plays a very key role in human resource management. Every functionality of the HR department, right from managing the resumes of job applicants to maintaining a database of employee data, happens through the HRMS software. So, a HR software in an organization is a mine of data, and a lot of this data is sensitive data, including the personal contact details, identify documents, address, family details, and more. The new advanced HRMS software that we have today is designed for maximum data security, preventing unauthorized access and data breaches. However, there was no standard regulatory compliance in place for protection of data, until the GDPR came in and changed the scenario.

What is GDPR
GDPR stands for General Data Protection Regulation and is a set of
data privacy laws
set out by the European Union (EU). According to GDPR, any website or business that collects data of EU and UK citizens, are not allowed to share the data with any third party without the consent of the users.
The GDPR laws can affect your business if you're based in the EU or you have clients based in the EU (even if your business is based outside of the EU. So, basically, any business or website that collects and processes personal data of EU citizens residing within the EU, even if the business is based outside of the EU, comes under GDPR policies and is required to have a GDPR compliant website/product.

Why Implement GDPR in HR Software
So, you see GDPR applies to software platforms, websites and software products that have access to user data of citizens of the EU. If a website or product of a business fails to comply to GDPR regulations, a hefty fine of €20 million might be imposed on the firm. So, every data intensive website or product should take steps to implement GDPR Compliance. This will result in users even beyond the EU to trust the software with their personal data.

Implementing GDPR Compliance to Your HR Software
Now that we have learnt about the significance of GDPR compliance, let us move on to its implementation. In order to comply to the new data privacy laws defined by the GDPR, your HR software needs to take steps towards making some major changes in the way it collects and processes data.

Digital HRMS
is a GDPR compliant HR software and it has successfully implemented all of the key measures mentioned below, in order to ensure to the users that their data is safe and will never be used without their consent. Right from seeking user permission before data collection, to encryption of data, we have gone all the way to ensure complete compliance with GDPR regulations.
So, here are the key measures for implementing GDPR to your HR software.
Data should be collected, stored and processed only with prior consent of the user.
Implementation of advanced data security measures to protect the data in the database from unauthorized access, threats and misuse.
Provision of option to users to have their data removed once the purpose is resolved.
When it comes to job applicants, only that much data should be collected and stored, as required for processing the job application. Only the minimum set of data relevant for a position should be collected, without the need to go overboard.
Ability of the HRMS software to intelligently detect personal identification info and automatically secure it through an additional layer of security, such as a secure password.
Modification of the Privacy Policy and License agreement (and other legal documents as applicable) to include the terms of GDPR compliance. It is mandatory to put up an outline of the user data processing process followed, in the Privacy Policy of the software for the clients' reference. Also, the applicants should be made aware of the same at the time of recruitment.
Encryption of candidate data by the applicant tracking system.
Provision for your employees to transfer their data on to a data storage device, such as a pen drive, during the separation process.
So, we see that there are quite a few small changes that need to be incorporated in order to ensure that your HR software is
GDPR compliant
. However, once you go ahead and make the changes, it can help you build trust in your users. When they see that you have gone all the way to comply with the data privacy laws defined by the GDPR, they will find it easier to trust your business. At the end of the day, it is all about giving the users the power to regulate the usage of their data.