How to Write an Effective Product Launch Email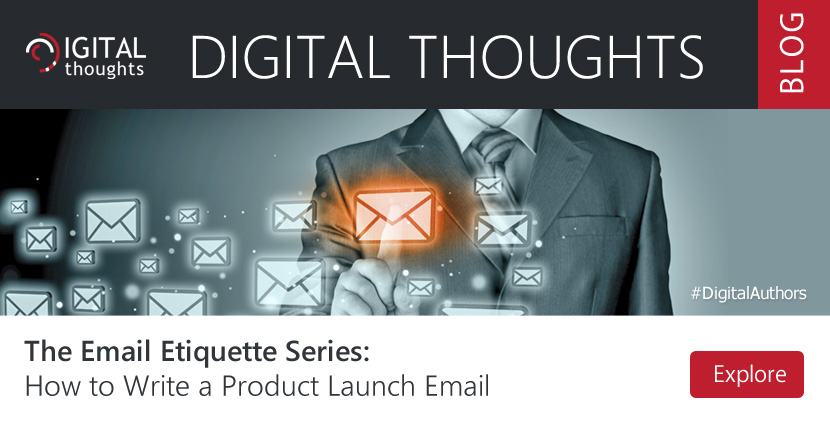 The Email Etiquette Series is all about writing emails that people love to read. In this blog post, we shall explore the art of writing an effective Product Launch email.
The launch of a new product is marked by excitement as well as anticipation. After all, a new product is a result of months of hard work towards giving shape to an innovative idea. So, when it's finally ready to be presented to your users, it would be the big moment you and team would have been eagerly waiting for.
There are quite a few ways to launch a product – television ads, ads in the print media, press releases – however, as marketing increasingly goes digital, product launch emails are deemed as the most effective approach. In fact, a study shows that 66% of consumers have purchased a product purely on the basis of an effective product launch email. Here we shall take you through the key pointers to keep in mind when writing a product launch email, followed by a sample of a well-written product launch email for your reference and a few tips.
Key Pointers for a Product Launch Email that Works
In this section, we shall cover 3 key points you should keep in mind while drafting a product launch email… so, let's get started.
1] Keep the Product Under the Spotlight
The purpose of a product launch email, to begin with, is to talk about this new product you plan to launch, isn't it? So, make sure that you don't shift the focus from the said product by talking about other products that you offer, unless they are related to the product being launched. Including a lot of other information in the email will prove to be distracting and will only result in your users remembering little about your product.
2] Don't Forget to Mention the Benefits
If you want prospective users to develop a keen interest in your product and invest in it, you must give them enough reasons to do so. So, focus on the benefits that your new product has to offer and showcase how the product benefits can help the users overcome the challenges they are currently facing in their business. Putting across the benefits effectively is important, in order to make prospective users believe they need your product.
3] Give Users an Incentive for their Interest in Your Product
When you offer people something that is of value to them, they will be eager to do something for you to return the favour. It is this human psychology that you should apply when asking people to go ahead and invest in your product. The most successful product launch emails are about offering users something of value when asking them to sign up for a free trial of a product or purchase it. Your incentive can be in the form of an eBook, or a promo code for discount on the product, as long as it helps to catch the attention of the prospective user.
Sample Product Launch Email
Now that you are aware of the pointers to draft a product launch email that works, here's a product launch email for your reference. It talks about the launch of a new version of the Carbonmade app.

Figure 1 Source: https://blog.chamaileon.io/product-launch-announcement-emails/
Quick Tips for an Effective Product Launch Email
Now that you are aware of the basic approach towards drafting a product launch email, here are a few quick tips to make it more effective:
Include relevant images to grab the attention of the reader.

Use HTML to increase the visual appeal of the email.

Make sure you include a Call to Action (CTA) button to make sure the readers know what is expected of them.

Apply the Rule of Three, if applicable, when designing the email.

Follow up with a few more emails after having sent the first one.

The pointers and quick tips listed above are not restricted to product launch emails alone, but are also applicable for emails about website launches, version launches and similar topics. The next time your enterprise has a new product ready, remember that you need no experts to write a good email for you – you can do it yourself if you take the right approach. Good Luck!