Infographics Blog on Interesting Facts about Employee Self Service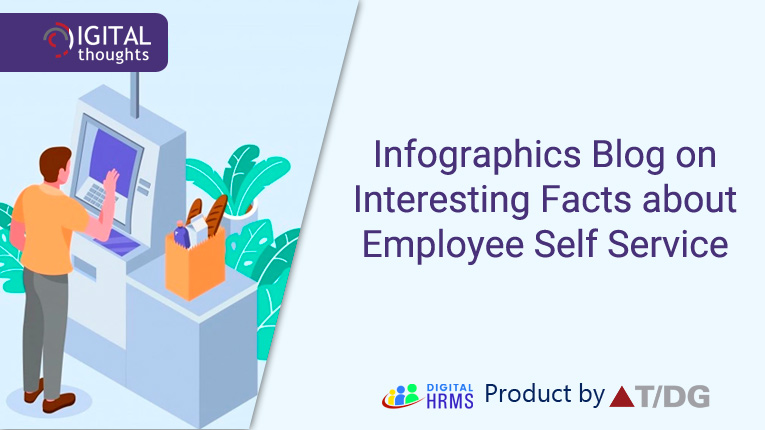 Employee Self Service is defined as a portal that allows employees to perform basic HR functions on their own, without dependency on HR. The employee self service platform allows the employees to be more in control of requests that they need to raise, as they are no longer required to approach the HR for even the smallest activities. Leave application is a good example as the employee is no longer required to bring the paper application, fill it and run around to get it signed by the designated people or the HR. All it takes is a few clicks to raise a leave requires on the employee self service platform! However, there is a lot more that employees can do with an employee self service platform. It all depends on the creativity of the HR team and the organization policies.
Today, we shall look at a few interesting facts about Employee Self Service. Have a look at the infographics below as the facts will help you figure out why your enterprise can benefit from an Employee Self Service in the long run.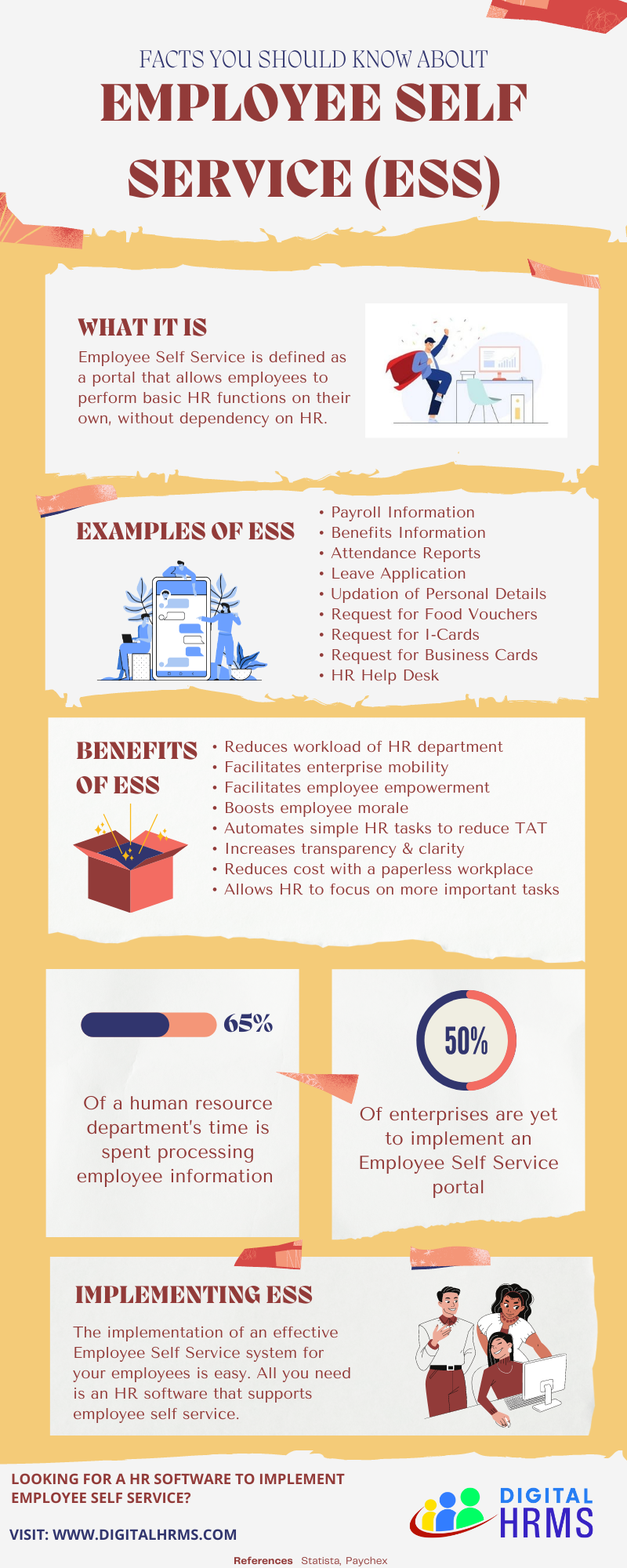 Benefits of Employee Self Service
To begin with, let us have a quick look at some of the key benefits of Employee Self Service.
Reduces the workload of HR department

Facilitates enterprise mobility within the enterprise

Facilitates empowerment of the employees

Boosts employee morale

Automates simple HR tasks to reduce TAT

Increases transparency and clarity

Reduces cost as it facilitates a paperless workplace

Allows the HR to focus on more important tasks
Examples of Employee Self Service
So, we have looked at the benefits of Employee Self Service, but what are the processes that come under employee self-service? Some of the most common ones are given below.
Payroll Information

Benefits Information

Attendance Reports

Leave Application

Updation of personal details

Request for food vouchers

Request for I-Cards

Request for Business Cards

HR Help Desk
However, the list doesn't end there. Depending on what the HR wants, there are a lot many tasks that can be brought under Employee Self Service.
Interesting Statistics on Employee Self Service
Here we shall have a quick look at some of the statistics on Employee Self Service that you should know.
Employee Self Service portal brings 65% better customer centricity

Employee Self Service leads to 44% increase in employee productivity

45% Organizations say they are likely to focus more on Employee Self Service once things get to normal post the pandemic.

65% of a human resource department's time is spent processing employee information and answering employee questions.

50% of enterprises are yet to implement an Employee Self Service portal
Implementation of Employee Self Service Portal
The implementation of an effective Employee Self Service system for your employees is easy. All you need is an HR software that supports employee self service. Digital HRMS is an example of an advanced new age HR software that offers a dedicated Employee Self Service module.
The Employee Self service module allows employees to raise request for basic services directly from the portal. Just as we have seen above, there are multiple tasks that the employees can perform themselves without the need to depend on HR and Digital HRMS offers all of them and more. The Employee Self Service module of Digital HRMS simplifies everyday HR tasks and increases the turnaround time.
What's more, it has also been instrumental in helping employees apply leaves and generate reports during the current remote work scenario.
Want to explore more about the Digital HRMS Employee self service platform and other features of the HR software?
Stay connected with us on Social Media for all the latest updates.