Infographics Blog on Key Aspects of Automated Attendance Tracking System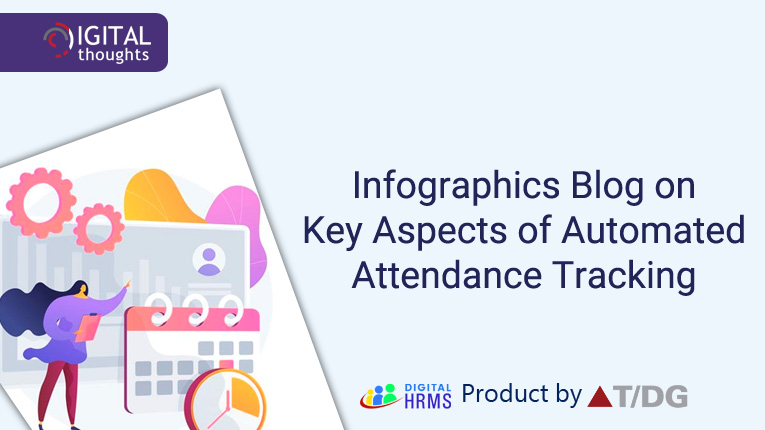 Attendance tracking is one of the most significant tasks of the HR department and also the most complex! With hundreds of employees in organizations today, managing attendance can be a challenge, more so for those employees who need to be outside the office premises for their work. Moreover, the current scenario of remote work has added to this challenge as all the employees are working from remote locations and so the organizations need an effective employee attendance tracking system that never fails.
Thankfully, we have the new age HR software that offers an advanced mobile app for automated attendance tracking. Digital HRMS is an example of an HR software platform that comes with an advanced mobile app for Android and iOS users. The attendance tracking system of the Digital HRMS mobile app enables the employees to record attendance easily from remote locations. Wondering what makes an automated attendance tracking system work? Well, it's all due to the magic of geofencing solutions.
Geofencing and its Role in Automated Attendance Tracking
Geofencing is relatively new and geofencing applications allow you to construct a virtual fence over a specified geographical area, with a trigger delivered every time someone enters or exits the virtual fence you've defined.
Attendance tracking systems have a lot of potential, and Digital HRMS is an attendance management software that uses geofencing technology to track the working hours and attendance of employees who are either working remotely or engaging in office work outside of the office premises. This is a method that is painless for all parties concerned. In the current scenario, technology like an automated attendance tracking system can help businesses ensure that employees are secure while working from home or any other pre-determined location.
There are no restrictions on the area that can be governed by geofencing applications. It could be as tiny as a single room or as large as a city or even a country. Geofencing applications work on the basis of a basic principle: it functions as a sensor that detects predefined entities and triggers a predefined response in the scenario.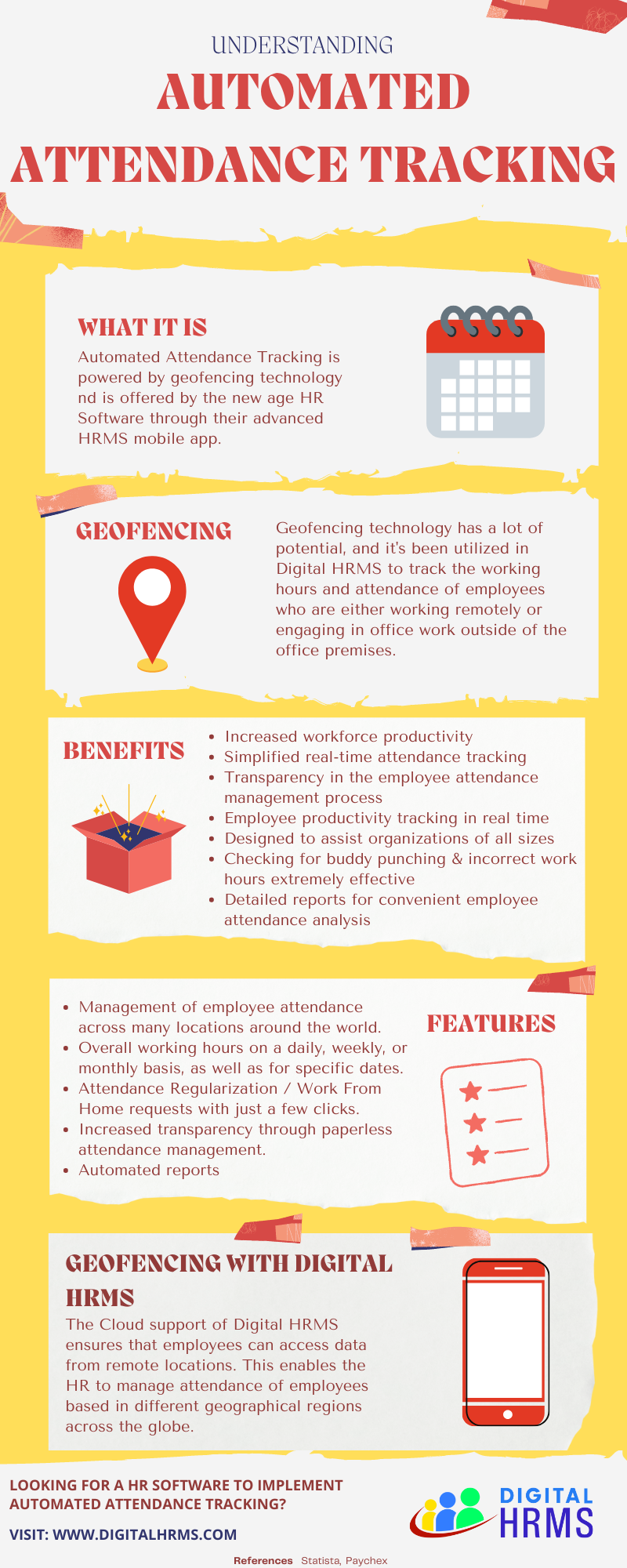 Benefits of Automated Attendance Management Software
The following are the key benefits that organizations experience when it comes to automated attendance management software for remote employees.
The workforce's productivity has increased.

For both the employee and the employer, the procedure of real-time attendance tracking has been simplified.

Transparency in the employee attendance management process.

Employee productivity is tracked in real time.

Designed to assist organizations of all sizes.

Checking for buddy punching and incorrect work hours is extremely effective.

Detailed reports for convenient employee attendance analysis.
Key Features of Automated Attendance Tracking
The following are the key features of the Automated Attendance Tracking functionality of Digital HRMS.
Management of employee attendance across many locations around the world.

Employees can see their overall working hours on a daily, weekly, or monthly basis, as well as for specific dates.

Facilitates Attendance Regularization / Work From Home requests with just a few clicks.

Increased transparency through paperless attendance management.

Employees, as well as HR and Admin, have the ability to generate complete reports on working hours, time-in and time-out, leaves, and other topics for easy and quick analysis.
Want to explore more about the attendance tracking system of the Digital HRMS HR software platform and its multiple features?
Stay connected with us on Social Media for all the latest updates.
Read more on Digital HRMS: