Infographics Blog on Types of Leaves in a Corporate Leave Policy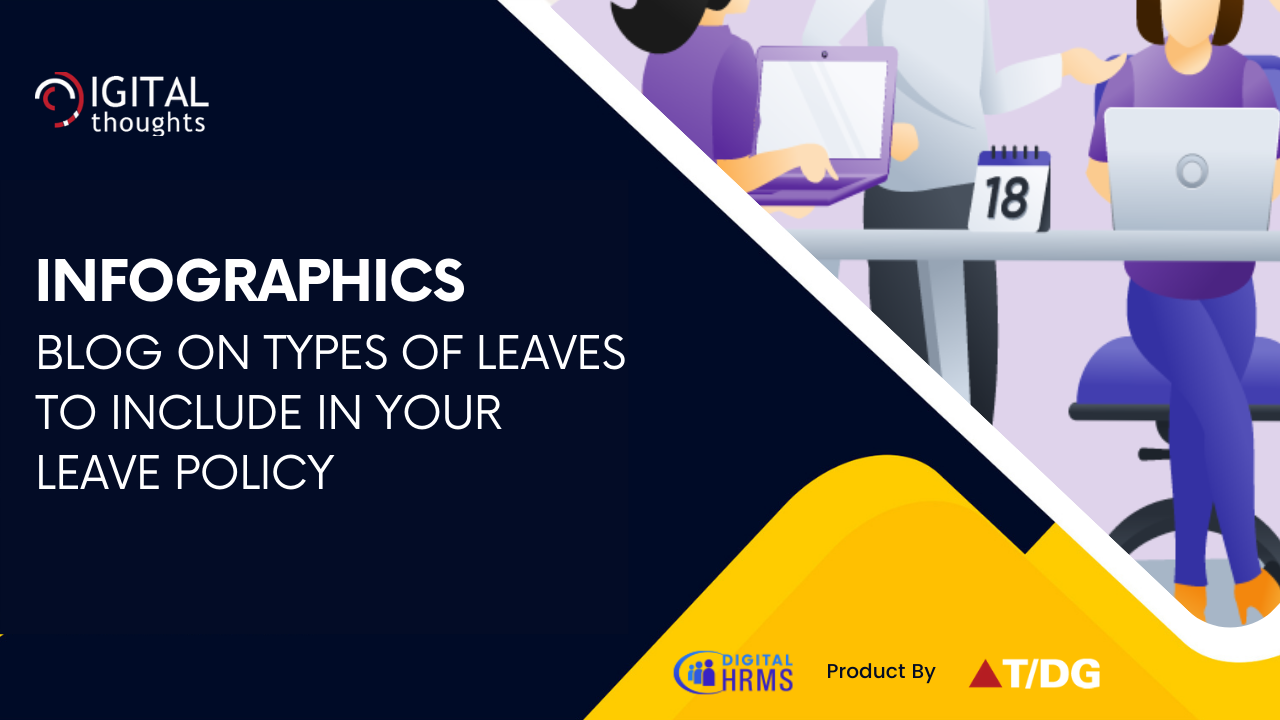 Today we have come a long way when it comes to recognition of employee rights, and things are very different from how it used to be even a few decades ago. The paid leaves and paid holidays allocated to the employees in organisations today is a testimony to the evolving rights of the employees and their empowerment at the workplace. However, the employees are entitled to not one but multiple types of paid leaves, depending on the scenario. While some types of leaves are mandatory by law, other types of leaves are solely at the discretion of the employer.
Every organisation today needs a corporate leave policy to streamline the different types of leaves allocated to the Employees. C
orporate
Leave policy is a set of rules governing the different types of paid and unpaid leaves during the employees' term of employment with the organisation. The infographics below showcases the different types of leaves that you need to know about when it comes to the leave policy of your organisation.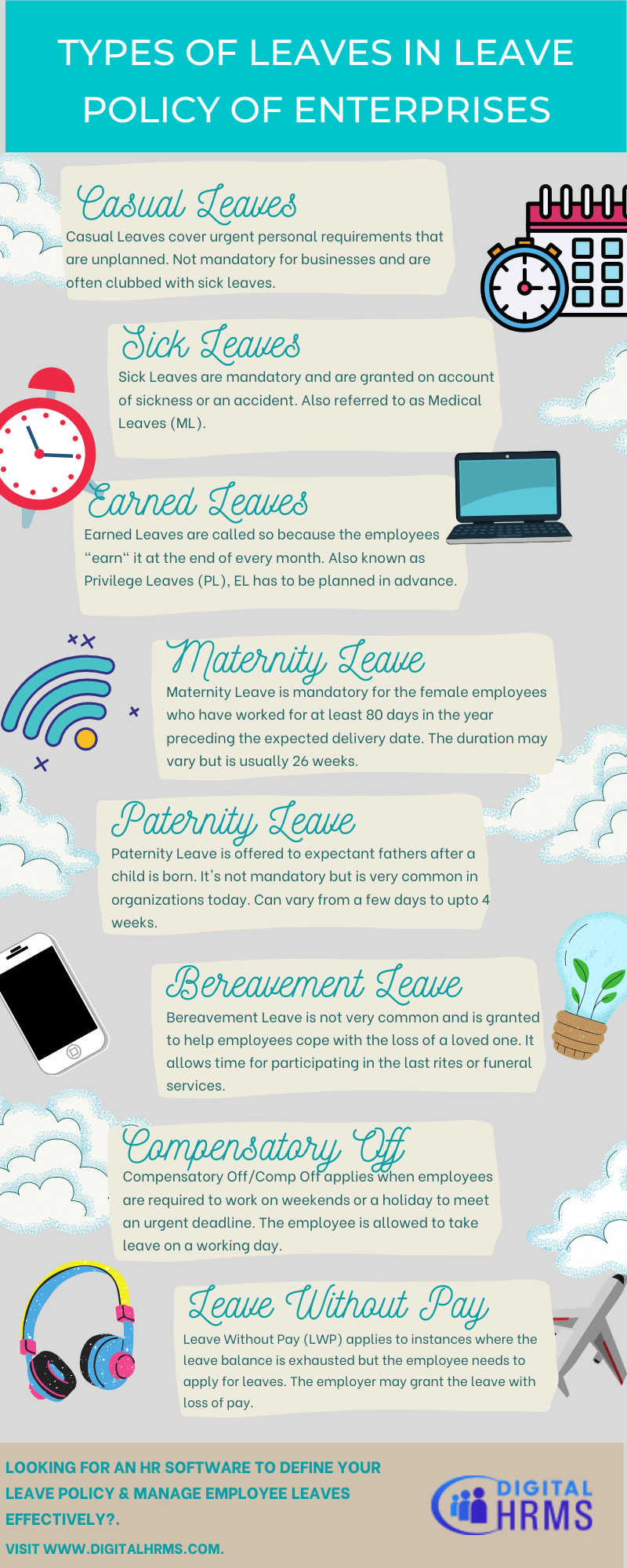 A well-defined
corporate
leave policy is a reflection of the work culture of your organisation and how much it values the employees. Hence, it becomes all the more significant to have a well-defined
corporate
leave policy for the following reasons:
Benefits of a C
orporate
Leave Policy
Allows the employees to learn about the different types of leaves they are entitled to.
Creates a streamlined process for application and quick approval of leaves
Brings in an element of transparency with respect to the Expectations of the employees regarding leaves
Boosts employee engagement and employee morale in the organisation
In order to formulate an effective
corporate
leave policy and also streamline the entire process of leave management on regular basis, your organisation needs an advanced HR software.
Digital HRMS
is an example of an HR software that offers a dedicated module for leave management, which has every functionality that your HR team needs in order to streamline leave management efficiently and effectively.
Leave Management with Digital HRMS
Digital HRMS is your ideal partner when it comes to tracking working hours and managing employee leaves, along with defining the optional holidays for employees. With Digital HRMS, the Admin/HR of
your organization is allowed the provision of configuration of leave types and also define rules for leave credit and leave balance adjustment. There is also the provision for the Admin/HR/Manager to apply for leaves on behalf of any employee (in case of Admin/HR) or a team member (in case of a Manager). The employees have the provision to view Leave Calendar and Leave History in graphical format. Employees have provision to request and pullback leaves.
Explore the Key Features
Seamless integration with the existing Access Control System
Option to set up leave types as per company policy
Flexible Shift Management and leave credit rules
Customizable & comprehensive leave & attendance reports
Leave details and leave calendar visible on the Digital HRMS dashboard
Provision to apply leave directly from leave management dashboard
Manager can view leave details of the employees in the team
Do-it-Yourself employee portals
Detailed reports and email notifications
Dynamic workflows
Want to discover more about how an advanced HR Software like Digital HRMS can help your HR team draft a Corporate Leave Policy with ease?
Visit our website
www.digitalhrms.com
or drop us an email on
marketing@digitalhrms.com
and our team will get in touch with you. Now, get Full access to Digital HRMS Free for 90 Days. Available for Limited Period only!
Stay connected with us on Social Media for all the latest updates.
Read:
Trends that Define Future of Human Resource Management in Enterprises