Infographics on How Your HR Team can make Use of HR Analytics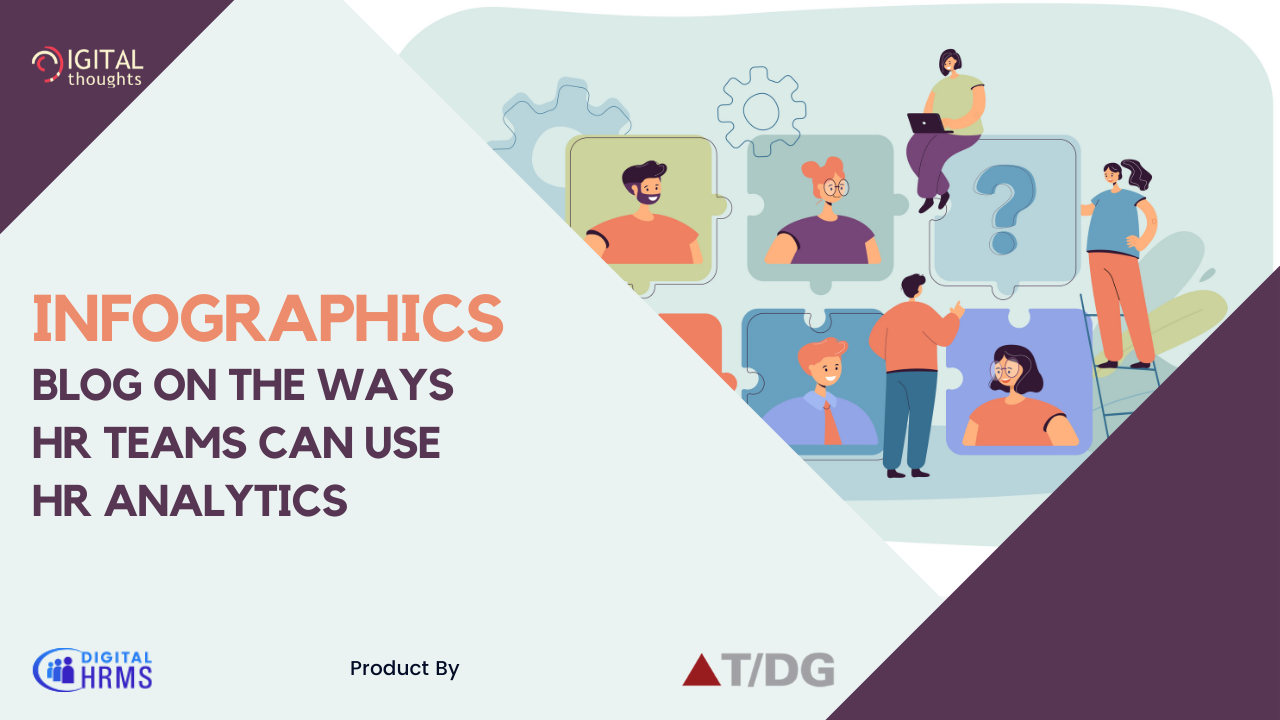 This is the era where data plays a very important role and is very significant for enterprises. The ability to make the best use of the large volumes of data can help enterprises gain the competitive edge. In order to leverage the power of data to their benefit, enterprises need powerful data analytics tools to derive hidden insights and relevant information from the data. Since employees are one of the most significant assets for any organization, HR data analytics becomes an important factor to consider for the organizations.

71% of companies said they considered people analytics a high priority for their organization. – Deloitte
The HR department in new age enterprises today need an advanced HR software with Data Analytics capabilities, to leverage the power of HR data. Digital HRMS is an example of an advanced HR software that extracts relevant insights from HR data to help the enterprise in informed decision making. So, what are the many ways in which the HR department can benefit from HR data analytics and what are its uses? Here's an infographics that tells you.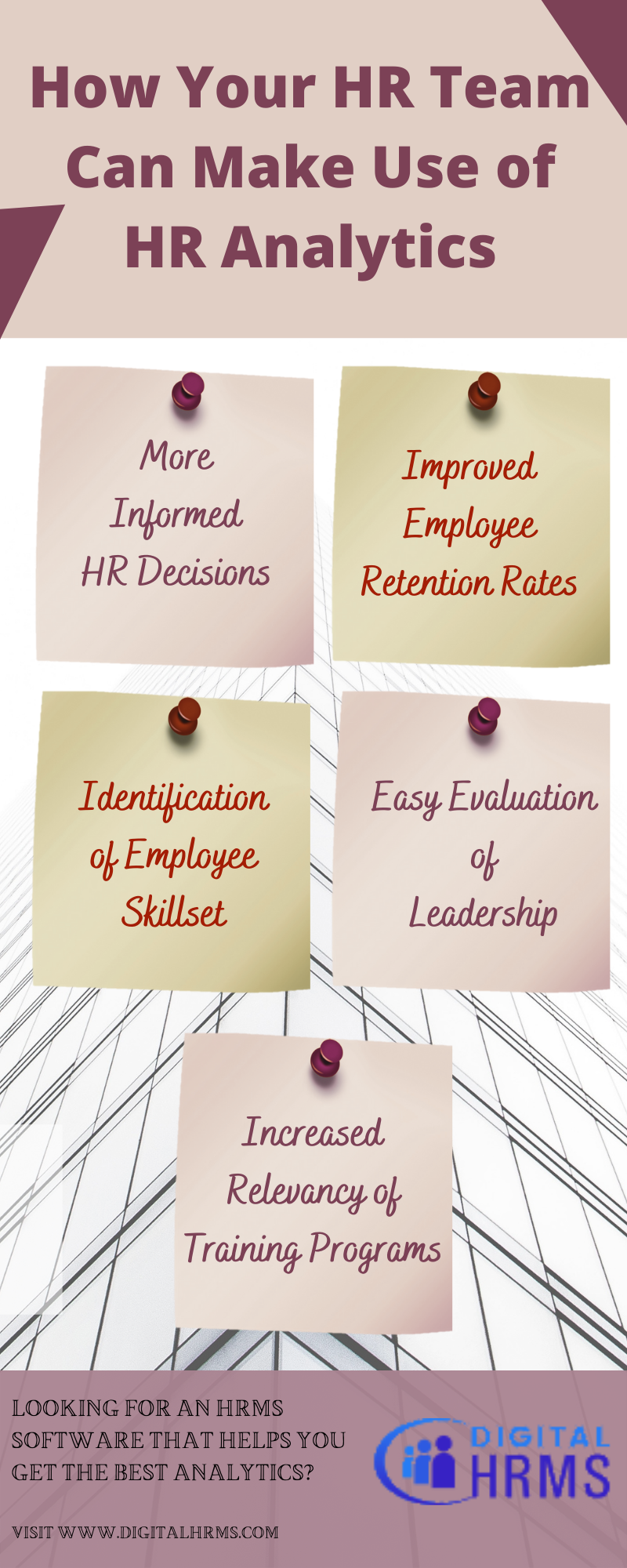 HOW TO USE INSIGHTS DERIVED FROM HR ANALYTICS
Here are the key applications of HR analytics for the HR department of the new age enterprise.
1] More Informed HR Decisions
HR analytics plays an important role in providing access to critical data and information about the workforce, which can then be analyzed to help make informed decisions. It not only improves HR performance, but it also gives managers a greater understanding of what motivates workers to function productively and how organizational culture influences employee performance.
2] Improved Employee Retention Rates
Recruiters may spot a trend of high-performing workers and adjust their recruiting and retention strategies accordingly. HR analytics will help determine which departments are experiencing the most turnover and what is causing it. It may also assist HR in determining which practices have the greatest effect on employee engagement.
3] Identification of Employee Skillset
Capability analytics is a talent acquisition process that allows businesses to recognize and improve their employees' strengths. It's critical for HR to set out specific measurements of these core competencies and use them as a benchmark for determining how competent workers are and how they can contribute to overall organizational success.
4] Easy Evaluation of Leadership
Leadership is a critical component of a company's overall efficiency. A team led by a demotivating leader would ultimately perform poorly. In addition to wasting time and resources, an ineffective leader may lead to higher turnover rates within a department. Data about team leaders is used in leadership analytics, which examines how their leadership influences overall organization development.
5] Increased Relevancy of Training Programs
Many businesses have found that the cost of training outweighs the benefit they make from it. Data science, on the other hand, has the potential to analyze employee learning and do a cost-benefit analysis for each course they plan. This is how businesses get the best feedback and can then change courses to make them more profitable.

Looking for an HR software that can help your HR team make the best use of HR analytics?

Visit our website
www.digitalhrms.com
or drop us an email on
marketing@digitalhrms.com
and our team will get in touch with you. Now, get Full access to Digital HRMS Free for 90 Days. Available for Limited Period only!
Stay connected with us on Social Media for all the latest updates.

Read:
How HR Software is Key to the Success of the Enterprise