Innovative Ways to Create Cloud Architecture Successfully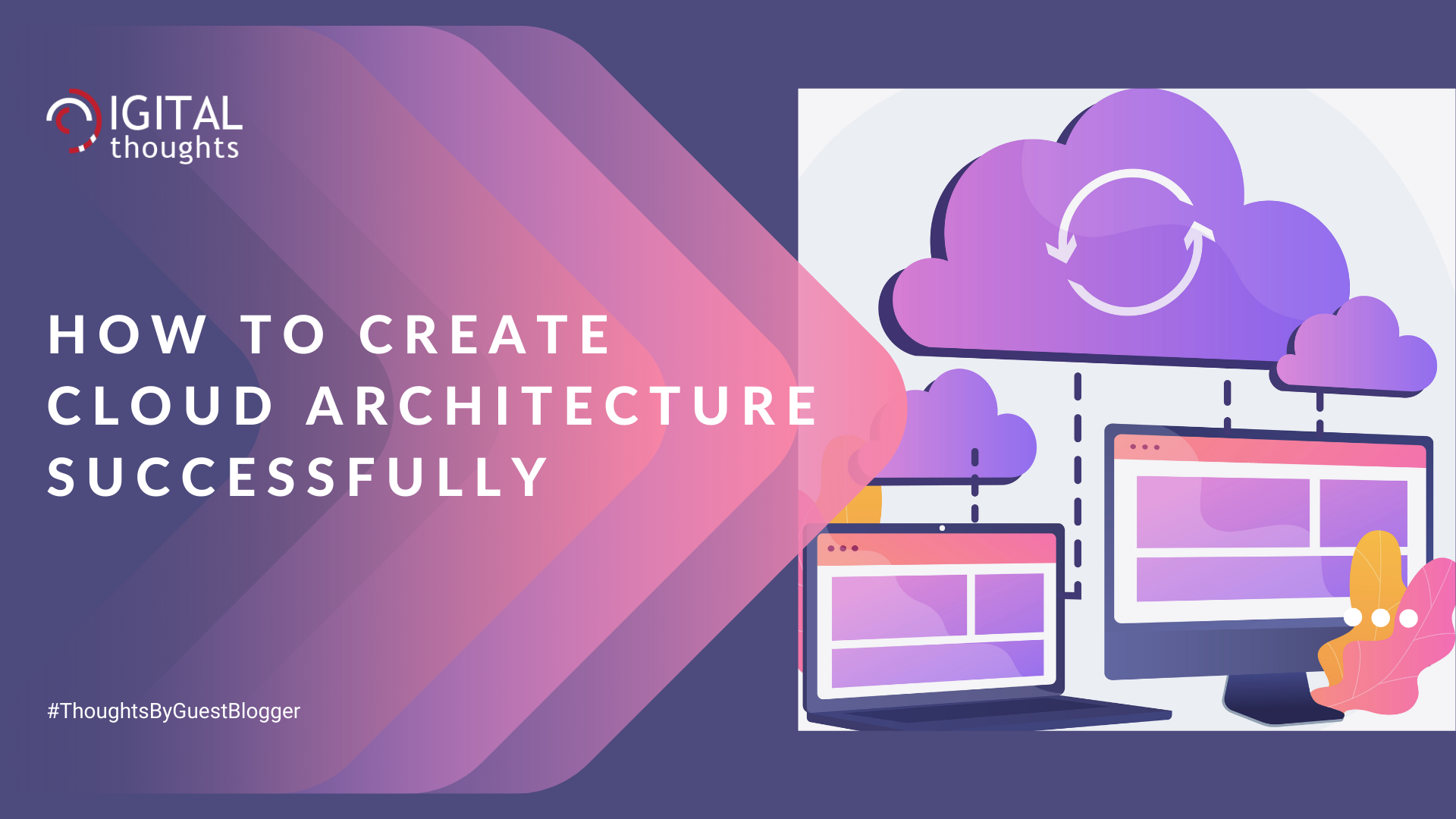 02 Feb 2021
Martin Moyers
813
The more the concepts of cloud technology and computing are clear to you, the more you will learn to blend the modules efficiently to establish excellent cloud architecture. The finest architectures are developed bit-by-bit from the earliest stages. Innovative C-based models, applications, and services redesign organizations' success by making the cloud infrastructure flexible, scalable, adaptable, and resilient for a more extended period. The cloud architects who have not accepted the challenge of learning the new technologies have to pay the price if they stay rigid with the orthodox methods.

What makes efficient cloud architects develop successful well-structured cloud architecture?

1. Purpose of designing
Stay crystal clear about the requirements for which you are designing the cloud.
Developing
cloud infrastructure is a complicated job. Merging components and expecting them to deliver the best is sheer foolishness. Thorough research has to be made before approving the cloud architecture design. Hence, vision and good planning help you to achieve well-structured clouds.
2. Focus on client's expectation
Aiming and analyzing the requirements of the client group is the way to great cloud architectural design. The cloud architecture should be such that it should satisfy its application owner's needs. When an enterprise aims to make the most of the cloud's potential to deliver improved performance, enhance reliability, and reduce the cost, it leads to customer satisfaction. The cloud structure executives believe that the whole endeavor should be studied before settling on any meaningful choices regarding capacity, adaptability, security, and other services.
3. Simply scalable
The cloud infrastructure should have a clear vision for scalability. Storage, computation, and networking are the domains to focus on when it comes to dealing with scalability. The cloud platform should scale in a normalized way towards the aspects that matter the most to the clients. Service failure from the cloud service provider is another major concern; hence an effective collaboration has to be established between multiple cloud service providers and the installed cloud architecture. Design a logical architecture view from the enterprise perspective but do not relegate any portion of the logical architecture to a particular technology. These portions are microarchitectures over which a cloud infrastructure vision is based upon. The microarchitectures are feasible through quick planning.

4. Novelty is the key
With no innovations, shifting legacy architecture to the cloud just for time-saving and cost-effective benefits is often an incorrect decision to build cloud architecture. If often happens that this does not add value to the future endeavors of the organization. Innovation requires a group of IT executives who are eager to grasp new methodologies and advancements willingly. Guaranteeing the correct blend of abilities is a sheer basic necessity. It's inappropriate to aimlessly expect that a group of executives initially amassed to fabricate conventional server arrangements will have the option to work as adequately when creating cloud architecture. Joining forces with cloud service providers and software accomplices who understand your business criteria and your objectives is the key to kick start at once.

5. Storage structures as required by the services
Cloud storage is an important concerning factor for creating cloud structure. When you have to deal with data formats such as structured and unstructured data, aiming at a single (or same) storage type is not feasible. Cloud service providers have multiple choices of cloud storage services for the clients. Enterprises, where the business relies on web services, have simple storage, block storages, file storage system, archive backup, and storage gateways. A single storage system cannot fulfill all the requirements of the system.

6. Build strong associations
A cloud structure cannot rely on resilient network connectivity. It provides high bandwidth, low latency, and ease to switch swiftly between the servers and other clouds to utilize the cloud resources and services. A well-structured cloud has a multiple cloud facility, but a separate connection for every cloud service provider is an expensive deal in terms of monetary affairs. A preferred solution is to establish network connectivity to a cloud exchange that provides connectivity with other cloud service providers in a well-structured cloud environment.

7. Multi-Layered Security
A well-structured cloud provides security at all the stages, levels, and services wherever it is needed. Some common examples include embedding security services with storage, or services related to growing scalability, etc. Although there is a thin line between the facilities provided by the cloud service provider and that of the organizations. This includes security services as well. The cloud service provider offers not all security services. For example, cybersecurity is the responsibility not entirely borne by the cloud service provider. Cloud adopters have to look after their roles so that well-defined cloud architecture has cybersecurity implanted all over it.
The best
cloud
technology experts keep a receptive outlook about innovation, processes, and techniques. Consistent improvement has to be adopted for well-structured cloud architecture.