Key HR Insights on Remote Work in 2020 (Infographics)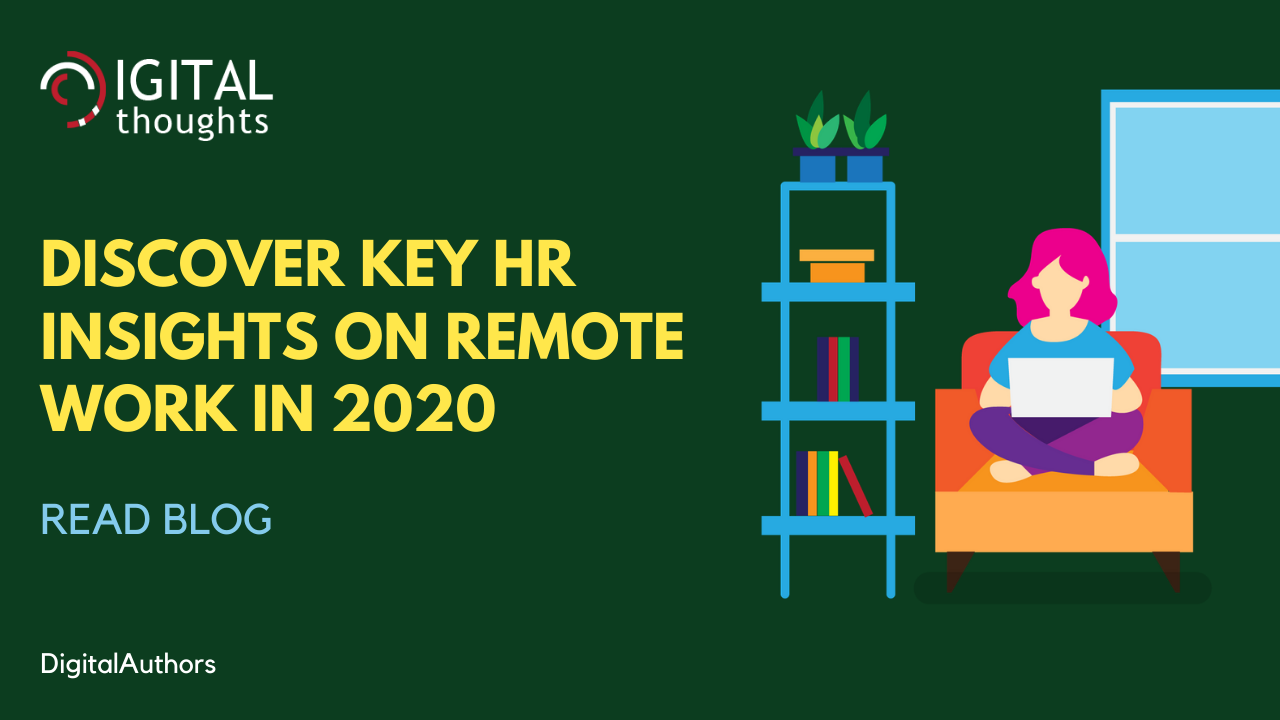 Today, when a major share of the working population across the globe is forced to maintain self-isolation, the possibility of working remotely has come to their rescue. Remote work, as we know, is a term that is used to describe the work done by employees when they are away from the office premises. The current lockdown in most countries of the world, has brought remote work to the forefront like never before. After all, never before in the recent history have we witnessed so many people working remotely at the same time.
As employees, remote work sounds fun, but it does come with its own set of challenges. While the freedom from commuting and the flexibility appeals to some, others can find it difficult to focus at home, with kids and even pets around. However, remote work does bring its own share of benefits for the employer or the organization as well. HR professionals in leading companies across the globe are realising how remote work can be beneficial.
According to a report by Upwork, 73% of all organizations will have remote workers by 2028.
However, before an organization goes ahead with the implementation of the work from home or remote work policy, there are certain steps that need to be taken. In addition to implementing higher levels of data security and other changes in infrastructure, an organization should also invest in a HR software like Digital HRMS to help the HR department manage remote employees with ease.
Benefits of Remote Work for Employers
Here are the key benefits of remote work for organizations:
Higher employee morale.

Significant increase in employee retention.

Higher levels of employee productivity.

Access to increasing number of talented applicants who prefer to work remotely.

Reduced cost per employee, as the organization saves on infrastructure costs.
Benefits of Remote Work for Employees
Here are some common benefits of working remotely:
Freedom to customize your work desk just the way you want it to be.

Time and money saved, which you usually spend on commuting.

Certain level of flexibility, depending on your job profile.

Fun of exercising or even strumming a guitar between tasks.

Meetings can be fun with video calling.
HR Statistics on Remote Work
HR professionals across the globe today are recognising the value of including remote work as a part of their employee work policy. Here are some HR statistics on remote work before the Covid-19 pandemic brought remote work to the forefront.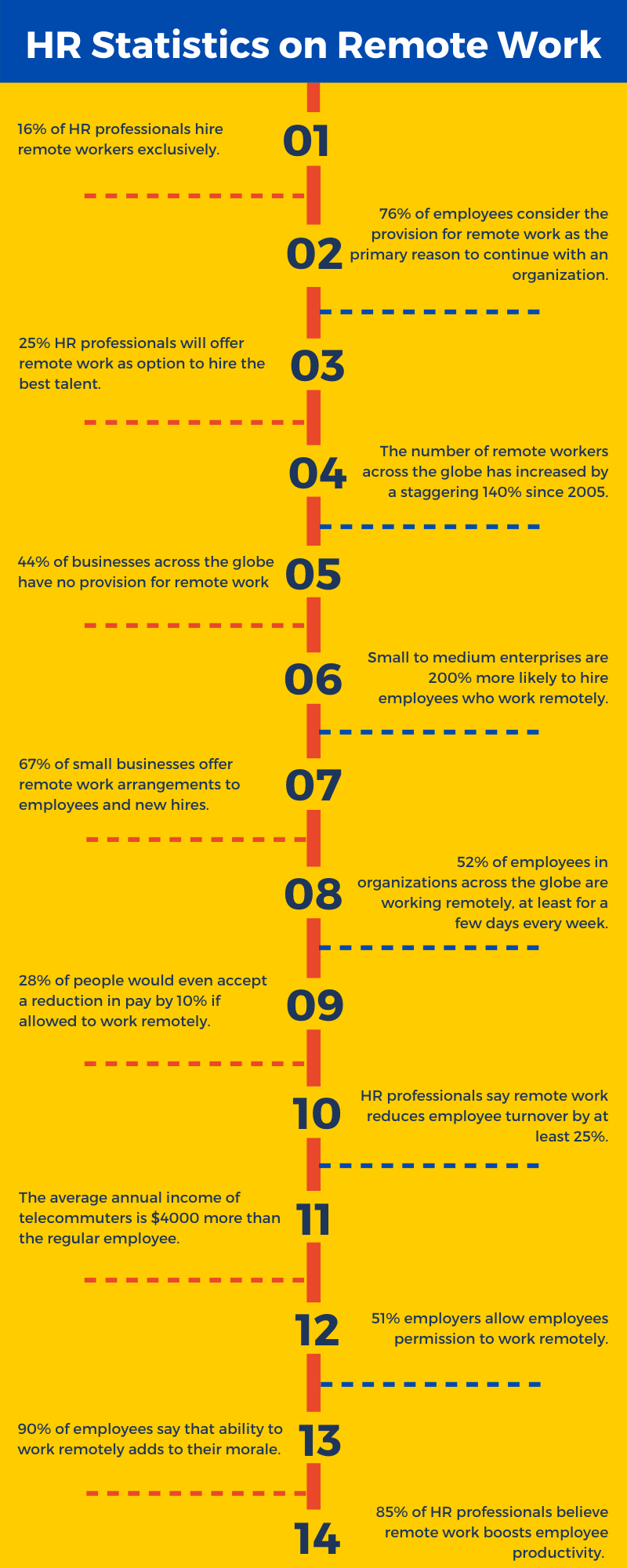 How 2020 has Changed the Remote Work Scenario
Remote work has been witnessing a steady growth in popularity, both with employees as well as HR professionals. However, the Covid-19 pandemic has changed the scenario completely when it comes to remote work. In the current scenario, we have a significant share of the working population working from their homes, as they are forced to stay indoors to keep themselves safe from the pandemic. Here are some interesting HR statistics on remote work in the current scenario.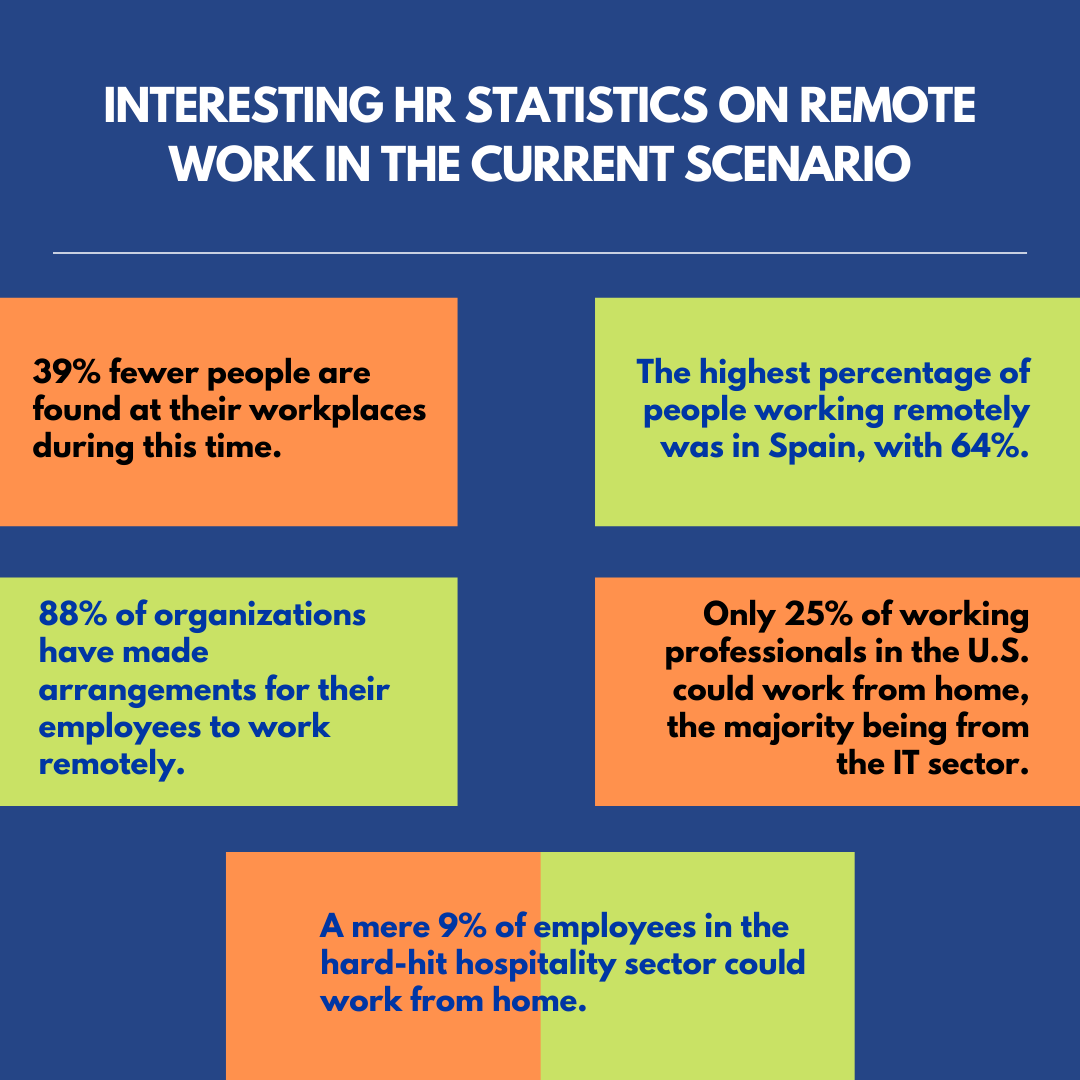 As we all have witnessed, the outbreak of the Coronavirus has revolutionized the concept of remote work, with organizations acquiring the necessary infrastructure within a matter of few days, to ensure the employees are able to work safely from their homes. Now, the question remains that whether we all will go back to the normal ways of working from office once the grip of the pandemic ceases. Many experts believe that it might not be the case, as the benefits of remote work will make companies to continue with it.
74% CFOs say that they would move at least 5% of their workforce to remote working permanently.
At the end of the day, it all depends on how prepared a company I to handle and manage remote working professionals efficiently, but this is one trends that is sure to stay.
(Source: Google, Forbes, CIO, Monster, ComputerWorld, Zippia, Jobbatical)