Leave Management with Digital HRMS: Choosing the Right Leave Management Platform for Your Business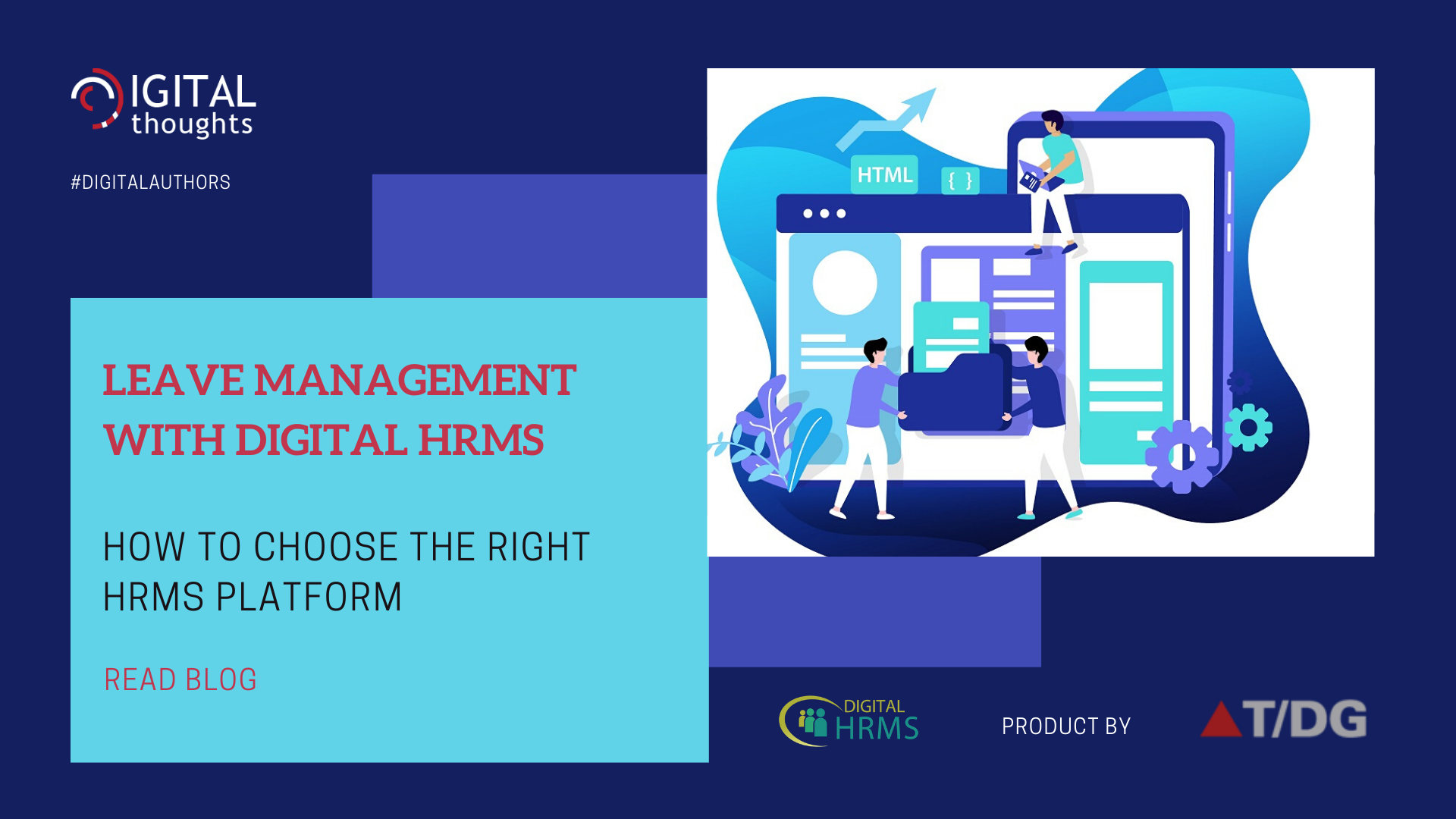 The HR department in an organisation has multiple responsibilities that span across the entire employee lifecycle, right from hire to retire. Employees are the biggest assets to any organisation, and the responsibility of ensuring that the employees are having a good experience working with the company, lies solely with the HR department. Everything from employee leaves to employee benefits are managed by the HR.
With so many responsibilities and so many tasks to manage, the HR personnel are definitely the busiest employees in the office! The new age HR software has arrived and promises to revolutionize the approach to HR management. Digital HRMS is an example of an HR software that is an integrated platform with dedicated modules for every HR function. It offers over 15 modules and allows the businesses to pick and choose the ones that cater to their requirements.
Every business is different with different set of requirements, which implies that it's important to choose the right HR software. A software that works the best for one business, might not be the best bet for another. In other words, before choosing an HR software, there are certain factors one must consider in order to make the right choice.
1] Customisable Leave Policies
Just like the requirements of every business is different, so are its leave policies and regulations. This means that a single inbuilt leave policy won't work for every organisation. The solution is a fully customisable platform like Digital HRMS that allows full freedom when it comes to customisation of leave policies and holiday calendars. This is a great feature to have is it brings great results and ensures that the organisational leave policy is effectively applied to the HR software.
2] Integration with Attendance Management System
When it comes to employee management, leave and attendance go hand in hand, and both play a key role in payroll processing for the employees. Integration of the leave and attendance management modules makes it simple to generate reports for payroll processing, and at the same time, makes it easy for the employees to login and compare their leave as well as attendance data at a glance.
3] Elimination of Errors in Payroll Processing
Errors and inconsistencies in payroll processing must be prevented at all costs because it leads to a drop in employee morale. Using a paper-based HR management system brings in the possibility of significant errors in the payroll processing, as everything is done manually. With an HR software like Digital HRMS, which automates the entire process of leave and attendance management, errors in payroll processing become a thing of the past.
4] Advanced Data Security Features
The Human Resource Department collects, stores and manages large volumes of employee data. This data holds key information about the employees in the organisation and is highly sensitive and confidential. This
calls for the need of advanced HR data security features to prevent attacks on data security and also protect the data from misuse. GDPR Compliance becomes an ideal feature to have in this context.
Today when enterprise mobility is the reality, more and more employees are working from a remote location or even from their homes. In such a scenario, an HR software that can only be accessed through the office computer, is of little use. What employees want is a solution that allows them to access the platform from their own devices and also perform simple tasks on the go. Digital HRMS offers mobile app for anytime anywhere access, and also is available on the Cloud.
So that was about the top features to look for in an HR software. Because of the many benefits it offers and the simplification of the HR management process, every enterprise today should invest in an HR management software.