Leave Management with Digital HRMS: Streamline Leave & Attendance Management on a Single Platform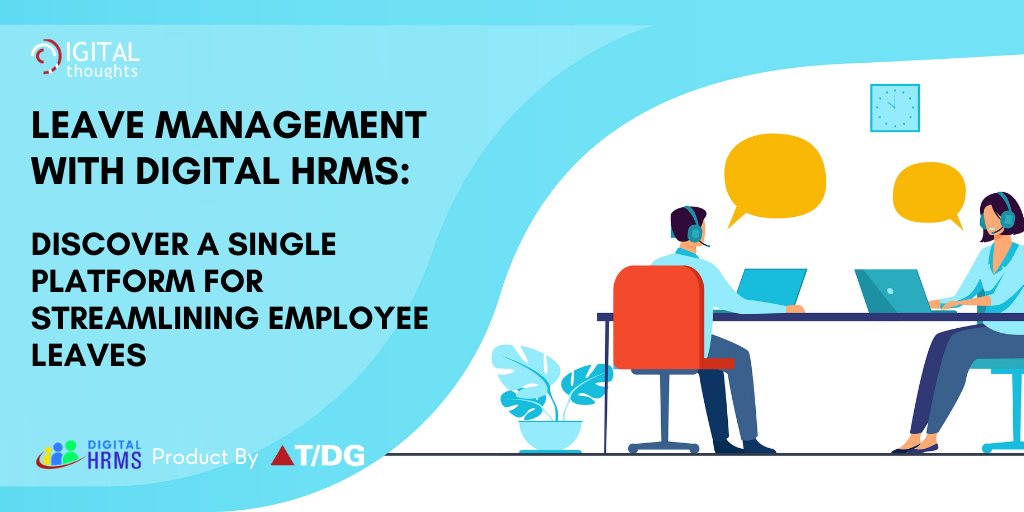 In terms of employee productivity, effective time and attendance management is critical to an organization's success. Poor leave and attendance management, on the other hand, can have a negative impact on a business.
According to a research conducted by the American Payroll Association, the average employee in the United States steals 4 hours in 5 minutes every week.
Because of the enormous number of employees in today's firms and the increased likelihood of errors with a manual approach to leave management, managing employee leaves can be a difficult chore for an organization's HR department.
Employee Leave & Attendance Management Challenges
Employee leave management is more complicated than you might assume. This is because the HR experts in the firm have the responsibility to maintain a precise balance between employee engagement and constant project resource availability. Some of the most significant challenges in today's organizations when it comes to leave and attendance management are listed below.
There isn't a plan in place to deal with absenteeism

There is no way for employees to keep track of their vacation time

Difficulty for employees to plan their vacations sensibly

Employee absence has a negative impact on resource management

Discrepancies in leave and attendance management affect payroll

Delays in approving requests for leave or work from home

Employees not aware of the company's leave policy

Absence of remote employees difficult to track

Employee absences are difficult to track

Access to basic functions such as applying for leave on the move is limited
Digital HRMS Leave and Attendance Management System
Digital HRMS
is an advanced HR software. Like all of the other modules in Digital HRMS, the leave and attendance module provides features and functionality that benefit both employees and employers.
HR data is made up of massive amounts of data, the majority of which is made up of personal information about employees. This information must be safeguarded against unauthorized access and misuse. Through Cloud storage with robust and multi-level data security capabilities, an automated employee attendance management system like Digital HRMS may help with this.
One of the most significant advantages of an automated employee attendance management system is that it eliminates the possibility of errors. Discrepancies in attendance have a detrimental influence on payroll and employee morale.
3] Advanced HR Data Analytics
Finally, an automated employee attendance management system such as Digital HRMS offers built-in analytics capabilities that allows the HR team as well as employees to generate automated reports on leave, attendance, and working hours with just a few clicks. This feature is a must-have for efficient and accurate data analysis.
4] Application of Leave Online
Another benefit of an automated employee leave and attendance management system, such as Digital HRMS, is that it allows employees to apply for leaves and regularize their attendance as needed directly from the platform. Additionally, the approval process for leave requests has been streamlined, decreasing employees' need to rely on HR for basic administrative chores.
5] The Mobile App Advantage
A mobile app is offered by Digital HRMS, a modern employee leave and attendance management system, making data accessible on the go. The mobile app encourages enterprise mobility by allowing employees and HR to use the platform from anywhere and on any device while maintaining security.
Want to discover more about how an advanced HR software like Digital HRMS can bring to you a leave and attendance management system that can help your HR team manage employee leaves?
Stay connected with us on Social Media for all the latest updates.