Next Level of Text Analysis Services with 3RDi Enterprise Search Platform (Infographics)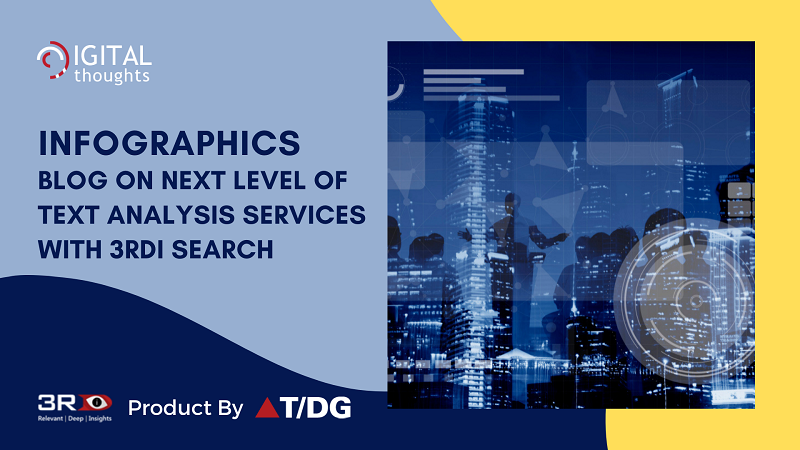 Big Data has already established itself as a serious challenge, and businesses all over the world are looking for the best ways to manage and analyze it. The fact that a large portion of this data is unstructured and difficult to interpret adds to the difficulty. Enterprises today need to invest in text analysis services in order to deal with this massive amount of data. Because traditional search methods are ineffective when dealing with unstructured data, new age text analysis services for enterprises employ powerful text analysis and data mining technology to make sense of unstructured data.
Next Level of Text Analysis Services with 3RDi Search
3RDi Search
is an example of new-generation enterprise search platform that is the ideal solution when it comes to advanced text analysis services. This platform uses semantic technology, Natural Language Processing (NLP), and Artificial Intelligence (AI) to enable enhanced analysis of even the most complicated business data. If you look into 3RDi Search, you'll see how the latest avatar of enterprise search platform comes with every text analysis tool imaginable.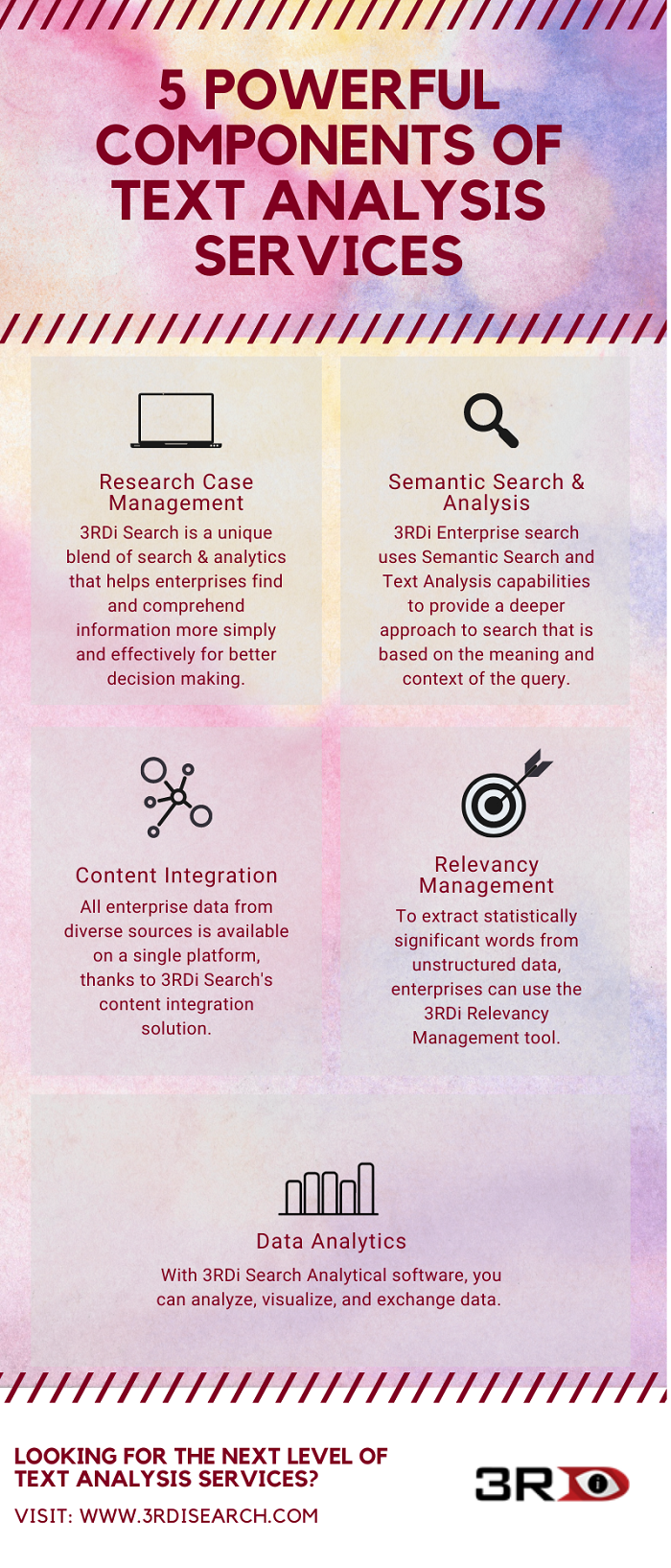 1] Research Case Management
3RDi Search from The Digital Group is a unique blend of search and analytics that helps enterprises find and comprehend information more simply and effectively for better decision making. By integrating all related insights together, 3RDi Search's research case management improves your customers' and users' search experience.
2] Semantic Search & Analysis
The 3RDi Enterprise search platform uses Semantic Search and Text Analysis capabilities to provide a deeper approach to search that is based on the meaning and context of the query. It is the definition of the new age text analysis services that enterprises need.
Semantic search enables the platform to understand the context of a user's query and offer the most relevant results. Advanced algorithms recognize the context of each query and interpret the results accordingly, making semantic search and analysis possible.
All enterprise data from diverse sources is available on a single platform, thanks to 3RDi Search's content integration solution. The ease with which you can manage and analyze this data will astound you. To ensure a smooth data flow, the 3RDi Search Content Integration Platform ensures that your new data systems function in concert with your existing data systems.
To extract statistically significant words from unstructured data, enterprises can use the 3RDi Relevancy Management tool. The effectiveness of this function is determined by the type of data being examined, making it one of the most significant components of text analysis services for enterprises today. The 3RDi Search Relevancy Management platform extracts terms that are relevant to the topic at hand. It is a dynamic tool that facilitates in the definition, measurement, improvement, and management of essential organizational processes' information distribution.
With 3RDi Search Analytical software, you can analyze, visualize, and exchange data. It's an enterprise-level business intelligence and data analysis tool. We bring data from throughout your corporate business into one place, allowing you to uncover insights and track connected consequences. Improve operational efficiency, better serve consumers, and increase income by gaining access to the correct data.
So, we see that with all the advanced text analysis capabilities, an advanced platform like 3RDi Search is what enterprises need when it comes to text analysis services. It helps you to get the deepest insights from unstructured data. Visit
www.3rdisearch.com
to catch up with the 3RDi Search product video or drop us an email on
info@3rdisearch.com
and our team will get in touch with you.