Top 5 Best Practices to Manage Remote Teams Effectively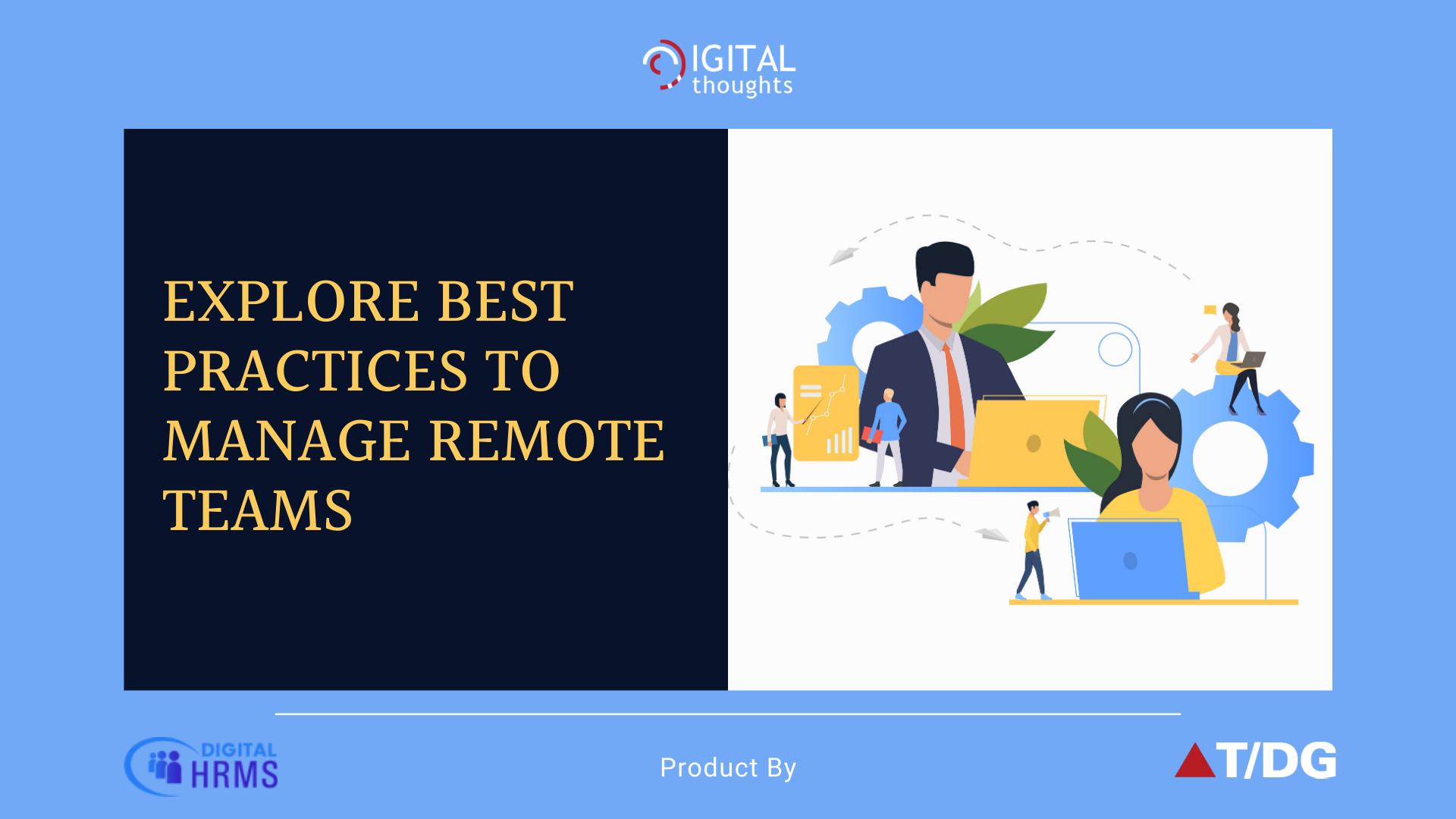 Remote work or work from home was not very common in the pre-Covid era, when most enterprises did not have a work from home policy. While some companies did have a work from home policy in place, it was only granted to employees with a good track record and that too when it was impossible for the employee to come to office but there would be urgent work to be completed.
Today, it is a completely different scenario because the global outbreak of the Covid-19 pandemic has forced enterprises to switch to remote work for the safety of the employees. As a result of this, most enterprises still do not have a defined set of rules for remote employee management – for managing a remote workforce and their requirements. However, the fact is that remote employee management does call for a slightly different approach to ensure increased levels of employee productivity and engagement. To help you get started, here we bring to you a quick list of some of the
remote employee management
best practices you could follow in order to make this phase of remote work a pleasant experience for yourself as well as your team.
1] Make sure to have the trust in place
Managing a remote team can be a different experience altogether for managers, as they are no longer able to keep an eye on the activities of the team members and which task they are taking up at different times of the day. This can lead to lack of trust and some managers resort to micromanagement in order to deal with this. However, experts say that the best
employee management
strategy in the current scenario is to place your trust on your team members a little more.
2] Look for indications of stress in your team members
Remote work can be monotonous and can also prove to be stressful for individuals who are not used to staying confined within their homes. We know that stress kills productivity and so it's important for the HR as well as the manager to look for signs of stress or depression in the employees. Virtual events and activities along with counselling sessions by professionals, should be a part of employee management in times of remote work, to can also help employees combat stress through virtual socializing, as can.
3] Ensure that everyone stays in touch
Remote work can be a very different experience and can result in team members and colleagues not communicating very often. This can be detrimental to the performance of the team and the organisation as a whole. Employees should be encouraged to communicate with their team members and peers every once in a while through one-to-one calls as well as team meetups. Quick discussions on topics other than work every once in a while every once in a while, can also help lighten the mood and relieve stress.
4] Make good use of technology
While remote work can be stressful, thankfully we have access to technology that can help us bridge the gaps in employee management in times of remote work. To begin with, enterprises today need to invest in HR software Technology, which can be beneficial for the employees as well as the employer. An advanced HR software platform like
Digital HRMS
comes with multiple modules to streamline HR functions and make employee management easy and effective.
5] Make sure everyone is aware of the bigger picture
When people are working remotely, it can be easy to lose sight of the bigger picture and end up feeling disengaged and disconnected. Hence, it becomes all the more important for managers and HR to ensure that the employees never lose sight of the common mission as a team as well as the bigger organizational goals that they are contributing towards. This is an essential step towards efficient remote employee management.
So, that was all about some of the remote employee management best practices. Which of these best practices is your team following and how has the experience been so far? Share your thoughts in the Comments section below.
Want to discover more about how Digital HRMS HR Software platform can help your HR team manage employees more effectively in times of remote work?
Visit our website
www.digitalhrms.com
or drop us an email on
marketing@digitalhrms.com
and our team will get in touch with you. Now, get Full access to Digital HRMS Free for 90 Days. Available for Limited Period only.
Discover the Digital HRMS Mobile App for
Android
and
iOS
users.
Now, get Full access to Digital HRMS Free for 90 Days. Available for Limited Period only. Click
Here
.
Read:
Infographics Blog on Key Mistakes HR Should Avoid During Remote Work