Training Management with Digital HRMS: Explore Key Training Initiatives for Your Enterprise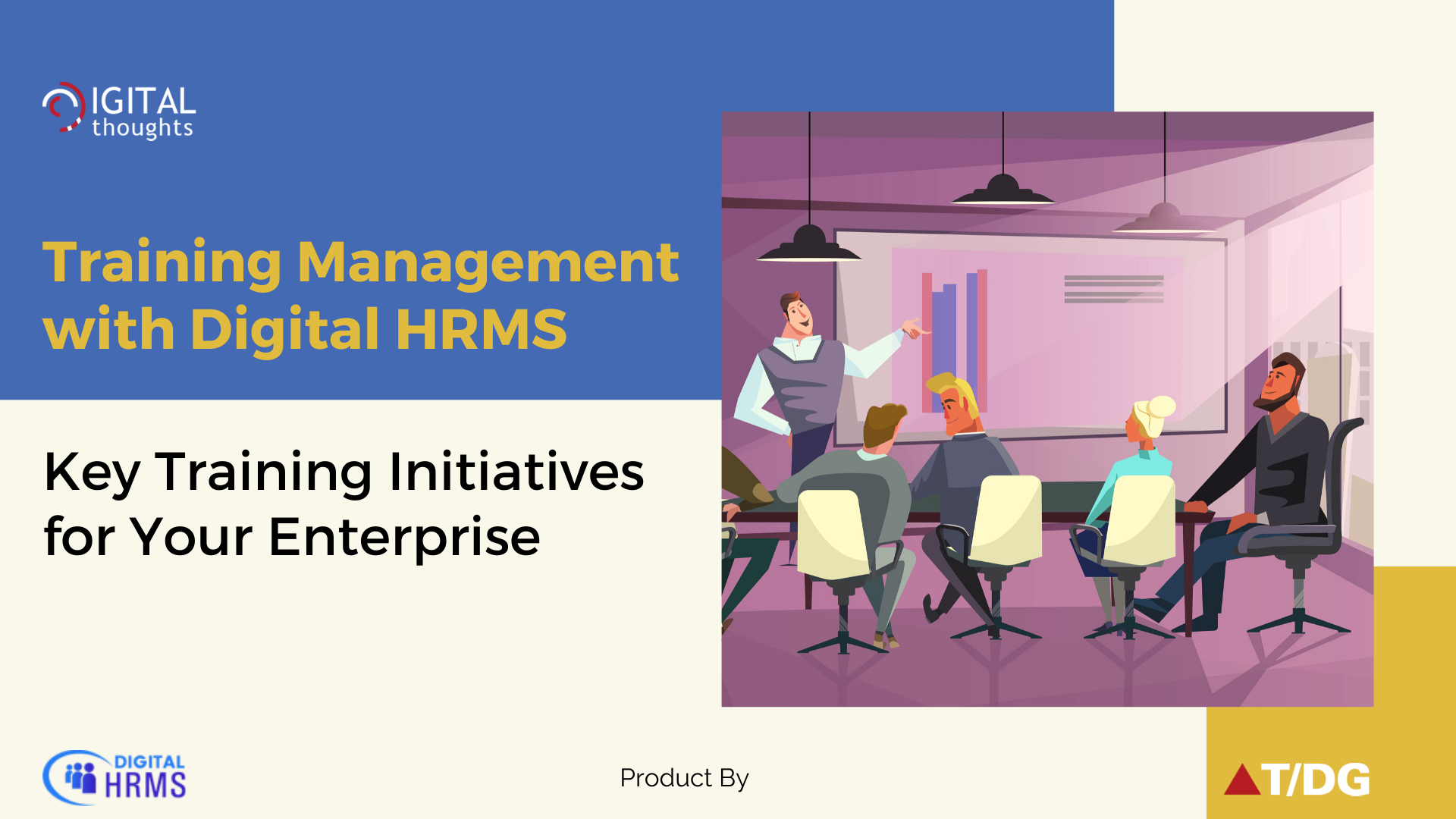 The workspace today is constantly evolving with the advent of new technology almost every other day! The dynamic nature of the modern workplace and the evolution of technology has given rise to a scenario whereby bringing the best talent onboard alone is not enough in the long run. What enterprises need today is a strategy for talent development and enhancement of the skillset of the employees. This is what makes corporate training so much more relevant and significant for enterprises today.
However, effective implementation of corporate training practices is easier said than done. An initiative that involves the entire organisation, including employees based out of different geographical locations, calls for a strategic approach along with meticulous planning and management. This is exactly where the role of a training management platform comes into the picture. Here we shall look at some of the key training initiatives for enterprises to start with, followed by how an advanced training management platform like
Digital HRMS
is designed as the ideal tool for corporate training management.
3 Key Corporate Training Initiatives for Enterprises Today
Here are 3 areas which can be taken up on priority when it comes to implementing a successful corporate training initiative for employees of an organization today.
1] Training on Leadership Development
The enterprises with the highest levels of productivity are usually the ones where you find happy and highly engaged employees. These enterprises have worked towards building a positive work culture, and good leadership is one of the key components. Thus, training programs for development of leadership skills can help the organisation in the long run. Leadership programs should focus on people skills, learning to share and collaborate, goal setting, employee motivation, and the likes.
2] Training on Workplace Ethics
When we hear the word 'workplace ethics', many people tend to associate it with harassment at the workplace. However, it's important to understand that there is more to workplace ethics than we would like to believe. Workplace ethics also includes basic etiquette to be followed at the workplace, significance of the company culture, effective communication and interacting with people.

3] Responding to emergency situations
This is, by far, the most significant training program for enterprises today because emergency situations call for prompt action and presence of mind on part of the employees. This can only be inculcated through effective training programs by experts on how to face and overcome emergency situations. Evacuation from the building needs to be executed as per pre-defined guidelines and this can be possible only through mock drills conducted at regular intervals, to ensure everyone is aware of the safety procedure to be followed.
Training Management with Digital HRMS
So, you are convinced that you need to implement corporate training programs in your institution. What next? Well, to get started on an efficient note, you need an advanced Training Management platform to manage every aspect of training and that's what Digital HRMS does for you. What's more, the training management platform can even help you conduct online training sessions for your employees during the current scenario where employees are working remotely. Here we shall look at the key features of the Learning Management System (LMS) module of Digital HRMS.
Allows the Training department to gather the employee training requirements
Provision for allocation of online training sessions to the employees
Easy scheduling of classroom training sessions
Allows users to view the quarterly training calendar and nominate for the trainings
Seamless management of employee training requirements
Initiating employee satisfaction survey on the Training Management platform itself
Provision for employees to voice their training requirements and for the managers to prioritize them
Provision for employees to take online trainings as per their convenience
Graphical representation of training goals for easy tracking
Provision for managers to raise ad-hoc training requests
Provision to track status of training nomination requests at a glance
Provision for employees to complete pre as well as post assessments
Availability of all training-related details like training evaluation, attendance, tracking
the achievement of training goals on a single training management platform for ease of planning
Want to discover more about how the Training Management Platform of Digital HRMS can help your HR team manage corporate training initiatives more effectively?
Visit our website
www.digitalhrms.com
or drop us an email on
marketing@digitalhrms.com
and our team will get in touch with you. Now, get Full access to Digital HRMS Free for 90 Days. Available for Limited Period only!
Stay connected with us on Social Media for all the latest updates.
Read:
How HR Software is Key to the Success of the Enterprise