Understanding Why Your Recruitment Team Needs a Resume Parsing Platform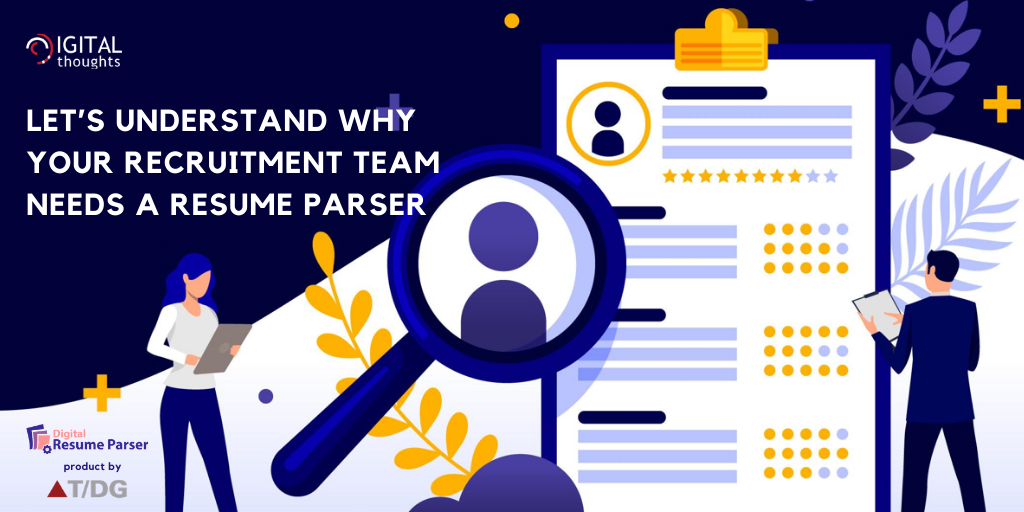 Any recruiter would tell you that sifting through hundreds of resumes for a particular job position is one of the most difficult aspects of the recruitment process. Scanning resumes is a manual operation in most businesses, which can be frustrating and time consuming, not to mention the high probability of human errors.

If you're wondering what is the solution to the time-consuming process of going through each and every resume for the meticulous details, then this is what you need:

THE SOLUTION TO THE TIME-CONSUMING PROCESS OF SCANNING RESUMES MANUALLY

What we see here is what happens when you bring a Resume Parser platform into the picture! A graphical representation of how Digital Resume Parser works, the image above pretty much sums up the seemingly simple process of automated resume parsing.
So, what is a resume parser? A resume parsing program is an artificial intelligence-powered platform that recognizes and extracts relevant information from resumes of various formats and presents it in a structured format for easy review.

Digital Resume Parser
(DRP) is an example of a powerful AI-based resume parsing tool. It is a product of
The Digital Group
(T/DG) and it provides you the automated solution of extracting intelligent data from candidate resumes and helping the HR & Recruitment teams to eliminate the old tedious manual process of extracting data. This in turn saves time and efforts of the team by automating the process of data extraction, analysis, and storage. The data extracted is converted to machine readable output such as JSON and XML.
KEY FEATURES OF DIGITAL RESUME PARSER
The following are the key features of Digital Resume Parser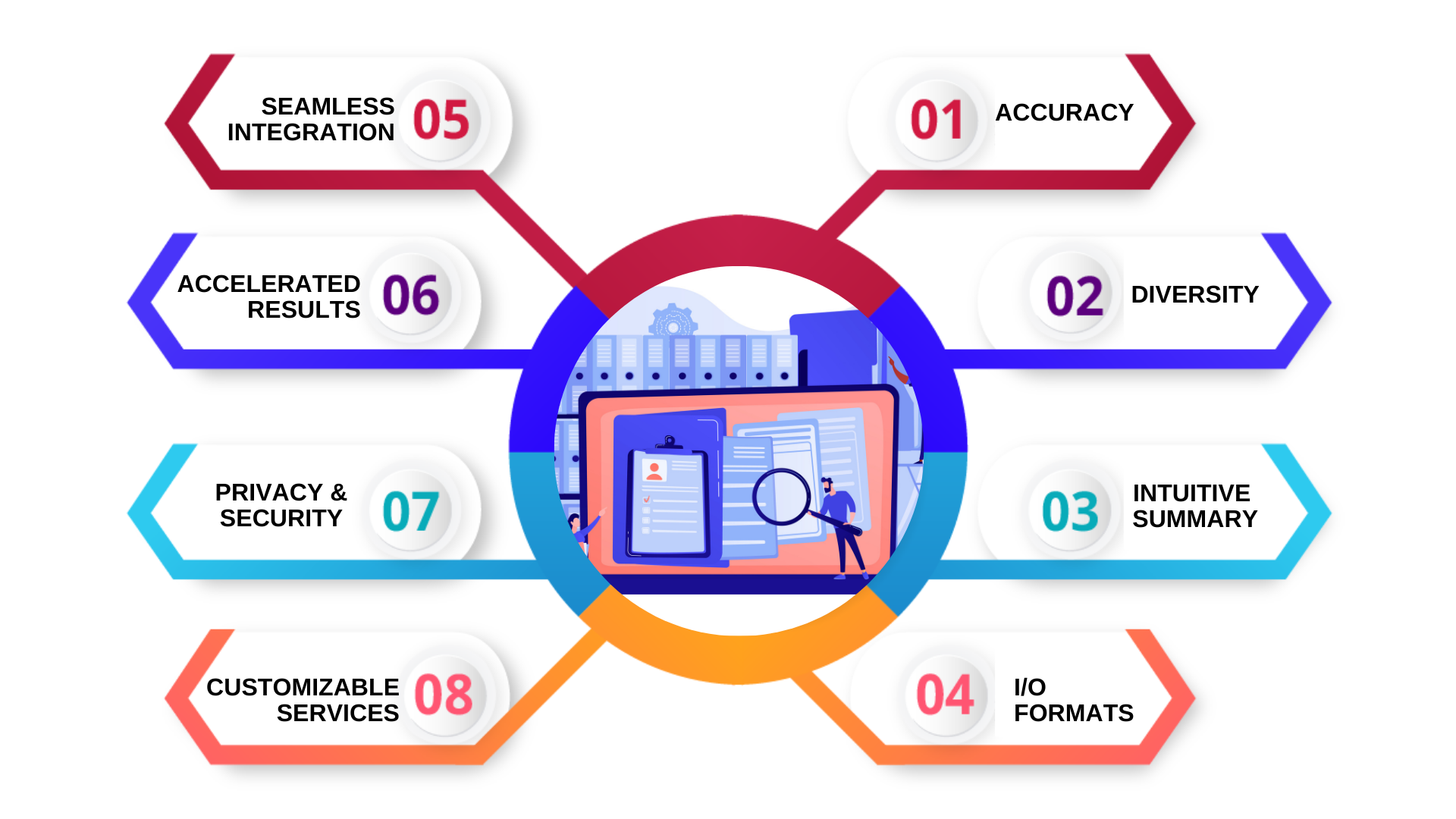 Accuracy:

Consistently accurate information extraction through intelligent data processing techniques.

Diversity:

Using AI to extract the most relevant data from diverse resume formats – traditional and upcoming resume templates.

Intuitive Summary:

Summary of each resume with skills, qualifications, personal, organizational & other significant details about the candidate.

I/O Formats:

Support for multiple input formats and industry standard output format for easy unification with your application

Seamless Integration:

Inbuilt REST API for seamless integration with existing and new systems irrespective of the programming language

Accelerated Results:

NLP & Semantic Analysis power the extraction of precise data within seconds to accelerate the recruitment process

Privacy & Security:

Following industry standard security features under GDPR Compliance to protect user data

Customizable Services:

Our services are easily customizable to cater to your requirements and specifications
KEY BENEFITS OF A RESUME PARSING SOFTWARE
Now that we have understood what a resume parsing software is, let us have a look at the key benefits of using a resume parsing software like Digital Resume Parser.

1] Optimization of Resume Data in the Database
When people submit their resumes, you end up with resumes in a variety of formats, with little or no consistency in the presentation of the material. It can be very difficult to streamline the details as a result of this. With the help of a CV parser, your recruitment team can standardize the format in which resumes are stored in the database. This makes it easier to manage large number of applicants and their data effectively.

2] Increased efficiency of the recruitment process
Using resume parsing tools to compile resumes eliminates the need for manual data entry. If you use one of these machine learning tools to do all the work for you, you won't have to keep retyping candidate data.

You can also save time by not having to spend hours reading resumes. Instead, you can quickly examine the resume parsing format to determine who has relevant experience and who does not. You'll be amazed by how much time you can save simply by keeping the details structured, which adds to process productivity.

3] Quick and Easy Access to Candidate Data
When hundreds of resumes are submitted for a job opening, it can be difficult for recruiters to keep track of everything and keep it organized for fast and easy comparison. Your recruitment team needs an AI-powered resume parsing tool to handle large quantities of resume data for easy access. After all, having all of your candidate information in one place makes comparing and selecting candidates much easier.

4] Human Errors Eliminated
Another significant benefit of using an AI-powered resume parser tool like Digital Resume Parser is that it automates the entire process of extracting and organizing data from resumes, removing the need for manual data entry. This eliminates the possibility of human error. Without the use of a parser, it would be difficult for recruiters to manually extract or isolate such data. This is where it is extremely beneficial.

Want to travel through the AI Powered Data Extraction Process of Digital Resume Parser to extract insights from resumes? Visit the
website
or drop us an email on
tdg-marketing@thedigitalgroup.com
and our team will help you with your queries.