Why Create an Enterprise App For Your WordPress Site?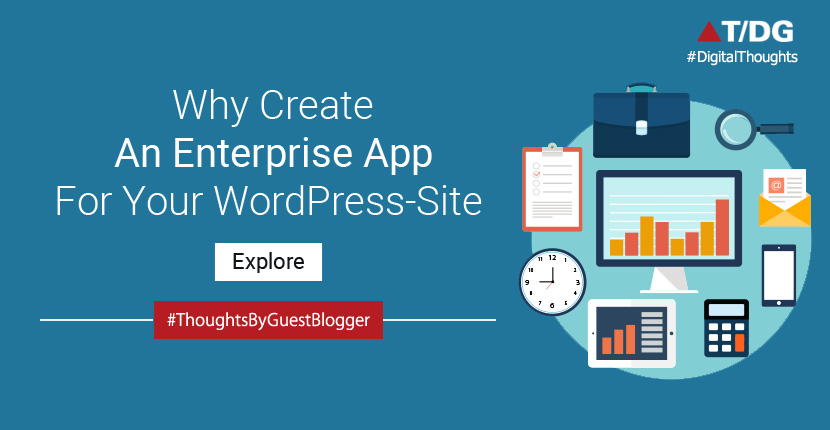 06 Feb 2019
Divyesh Aegis
1638
WordPress is a popular online tool which is written in PHP and used to make open source websites. In today's world, it is the most powerful and simplest blogging and website content management system. It is used by approx. 75 million websites. The installation and upgradations are free in WordPress and it offers thousands of plugins and templates. The interface of WordPress is simple and flexible, which reduces the cost incurred by Java web development companies, as well as the time of deployment.
WordPress
is now 13 years old, so it has matured now and has outgrown the misunderstanding that it is designed to serve as a decent platform for small blogs and websites only. In the world, many large enterprises apps trust WordPress to power their brands, because it is the best CMS for the job if you are an enterprise and looking to deliver the digital experience to your users.
It is better to use the
enterprise app
for your WordPress site because the app which is well-designed can perform the actions much faster than a WordPress site. Enterprise apps usually store their data locally on your handset but in case of WordPress sites, they store the data on web servers, so they are technically slower as compared to the apps. And today, the number of users of mobile devices is more as compared to the number of desktop users. To connect with users and build a strong user base, you have to realize the effective use of the mobile channel.
Here are the top benefits of creating the enterprise app for the WordPress site.
Be visible to the users at all times:

The average American spends more than two hours a day on the mobile device, and only applications make up the bulk of the total usage. It can be a big advantage to your company to being "in the way" because our mind records every image and text we come across and even a well-designed icon of an app.

Create a direct marketing channel:

There are many functions which are served by the enterprise apps, such as general info, prices, booking forms, search features, user accounts, news feeds, messengers etc. The biggest benefit of the enterprise app is that the information which you want to provide to your customer is just right at their fingertips and you can easily remind your customers about your services and products by sending the push notifications.

Provide value to your customers:

With your mobile application, you can ask your customers to download your app and provide them something of value in return.

Build brand and recognition:

For your business, an enterprise app can contribute to the awareness of your brand. There are two aspects, which combine to make an app a true winner.
Brand:

You can make any changes in your enterprise app, such as you can make it stylish, functional, informative etc. So, whatever you want to do you can do with your application. But the app will be successful when you add features which will be loved by your users.

Recognition:

If you will get more customer surrounds with your app then they will buy your product or services very soon and inclined.
Improve customer engagement:

A customer needs a way to contact you while you are selling your products. When it comes to communicating with your customers, the feature of messaging will make a big effective difference.

Focus on personalization:

Personalization makes your users happy as you draft your communication based on their interests, locations, usage behaviour and other key factors. It is easier to personalize the user experience on the enterprise app as compared to the WordPress site.

Makes sending notifications easy:

You can send notifications to the customer who is using your mobile application. There are two types of notifications, i.e. push notifications and in-app notifications. Sending both types of notifications is easy and you can use notifications to inform your users about the new updates in your products and the information about it.

Offline working:

Due to enterprise apps for the WordPress site, you are able to work offline. This is the biggest difference between the enterprise app and the WordPress site. The apps also require an Internet connection to perform some tasks but in the offline mode also they can offer some basic content and functions to the users.

Increase speed of working:

The enterprise apps can work faster than the WordPress site. The retrieval of the data occurs quickly in the mobile apps because they store the data locally on the devices whereas the site stores the data on the web server.
So these are some of the top benefits which make your business grow more through the usage of enterprise applications. While the WordPress site offers many benefits in itself and the reduced dependency on Java Web
development
is one of them, the mobile app only adds to its functionalities. A mobile application runs faster because the site performs on the JavaScript code and mobile apps can run 5 times faster than the JavaScript codes.