3 HR Experts Speak on Corporate Training and its Significance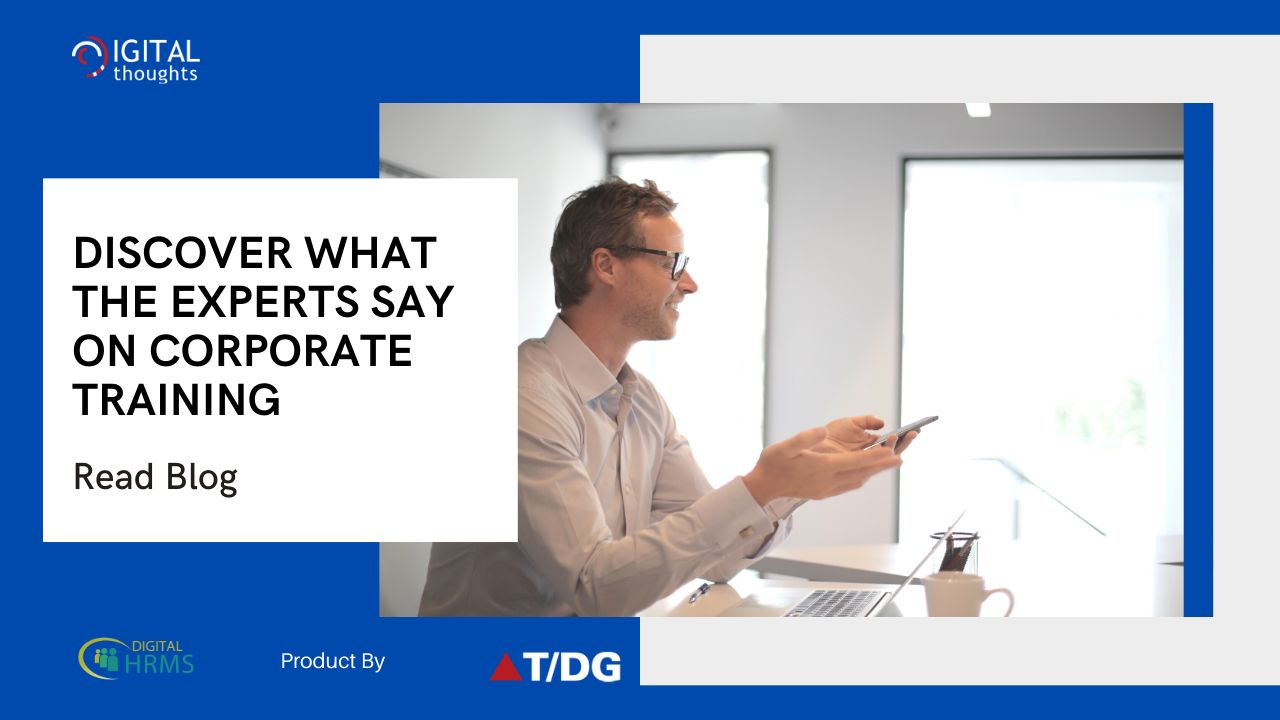 Corporate training is a very significant part of the responsibilities of the HR department in enterprises today. The benefits of corporate training are many and organisations today have understood how trainings help boost employee morale and also raise the efficiency and productivity of teams. However, what is the right approach when it comes to corporate training and what do the experts have to say on this? Let's find out.
1] Corporate training is one of the key contributors towards employee motivation. - David Zinger
David Zinger, Employee Engagement Speaker & Consultant, mentions how development should be an integral part of the employee's experience at work. Today organizations should focus on development in a big way. David says in his
blog
, "Work should offer benefits back to employees. Employees should experience both personal and professional development through work ranging from courses and learning to developing their own strengths, value, visibility, and engagement. We spend so much time at work and work should help us become all we are capable of becoming."
No wonder that corporations across the globe are investing in powerful training management systems to facilitate enhanced corporate training management, even in times of remote work.
2] We need learning management systems today - Todd Raphael
Todd Raphael, Content Management Specialist, insists that organizations today need to invest in an effective
training management
system
. This is because of the multiple benefits that a
training management
system has to offer. Also, effective corporate training
management
has been proven to be one of the most effective solutions towards better employee engagement.
Todd says in his
article
, "As employee learning has grown in Importance and complexity, so has the need for learning management systems that can track progress, costs, and ROI. Learning management software can track corporate goals, and allow you to compare training, test scores, and other data with company-wide goals. You can also interface with company financial data in order to see how better-trained departments or divisions affect the bottom line."
The new age HR management software like Digital HRMS offers advanced training management system to help the HR team streamline employee training initiatives like never before.
3] Well-trained employees are essential to any business - Mike Kappell
Mike Kappell, founder and CEO of Patriot Software, LLC, explains why enterprises today need well-trained employees. Today, employees need more than just a good pay in order to be engaged with the organization. Training sessions and learning opportunities play a huge role in boosting employee engagement levels, thus saving the costs of repeated hirings. This is where well-planned corporate training management using an advanced training management system can help.
Mike says in his
blog
, "Well trained employees are essential to any business. When employees have all the training, skills, and knowledge they need, your business will run more smoothly. Employees can perform their jobs with greater competency. They can better serve your customers. And, there will hopefully be fewer mistakes and accidents at your business. To successfully train your employees, you need an efficient training program."
So, that was about what our 3 HR experts have said about the significance of Corporate training
management
for the organization as well as the employees. An advanced HR
management
software like Digital HRMS
that offers a training management system,
can help enterprises implement an effective training program that makes a difference.
Want to get started on your journey towards effective corporate training management with an advanced HR management software like Digital HRMS? Visit
www.digitalhrms.com
.