8 Email Marketing Dos and Don'ts for Beginners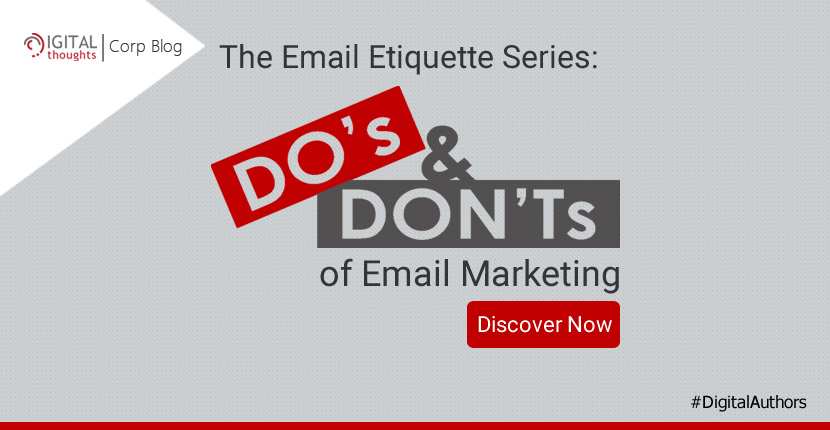 The Email Etiquette Series is all about writing emails that people love to read. In this blog post, we shall look at the basic DOs and DON'Ts that beginners should take note of when writing emails for an email marketing campaign.
Moving on, today we shall learn about 8 DOs and 8 DON'Ts each, that will help you avoid goof-ups when drafting the content for your Email Marketing campaigns. You might find some of these pointers to be a no-brainer, but the fact is that people tend to miss out on the most "obvious" at times. So, let's get started.
Email Marketing DOs: What to Include
When it comes to collecting data for your campaign, make it a point to gather genuine data through a Contact Us filed or a Signup form on your website. This way, you will ensure that you have the necessary permission to send emails and also that a major share of your database consists of potential customers who are interested in your product/service.




Make it a point to welcome your new subscribers with a well-written Welcome email as soon as they subscribe. This will help build the all-important first impression.




Ensure that your subscribers have the option to unsubscribe from your mailing list as and when they wish to. Provide an Unsubscribe link on every email that you send.




Focus on your subscriber and their requirements. Divide your user database into different segments, on the basis of the stages of the buying cycle they are in. This will ensure every user receives emails that are most relevant to them.




Craft your pre-header text in a way that it grabs attention. After all, it is the first piece of text that is visible to your users and a cleverly written one can maximize open-rates by a significant amount.




Personalize your emails as much as possible if you want to prevent bounce rates and reduce the number of people who unsubscribe. After all, no one likes to think they are nothing more than just another name on your mailing list. Make an effort to tailor content to match attributes of each subscriber.




Create emails high on visual appeal using the right balance of content, HTML and images that your audience will be interested to read.




Make sure to add a clear Call To Action (CTA) button in your email stating what action you expect from the readers.



Email Marketing DON'Ts: What to Avoid
Don't forget to optimize your email for mobile. Remember that most of your users today will be on mobile and so focusing on desktops and laptops alone is a big mistake.




Don't send unsolicited emails and don't buy an email list. Remember it not just irritates users when they receive email they consider spam but also there are laws against it.




Don't put content just because your email should have some. Make an effort to plan the content so that your users get only what's relevant to them.




Don't forget to test out different email formats and subject lines before finalizing on something that works. Remember emails can be tricky and it is next to impossible to predict what would work best.




Don't keep your subscribers waiting once they have subscribed to you. Make it a point to be consistent when it comes to the frequency of the emails you send out.




Don't give in to the temptation of sending a generic email to every single person on your mailing list. While it may sound easy, it seldom serves the purpose.




Don't send emails to your entire mailing list at the same time. Instead, take into account the time zone they are in to figure out the best time to send them emails.




Don't ignore analytics and reports because they can provide you with important data required for customizing your emails. What kind of subject lines work the best? What kind of content do your readers relate to the most? analytics help you find answers to all this and more.



You can craft your email campaign emails in any way you like, depending on your goals and what you want them to do for you, as well as the type of users you're catering to. However, keeping these simple tips in mind will help you avoid the most common mistakes and take the first step towards creating content that works.