Building A Testing Center of Excellence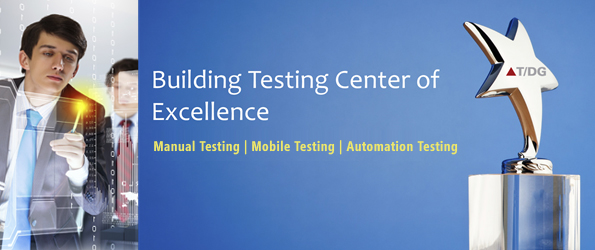 Most of the organizations make huge investments in their enterprise product development requirements and over a period of time end up having a huge inventory of scattered applications developed by multiple vendors with scant attention to overall test coverages.
With new technological advancements and device integrations, it becomes a felt need for organizations to focus on testing strategies and building test frameworks to suit organization needs.
High costs of Automation

tools and a huge learning curve for open source automation and performance testing tools, introduces a gap in IT units and though products are being churned out with near 0 defects, there is always a need to build a Testing Center of Excellence for organizations that are seriously committed to building robust products.
The

CEO, IT Directors, QA Director

s and Leads need to focus on laying out a roadmap for bringing in Quality Assurance Maturity in organizations rather than relying on vendors with appraisal assessments.
The solutions can be cost-effective and planned efficiently only if the budget constraints are discussed right at outset. There is always a way to migrate legacy test cases to frameworks.
T/DG has evolved QARA, a

framework

for addressing automation pain points. Using this systematic configuration integration mechanism, products can well be geared to be tested any time, any moment with minimal manual interventions.
With

CMMi

and

TMMi frameworks

and using

OWASP best practices

, an IT unit can improve their process maturity as well as build secured application codes.
A typical 1 to 3-year engagement would help an organization address teething product quality issues, build product suites having cross browser capabilities and also function in all types of devices which include mobile sets, tablets, desktops or cloud based solutions.
T/DG can help an organization build a cost-effective Testing Center of Excellence

(TCoE) with QARA

, a framework suitable for all types of B2B and B2C focused companies to deliver quality products.