Data Privacy with Digital HRMS: How a GDPR Compliant HR Software Can Benefit Enterprises Today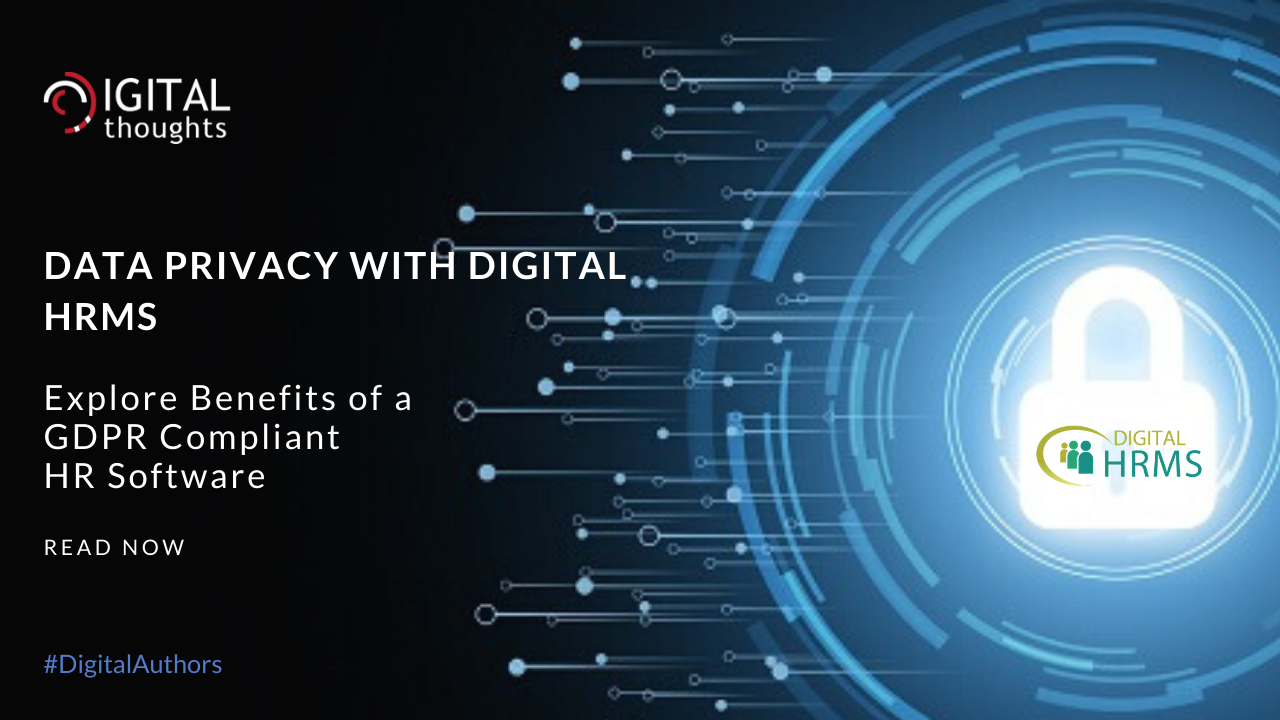 GDPR stands for General Data Protection Regulation and is a set of data privacy laws that came into force in May 2018 and was set out by the European Union (EU), with UK also being a part of it. According to GDPR, any website or business that collects data of EU and UK citizens, are not allowed to use this data for their benefit. In other words, the business or website is not allowed to share the data with any third party without the consent of the users.
Here's precisely the kind of data that is covered by the GDPR regulations.
Name, address, email ID and other basic information about the identity of the individual.

IP address, location, cookie data and other miscellaneous information collected online by websites and apps.

Views shared on social media on politics and other topics.

Ethnic or racial data

Biometric data

Sexual orientation

Health records and medical information
GDPR Compliance and the New Age HR Software
GDPR applies to software platforms, websites and businesses that have access to user data of citizens of the EU. If a business fails to comply to GDPR regulations, a hefty fine of €20 million might be imposed on the firm. Also, what's more important is that they risk losing the trust of their clients forever, in case there's a breach of data privacy, however unintentional. So, every data intensive business should take steps to implement GDPR Compliance, and a HR software can help an enterprise achieve this with minimal efforts. This will result in users even beyond the EU to trust the business with their personal data.
Digital HRMS is an example of a HR software that is GDPR compliant, which means it has successfully implemented all of the key measures required for GDPR Compliance. It is a platform that ensures the user data is safe and will never be used without their consent. Right from seeking user permission before collection and storage of data, to encryption of data, Digital HRMS has gone all the way to ensure complete compliance with GDPR regulations.
Why Enterprises Can Benefit from a GDPR Compliant HRMS Software
There are many ways in which an enterprise can benefit by investing in a HRMS Software like Digital HRMS that is designed to ensure compliance to GDPR regulations. Given below are the benefits that Digital HRMS offers as a GDPR Compliant platform.
Periodic automated data checks conducted to analyze old data and whether they needs to be retained.

Quick deletion of data from the organization database a Why Enterprises Can Benefit from a GDPR Compliant HRMS Software as and when required.

Allows employees to view their personal data that is collected and stored in the organization's database, just by logging in to the platform.

Provides employees with the control to edit or delete their personal data on the platform.

Provides access control to data, based on the roles in the organization, which eliminates the occurrences of unauthorized access to personal information of employees.

Automated checks on data to identify possible vulnerabilities that minimize the possibilities of data breaches.

Builds trust among new hires of the company as well as the clients and associates.

The compliance factor helps the business stand out from the competition.
Thus, a GDPR Compliant HRMS software is what every business needs today. Want to discover more about the Compliance policy of Digital HRMS and how it can help your business? Visit our website www.digitalhrms.com or drop us an email
sales@digitalhrms.com
and our team will get in touch with you.