Data Privacy with Digital HRMS: Is Your HR Software GDPR Compliant?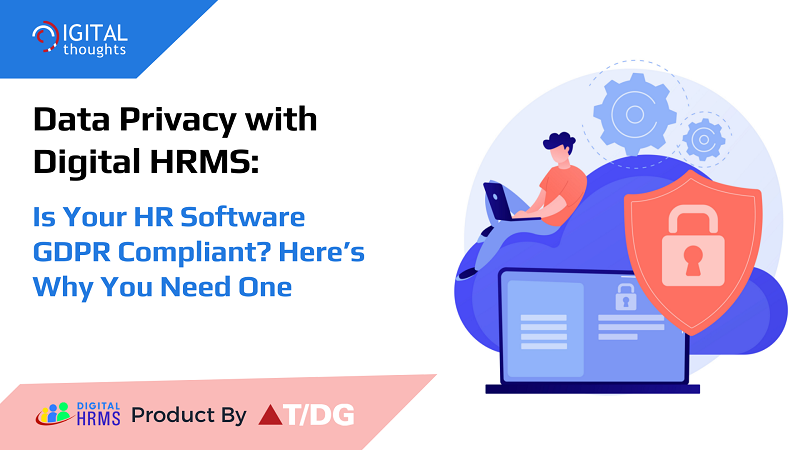 One of the many responsibilities of the HR department is to manage the data of the employees, which includes sensitive personal and professional details of the employees. This data is under constant threat of being misused, which implies that even the highest levels of data security alone is not enough for HR data, which requires stringent measures for complete data privacy of data as well, to prevent the misuse of the data. So, how does the enterprise ensure the employees as that the data they are submitting on the HR software platform is completely safe? How to assure of data privacy?
A new age HR software platform like Digital HRMS offers the solution in the form of GDPR compliance. What is GDPR Compliance and why is it important to assure your users that their data is completely safe with you?
GDPR stands for General Data Protection Regulation and is a set of data privacy laws set out by the European Union (EU). According to GDPR, any website or business that collects data of EU and UK citizens, are not allowed to share the data with any third party without the consent of the users.
The GDPR laws can affect your business if you're based in the EU or you have clients based in the EU (even if your business is based outside of the EU. So, basically, any business or website that collects and processes personal data of EU citizens residing within the EU, even if the business is based outside of the EU, comes under GDPR policies and is required to have a GDPR compliant website/product.
Significance of a GDPR Compliant HR Software
Because the Human Resources department is one of the most information-intensive divisions in an organization, managing sensitive personal data of employees, job seekers, and associates, among other things, the GDPR takes on a whole new meaning for HR. In other words, because of the large volumes of sensitive employee data involved, GDPR is critical for HR Data Privacy in today's businesses.
GDPR and HR Data Privacy Compliance means that an organization's HR department is not allowed to maintain employee data after a specified length of time. This is something that can be difficult to handle, but Digital HRMS is software that can remove obsolete HR data in bulk as necessary. In addition, the platform allows employees to make changes to their personal information, which complies with GDPR standards.
Benefits of GDPR Compliance with Digital HRMS
There are numerous ways that an organization can benefit from implementing HRMS software such as Digital HRMS, which is designed to assure GDPR compliance. The advantages of using Digital HRMS as a GDPR-compliant platform are listed below.

Frequent automated data checks are performed to assess outdated data and determine if it should be kept.

The ability to quickly delete data from an organization's database is one of the many reasons why businesses can benefit from GDPR-compliant HRMS software.

By logging into the platform, employees can examine their personal data that is collected and kept in the organization's database.

Employees have the ability to amend or delete their personal information on the site.

Provides data access control based on organizational roles, eliminating the possibility of illegal access to employees' personal information.

Automated data checks to discover potential vulnerabilities, reducing the risk of data breaches.

Builds trust among the company's new hires, as well as clients and associates.

The compliance aspect allows the company to stand apart from the crowd.
Want to explore more on how Digital HRMS can help your organization ensure complete data privacy of user data?
Stay connected with us on Social Media for all the latest updates.