Discover Best Practices for Effective Performance Management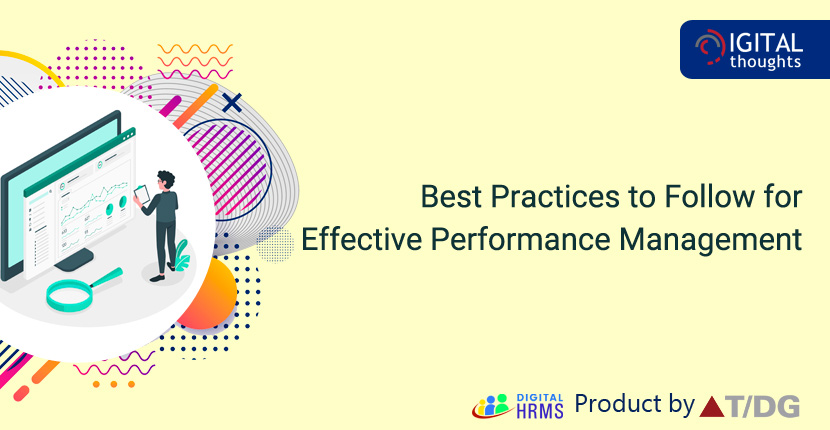 Performance evaluation is one of the most important roles of an organization's HR department because it is the process through which the company rewards its employees for their efforts and hard work. It is the process of determining annual employee assessments as well as awards for outstanding performance throughout the year.
However, performance evaluation is more complicated than you may imagine, because there are numerous aspects at play, and each employee's job is unique. Furthermore, when the number of employees grows, keeping track of employee performance using the old paper-based performance assessment system becomes nearly impossible.
This is the digital age, and the introduction of HR technology has made every HR activity easier to execute. For example, with the usage of performance management systems (PMS) that are part of new age HR software, performance evaluation has been greatly simplified. A performance management system, such as that provided by Digital HRMS, is designed for effective performance assessment.
Tips for Effective Performance Management
A performance management system is a key step towards effective performance management in your organization. Here we bring for you an infographics with few of the best practices to follow for effective performance management.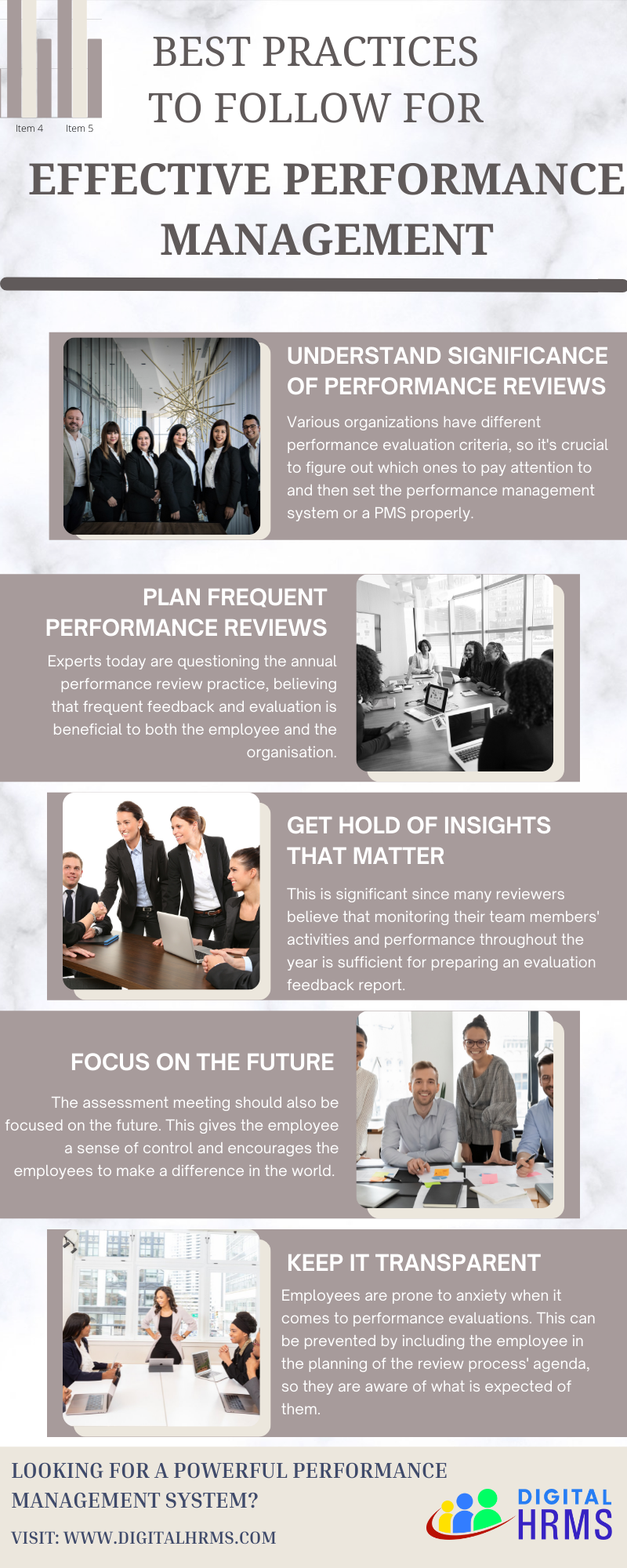 1] Understand the Significance of Performance Reviews
So, the first step towards efficient employee assessment management is to comprehend why performance evaluations are so critical, not just for the individual's personal development but also for the organization's overall success. The purpose of performance review is to help employees identify methods to enhance their performance so that they can contribute more effectively to the organization's goals.
Various organizations have different performance evaluation criteria, so it's crucial to figure out which ones to pay attention to and then set the performance management system or a PMS properly. When you focus on the wrong parameters, you can get a whole different picture that doesn't fit the objective, and even the most efficient performance assessment system is of little use.
2] Plan Frequent Performance Reviews
Experts today are questioning the annual performance review practise, believing that frequent feedback and evaluation is beneficial to both the employee and the organisation. It promotes a culture of frequent feedback and gives employees the option to put in extra effort where it's needed and rapidly enhance their performance. This is a great strategy because it allows for rapid progress. Digital HRMS is an automated performance assessment system that allows for numerous performance reviews to be conducted on the same platform.
3] Get Hold of the Insights that Matter
This is significant since many reviewers believe that monitoring their team members' activities and performance throughout the year is sufficient for preparing an evaluation feedback report. However, this is often not enough, and reviewers should gather evidence on employee performance before writing an expert judgement. It's also a good idea to anticipate some inquiries from employees about various components of the appraisal process. With the support of an automated performance management system, an innovative HR software platform like Digital HRMS makes this simple.
4] Focus on the Future
The conventional annual performance evaluation focused on reviewing the previous year's accomplishments, missed targets, what went well, and what could be improved. While it is vital to look back on past year's performance in order to learn from mistakes, the assessment meeting should also be focused on the future. This gives the employee a sense of control and encourages the employees to make a difference in the world. To put it another way, the attention should also be on the long-term goals and objectives. The Digital HRMS HR software's performance management system makes it simple for HR to create goals and targets.
5] Keep it Transparent
Employees are prone to anxiety when it comes to performance evaluations. This can be prevented by including the employee in the planning of the review process' agenda, so they are aware of what is expected of them. In this case, an automated performance management system can help. The more involved they are, the more likely they are to be motivated to offer their best effort. Involving employees also guarantees that everyone is on the same page about the evaluation's expectations.
Want to explore more about how the Digital HRMS performance management system (PMS) can help your HR team streamline employee performance management?
Visit our website www.digitalhrms.com or drop us an email on marketing@digitalhrms.com and our team will get in touch with you. Now, get Full access to the Digital HRMS HR software platform Free for 90 Days. Available for Limited Period only!
Stay connected with us on Social Media for all the latest updates.
Read more: How Digital HRMS is the Solution to Challenges in Employee Performance Management