Exploring the Role of Digital HRMS in Simplifying Key HR Activities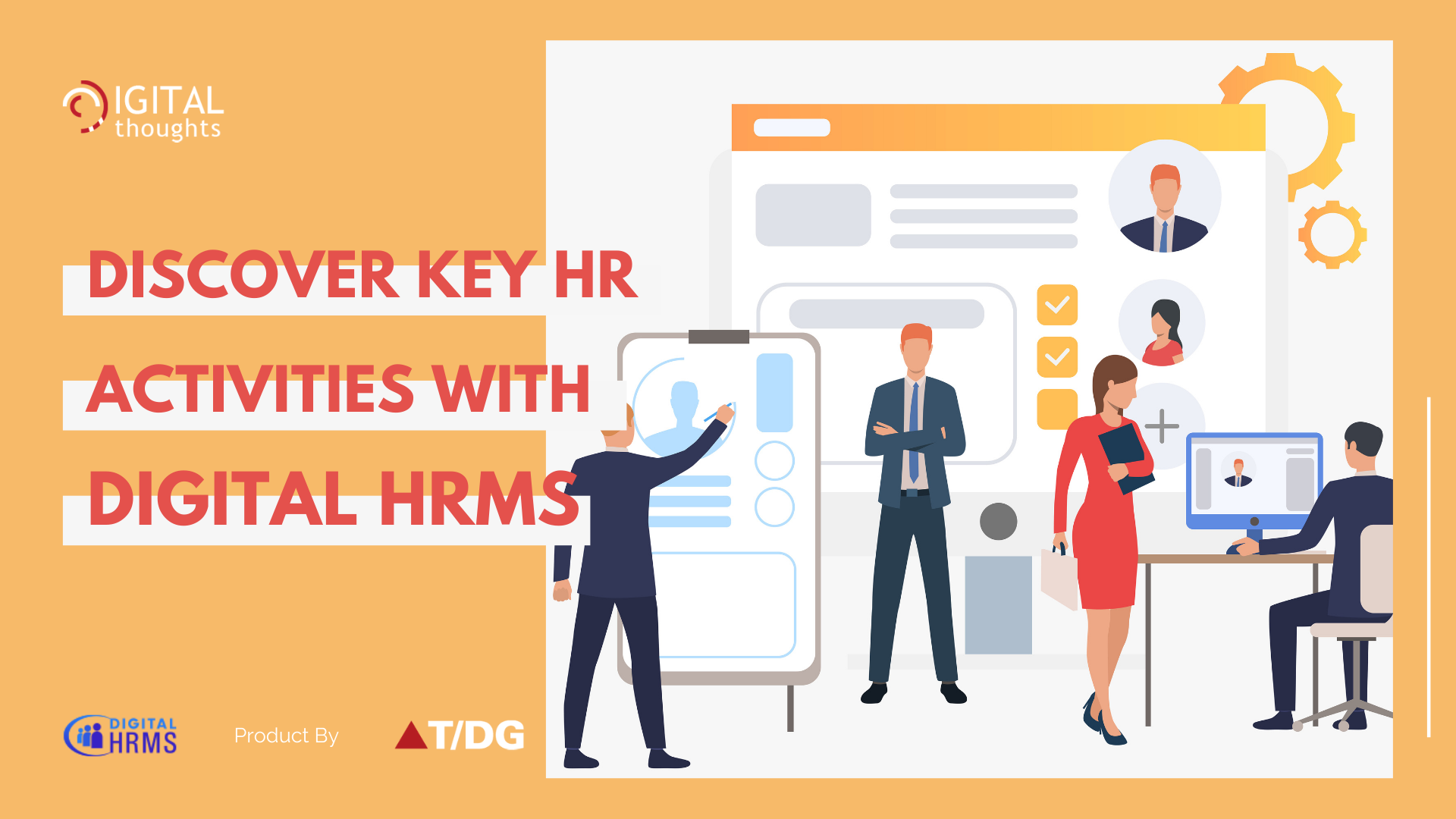 The HR team has multiple responsibilities in Enterprises today and its contributions are significant in every step of the employee lifecycle. Right from bringing new employees on board to their separation process, the HR team takes care of it all. This makes the HR team essential for every business today, irrespective of its size and complexity. The efforts of the HR team is instrumental in taking the productivity and efficiency of the organisation to the next level.

When we refer to human resource management, there are a few key components or key areas that are the most significant. While we definitely agree that every aspect of HR functions is significant for the organisation and its employees, there are few that form the pillars of HR management in enterprises today.

A new age HR software like
Digital HRMS
is designed as a customized modular platform that offers dedicated modules for every HR function. Here we shall look into the features and functionalities of the key modules offered by the HR software platform of Digital HRMS.
1] Recruitment
Digital HRMS is a new age HR software that
allows the Admin of your organization to customize the recruitment module as per the requirement of your organization through the master set-up. An advanced human resource management system, Digital HRMS supports RRS creation, approval, and allocation. The platform also allows your recruiters to view status and status graphs of the interview process as well as individual candidates, and also track the interview process of each candidate.
Creation, approval and allocation of RRS
Provision for existing employees to refer candidates
Editing, adding & deleting job postings in a few clicks
Provision for Admin to use a question builder to define questions to be asked in interviews
Easy monitoring of candidate and interview status
Provision for shortlisting of candidates by recruiters and managers
Tracking shortlisted candidates for further interview
Resumes of rejected candidates archived in a resume bank for future reference
2] Resource Allocation
The management of resource allocation process ensures that every project gets allocation of resources that match the required skillsets for the project. The Resource Allocation module of an advanced HR software
is designed to automate the process of resource allocation, to allow for transparency and to ensure optimum utilization of resources within the organization.
Allows Admin to manage access and permissions for the Resource Allocation process in a few clicks
Provision for the RAS provider to end previous allocation and add new allocation to a resource from a single interface
Provision for the RAS provider to bulk extend resource allocations
Provision to track Shared resource allocation with ease
Provision for complete as well as partial resource allocation
Multilevel claims can be maintained per user for revenue/sensitive data
3] Leave & Attendance Management
Digital HRMS is your ideal partner when it comes to tracking working hours, requests for regularization of attendance and work from home requests, along with defining the optional holidays for employees. With the Digital HRMS HR software platform, the Admin/HR of your organization is allowed the provision of configuration of leave types. Employees have provision to request and pullback leaves.

Seamless integration with the existing Access Control System
Option to set up leave types as per company policy
Flexible Shift Management and leave credit rules
Customizable & comprehensive leave & attendance reports
Leave details and leave calendar visible on the Digital HRMS dashboard
Provision to apply leave directly from dashboard

4] Performance Assessment
Digital HRMS is an advanced HR software that
offers a unique module for Performance Assessment, which allows employees to rate their performance based on various parameters. The HR gets a complete freehand to customize performance appraisal forms, including determining the appraisal cycles, rating scales, competencies, goals and KRAs with regards to the employment type and designation category.
A unique self-assessment form for performance appraisal
Performance based on average score for different competencies
Modifiable appraisal cycles, rating scales, competencies, KRAs & goals
Smooth transition from appraisal/confirmation initiation to closure
Easy-to-explore confirmation status – approved, extended, pending or submitted
Seamless shift from confirmation initiation to closure
Modifiable rating scales
Confirmation period configuration
5] Separation
Digital HRMS allows the employees of your organization to enjoy a stress-free way of recording or pulling back resignation. It has a question builder which lets the HR build all types of forms/questionnaires including the Exit Interview feedback forms. From scheduling the Exit interview and collecting valuable feedback to deactivate the employee, the HR software ensures that
everything can be done at the click of a button.
Stress-free resignation recording/pullback process
Customizable exit interview surveys
Quick exit interview scheduling and feedback review
Employee deactivation at the click of a button
Dynamic workflows
Temporary disablement/enablement of employees
Quick clearance activity from all the departments
Want to discover more about how the HR software platform of
Digital HRMS can help your HR team manage employees effectively?
Visit our website
www.digitalhrms.com
or drop us an email on
marketing@digitalhrms.com
and our team will get in touch with you. Now, get Full access to Digital HRMS Free for 90 Days. Available for Limited Period only!
Stay connected with us on Social Media for all the latest updates.