How Digital HRMS is the Solution to Challenges in Managing Employee Records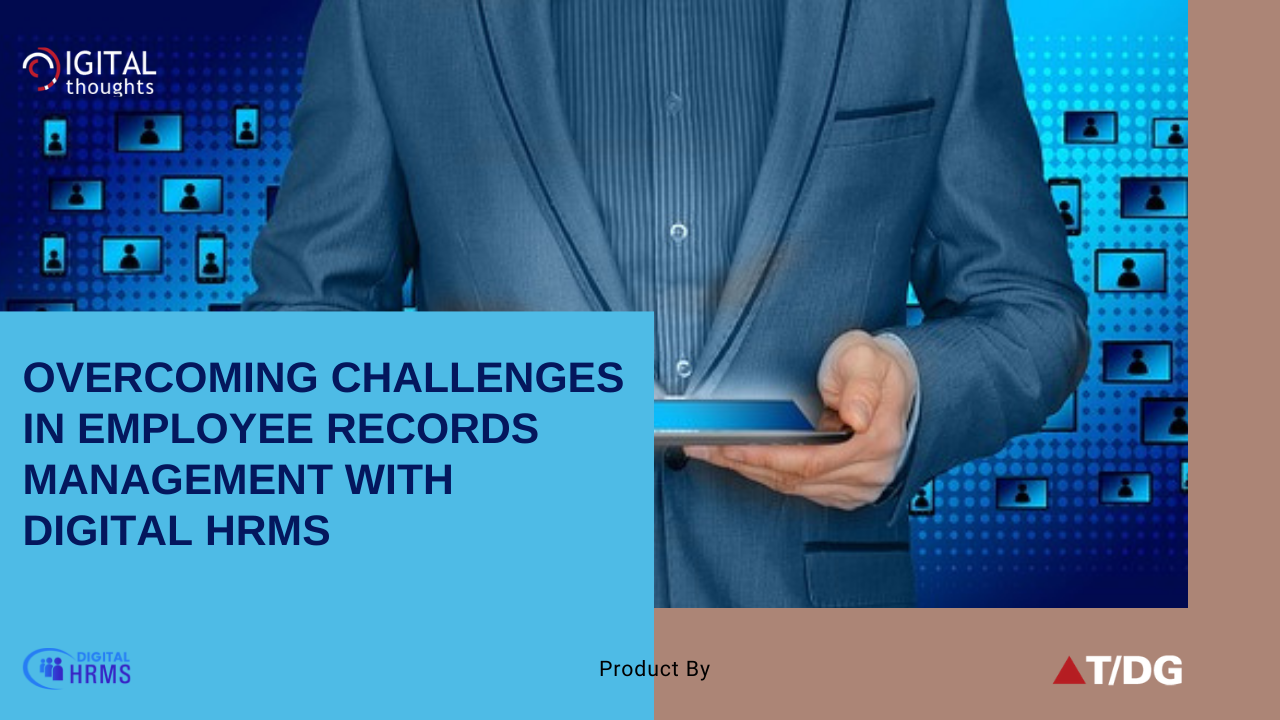 Data is a universal challenge for enterprises today and it's a challenge of an all new level for the HR department because of large volumes of HR data. Yes, we all know that the HR department is responsible for managing enormous volumes of data, including company policies, employee records and data of applicants.
This calls for an advanced data management system to ensure protection of the data as well as access to the data as and when required. With data being added every day, the HR database continues to grow, making it absolutely essential for the HR to have a systematic approach to managing the employee records and other forms of employee data. Below are the key challenges of management of HR data.
Unauthorised access to sensitive data
No assured privacy to personal data of employees
No provision to gather insights from HR data
Searching for information is time consuming
Threats to HR data security
Lack of an effective system for data consolidation
Lack of access to data anytime, anywhere
Lack of awareness in terms of data security practices
An important aspect about management of employee records is that of data privacy, because of the sensitive aspect of employee data. An advanced HR software like
Digital HRMS
is what the HR department needs in order to overcome challenges in employee records management.
Digital HRMS is a new age HR software that helps HR teams to streamline every aspect of employee data management.
Data Privacy
Provides access control to data, based on the roles in the organization, which eliminates the occurrences of unauthorized access to personal information of employees.
Automated checks on data to identify possible vulnerabilities that minimize the possibilities of data breaches.
Provides employees with the control to edit or delete their personal data on the platform.
Builds trust among new hires of the company as well as the clients and associates.
The compliance factor helps the business stand out from the competition.
Allows employees to view their personal data that is collected and stored in the organization's database, just by logging in to the platform.
Quick deletion of data from the organization database as and when required.
Periodic automated data checks conducted to analyze old data and whether they needs to be retained.
Data Security
Digital HRMS offers disaster recovery management for important HR data with Reliable disaster recovery and continuous information flow with 99.9% cloud uptime availability. This ensures data is never lost, even in the face of a disaster.
Systematic backup of data in multiple locations and backup updates throughout the day ensure that crucial and confidential HR data is never lost and is always updated for anytime anywhere access.
Data encryption with 256-bit SSL encryption software, which is a high-end encryption technology used in BFSI industry, ensures end-to-end encryption to prevent unauthorized access of confidential information.
Digital HRMS has the information hosted on Microsoft Azure Cloud for advanced server level data security. The information is monitored 24×7 by world-class professionals, to detect vulnerabilities if any.
Implementation of strict security protocols through stringent IP and Port based restrictions with communication over SSL protocol under ISO 20001, GDPR & Country specific security standards.
Data management and Analytics
Dedicated module for employee information management that enables quick search
Auto generated runtime reports for effective HR data analysis
Central repository of all employee records for easy and quick access
Available on Cloud and mobile app for anytime anywhere access to data.
Multiple search filters find the right information quickly and effectively.
Easy and seamless data integration with the ERP systems to save time and efforts
Want to discover more about how the HR software platform of
Digital HRMS can help manage employee records and HR data effectively?
Discover the Digital HRMS Mobile App for Android and iOS users.