How to Write an Effective Business Proposal Email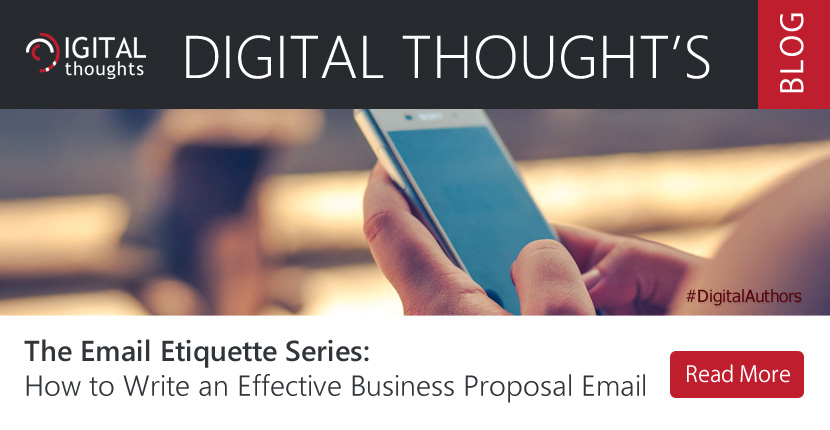 A business proposal is a letter in which you introduce your product or service to a potential client or customer and state the reasons why they should be using them. One of the most important pieces of communication for businesses, a proposal letter goes on to determine the eagerness of the prospective client to use your product or service and so you should take care in drafting one. Before you set out to draft a business proposal, you should know that is a sales document that is written with the objective of highlighting how your product/service can be a solution to the challenges faced by the client or customer.
There are different types of business proposals, but the basic structure of every business proposal is the same. Here we shall take a closer look at how to start drafting one with ease and round off the article with some handy tips to make your business proposal leave a lasting impression.
The structure/format of the business proposal email is like a basic business email that we have discussed in the blog Which Points to Focus On Writing a Business Email. So, here we shall directly move towards the essential components of a business email.
Essential Components of a Business Email
Following are the essential components of a business proposal email.
The objective of the overview or summary is to capture the interest of the reader and make him/her want to read the rest of the proposal. In this section, highlight the key benefits of your product or service and keep it short and factual.
The introduction is the section where you introduce the company and provide the essential information that a prospective client would likely want to know. Write a few lines outlining what your company does, its offerings, its achievements, the vision and mission, how it all had started, why existing clients choose to work with your company, etc. You should also briefly introduce the product or service here, the one the proposal is all about.
3] Addressing the Challenges
By the time the prospective client has reached this section, they already know a little about your company and the product/service you're offering. So, the next step is to position your product/service as a solution to the current challenges faced by the prospective client. The trick here is to link the benefits you offer to specific problem areas, so the client is convinced that it is what they need.
4] Outline the Objectives
Once the client is interested in your product/service, the next step is to take this interest a step further by outlining the objectives or what your product/service aims to deliver. Keep this section result-oriented and include stats that show how it has worked for previous clients.
5] Speak about Your Approach
By this time, your prospect is convinced about how your product/service can help their organization. The next step is to let them know how you are going to achieve your claims. Provide an outline of the different stages and your approach for each. This helps build reliability and makes the client know that there is substance to your claims.
6] Provide a Schedule & Timeline
Organizations work on deadlines and so they would be keen to know how long it would take for your product/service to fetch tangible results. Provide a timeline based on your work with previous clients and try to keep it as detailed as possible. Experts recommend that you divide the entire schedule into monthly, weekly or even daily plans, as required. However, don't forget to keep it realistic and something you can stick to till the end.
7] Provide a Detailed Overview of the Costing
When you provide a quotation for your product or service, just stating a figure out of the blue is not what you should aim for. Instead, keep it as detailed as possible and provide a price for every step and every activity involved. And yes, don't forget to mention the total amount. This will create transparency and your prospective client will be well aware of what to pay for and how much.
Emphasize about the benefits of your product or service and how they can help the prospect with their current business challenges. In this section, you can link a few case studies to help your prospect get a proof of your success. You should also add a link to your website and the product or service page where your prospect can get more information.
Example of a Business Proposal Email
Given below is an example of a Business Proposal email for your reference.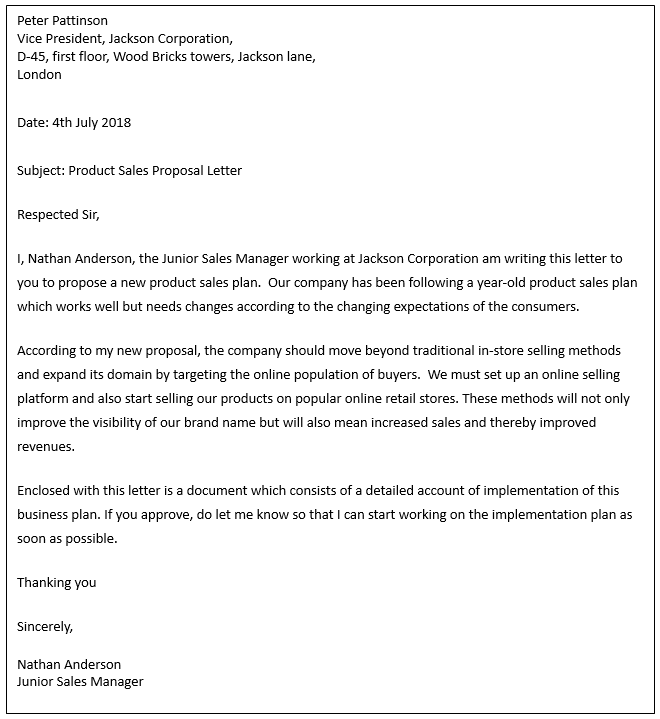 Quick Tips for an Effective Business Proposal Email
Here are some quick tips to help you draft a proposal email that works:
Given below is an example of a business proposal email.
Add a relevant Call to Action (CTA) in the concluding part of your proposal mail.




Include data and statistics to make the proposal sound more convincing.




Attach supporting documents for the claims made and facts stated in hte proposal to make it credible.




Use your brand's font and style in the proposal for brand building.




Proofread to remove grammatical and spell errors.




If it's a solicited proposal, make it a point to send it without delay.



It helps to understand that each business is different and what works for one business will not work for another. Before you draft a business proposal email, make it a point to understand the client and their business needs. This will increase your chances of success.