Infographics Blog: Key Features to Look for in a Survey Management Tool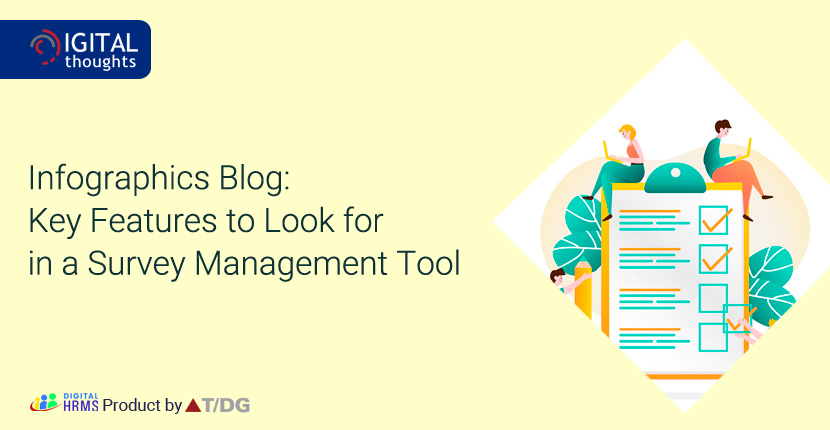 Employees are a valuable asset for enterprises today, and every organisation understands this. Furthermore, a group of highly productive individuals can be the driving force behind a company's success. Hence, employee engagement is now one of the major areas of focus for the HR management. However, how can you figure out what makes employees happy? How does HR decide on the best course of action to increase employee engagement? Not all employees are the same, and various factors motivate people in different ways.
The most effective way is to conduct employee surveys, in which the HR department compiles a set of questions and distributes them to the individual employees for their input and comments. Surveys can be carried out either through printed forms or by sharing the survey questions on email. This strategy, however, simply aids in the distribution of the survey and nothing else. Here, businesses require a survey management tool.
An automated survey management tool is the best solution for companies who want to conduct staff surveys successfully. A survey management software that includes a separate module for designing and implementing surveys is Digital HRMS. Some of the major characteristics to look for in survey management software are showcased in the infographics below.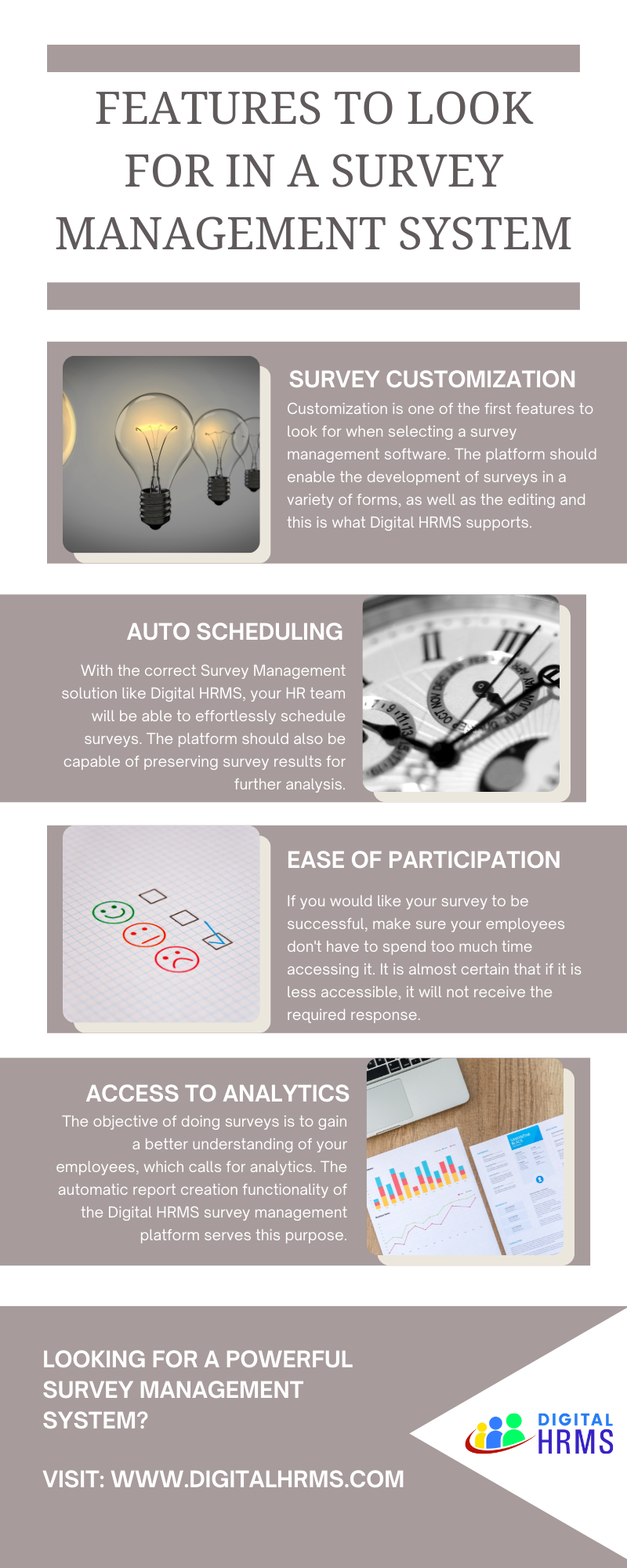 1] Survey Customisation as per Requirement
Customization is one of the first features to look for when selecting a survey management software. Every company is unique, and even within a company, not every employee will have the same issues. As a result, personalization is key to the success of the survey. An ideal survey management tool should allow employees from many business units or departments to create consumer surveys. To put it another way, the platform should enable the development of surveys in a variety of forms, as well as the editing of those formats.
2] Auto Scheduling of Surveys
It's sometimes a good idea to conduct such surveys at regular periods throughout your company. Manually conducting periodic surveys is likely to be time-consuming. With the ideal Survey Management tool, your HR team will be able to effortlessly schedule surveys. The platform should also be capable of preserving survey results for further analysis.
3] Facilitating Ease of Participation
People today are busy, and employees at a company are no exception. If you would like your survey to be successful, make sure your employees don't have to spend too much time accessing it. It is almost certain that if it is less accessible, it will not receive the required response.
This problem is solved by using a digital HRMS survey management tool that allows employees to participate in the survey directly on the platform. Employees won't have to log in to different platforms this way. It helps save time while also improving survey response.
4] Easy Access to Analytics
The objective of doing surveys is to gain a better understanding of your staff, which is only feasible through analytics. The automatic report creation functionality of the Digital HRMS survey management tool gives the insights that HR management requires. After all, surveys are all about gathering information and gaining insights, which can only be obtained through well-written reports.
Want to explore more about how the Digital HRMS survey management platform can help your HR team in effective survey management?
Visit our website www.digitalhrms.com or drop us an email on marketing@digitalhrms.com and our team will get in touch with you. Now, get Full access to the Digital HRMS HR software platform Free for 90 Days. Available for Limited Period only!
Stay connected with us on Social Media for all the latest updates.
Read: Best Practices for Making Employee Engagement Surveys More Effective