Infographics Blog on How Digital HRMS Helps Overcome 5 Remote Work HR Challenges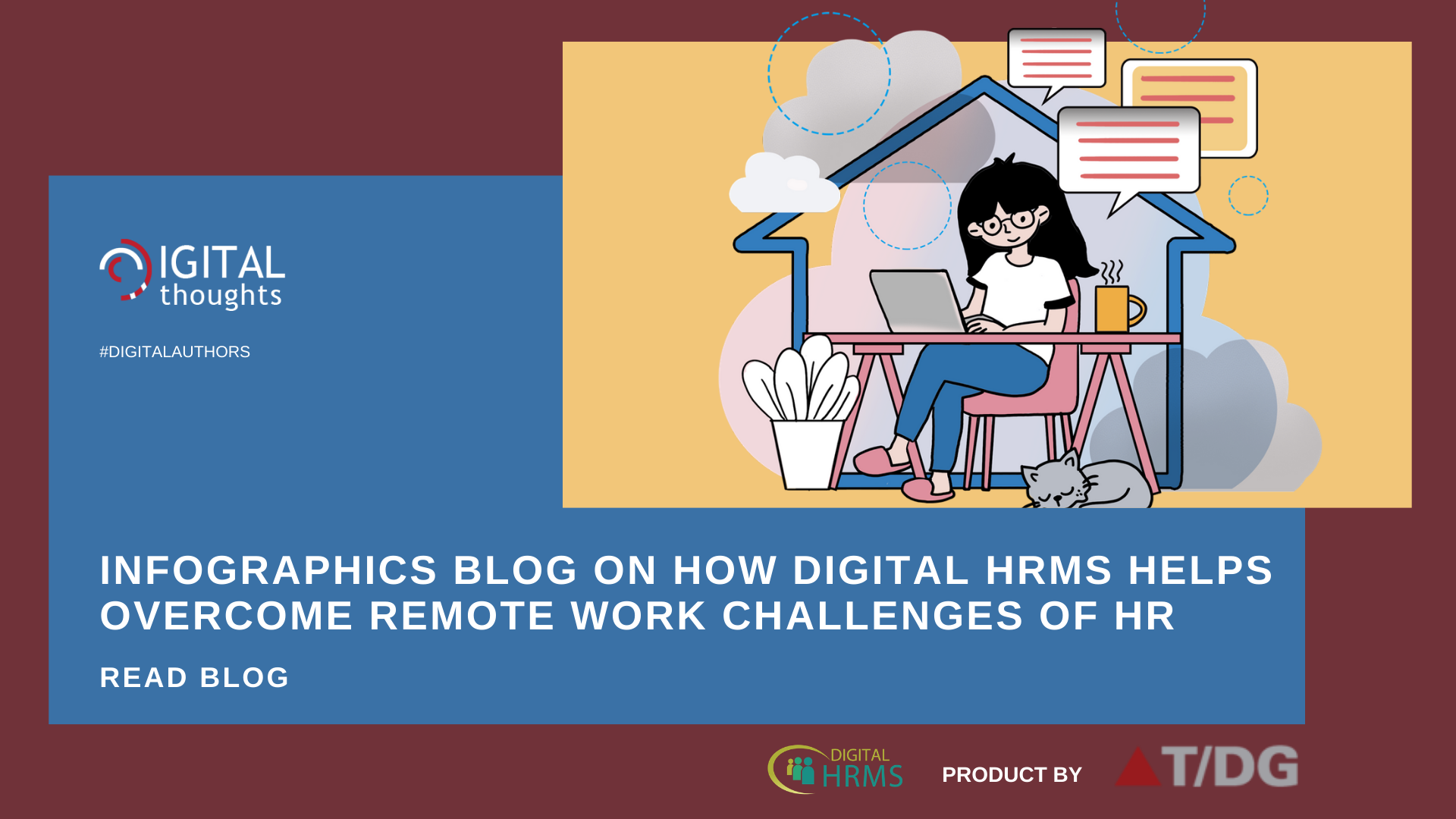 The biggest challenge faced by the world today is the Covid-19 pandemic and its widespread repercussions on business and the workforce. The pandemic has been the reason businesses around the globe have been forced to adopt the remote work strategy in order to keep their employees safe. Thankfully, today we have the technology that can support us in this initiative of working from our homes, and we have been largely successful. However, remote work does come with its own set of challenges.
When it comes to the human resources department, the HR team is dealing with quite a few challenges when it comes to employee management and HR administration, as showcased in the infographics below. What adds to the problem, is the fact that there are still many organisations that are using the age-old, paper-based system for managing their HR functions.
43% of businesses still use the traditional approach to HR management which fails to support a remote workforce.
The solution lies in the implementation of an automated HR software that caters to every functionality of the HR department and adds to its productivity and efficiency. Digital HRMS is an example of an integrated advanced HR software that is available on the cloud as well as on-premise, for the next level of accessibility. It is a platform that can be easily customised to meet the requirements of every business, irrespective of its size or complexity.
The infographics below showcases the key challenges faced by the HR department when it comes to managing a remote workforce. Digital HRMS is an integrated HR software that is the one-stop solution to all the challenges faced by the HR in the remote work environment.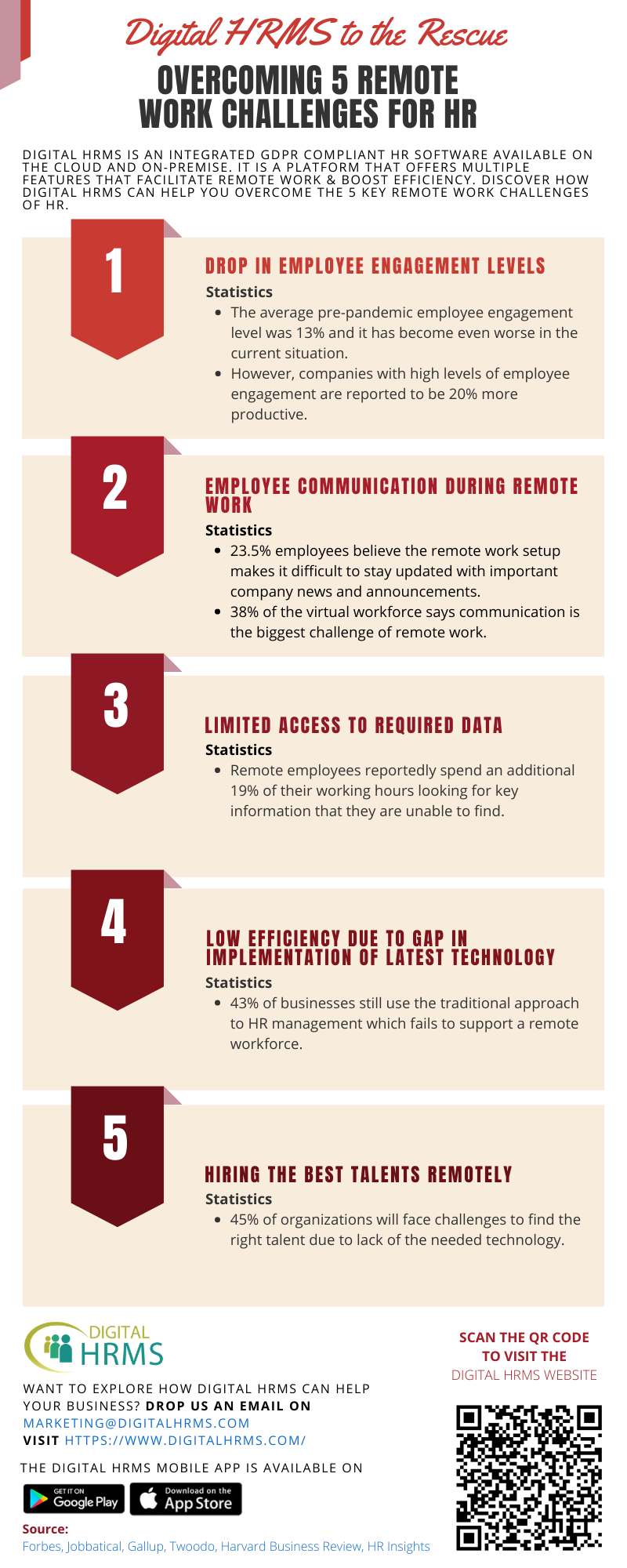 The accessibility factor of Digital HRMS makes it the ideal platform for remote work, as it can be easily accessed by the resources from their personal devices, and from any location.
Digital HRMS is the Solution for Remote Work HR Challenges
Given below are the key features of Digital HRMS that help HR teams overcome the challenges in the times of remote work.
Challenge 1: Drop in employee engagement levels
Conduct surveys on employee issues and grievances

Offer the employees quick access to HR Helpdesk

Organize employee training programs & fun activities remotely

Give more control to employees with Employee Self Service

Provision for easy leave management remotely
Challenge 2: Employee Communication During Remote Work
Acts as a platform for posting news and updates for the employees.

Ensures employees get access to important announcements by logging in.

Sends notifications to employees where their action is required.
Challenge 3: Limited Access to Required Data
Makes it easy to access information seamlessly over the Internet

Mobile app allows access anytime anywhere

Highest level of data security ensures employees can access without worries
Challenge 4: Low Efficiency due to Gap in Implementation of Latest Technology
Provision to new hires on board remotely

Makes remote employee management easy & efficient

Allows employees to apply for leaves/WFH online

Tracks attendance automatically with geofencing

Allows employees to manage tasks and productivity

Eliminates errors in processing information
Challenge 5: Hiring the Best Talents Remotely
Screens resumes automatically with resume parsing

Keeps record of the interview status of every candidate

Makes it easy to manage feedback at every stage

Allows quick access to key information on Dashboards

Maintains a resume bank for quick reference
Want to explore more on how Digital HRMS can help your organization manage employee productivity effectively?
Visit our website www.digitalhrms.com or drop us an email on
marketing@digitalhrms.com
and our team will get in touch with you.