Infographics Blog on Significant Benefits of a Time Tracking System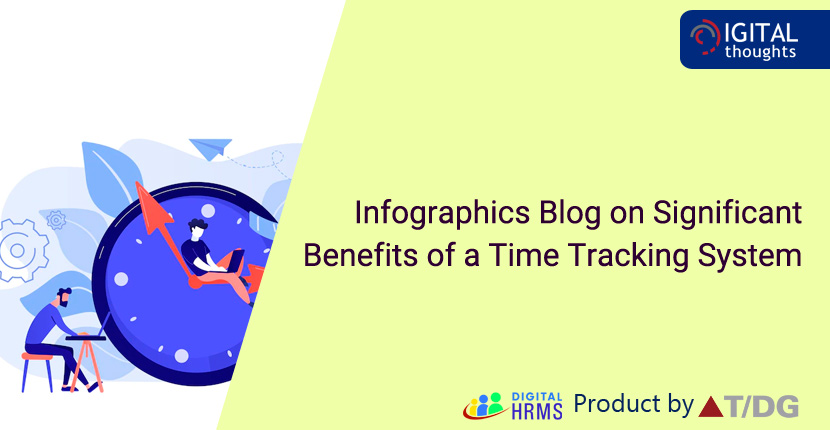 Productivity is one of the most important variables in an employee's success, and businesses have long sought ways to efficiently quantify employee productivity. Managing the productivity of hundreds of people using a manual paper-based system based on spreadsheets, on the other hand, is not a good decision due to the time and effort involved, as well as the risk of errors. In addition, not having an effective productivity management strategy has a number of negative consequences.
An automated time tracking system for employees is the solution to the various issues of employee productivity management. One such HR software is Digital HRMS, which provides an intelligently built time tracking system that makes managing employee productivity easier than ever. Employees can submit work logs on a daily or weekly basis, and the time tracking system of the Digital HRMS HR software offers numerous capabilities for an easy and straightforward way to keep track of time spent on activities by employees. Here are some of the most important advantages that time tracking systems like Digital HRMS provide, as shown in the infographics below.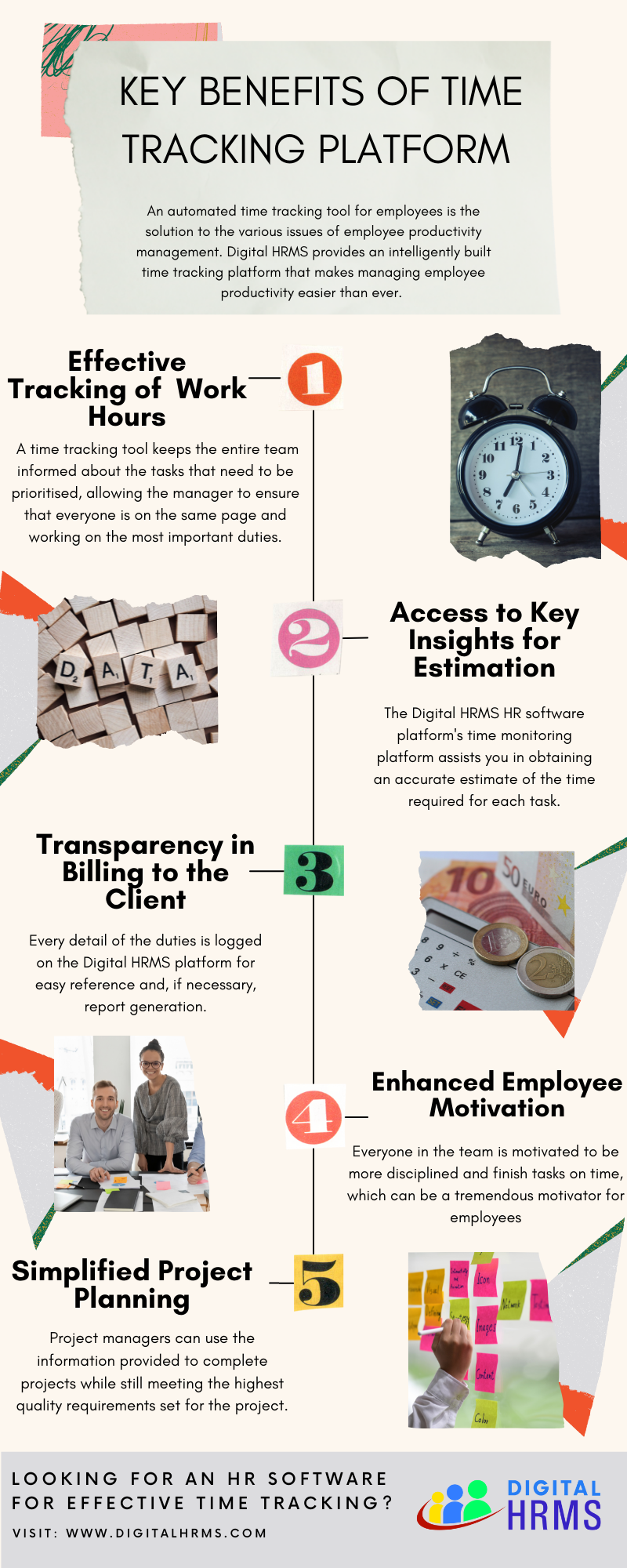 1] Effective Tracking of Employee Work Hours
This is by far the most significant benefit of using a time tracking system. It is very common for team members to spend time on tasks that are not high on their priority list. This may cause delays in the completion of critical tasks. In this situation, a task tracking tool keeps the entire team informed about the tasks that need to be prioritised, allowing the manager to ensure that everyone is on the same page and working on the most important duties.
2] Access to Key Insights for Accurate Estimation
Depending on the level of accuracy of the estimation offered, it might be the deciding factor in a project's success or failure. As a result, it's critical that the estimate is accurate in terms of both time and expenses. The Digital HRMS HR software platform's time monitoring platform assists you in obtaining an accurate estimate of the time required for each task.
3] Transparency in Billing to the Client
Billing for resources might be difficult, especially if the agreed-upon number of working hours has been reduced. Clients can be difficult to persuade to pay more unless there is recorded evidence that the team was forced to work extra hours in order to complete the project on time. This is where a timesheet platform can help, as every detail of the duties is logged on the platform for easy reference and, if necessary, report generation.
4] Enhanced Employee Motivation
Everyone in the team is motivated to be more disciplined and finish tasks on time when there is a time tracking system to record the tasks of the individuals. This can be a tremendous motivator for employees because they will be aware that their work is being recorded and monitored. It will motivate them to provide their finest performance yet while simultaneously preventing them from losing sight of the goal.
5] Simplified Project Planning
One of the most valuable features of a task tracking tool is the insight it provides into the numerous elements that influence the timely completion of a project. Project managers can use the information provided by a time tracking technology like Digital HRMS to prepare ahead of time to complete the project while still meeting the highest quality requirements set for the project.
Want to explore more about how the Digital HRMS time and task tracking tool can help your HR team streamline employee productivity in your organization?
Visit our website www.digitalhrms.com or drop us an email on marketing@digitalhrms.com and our team will get in touch with you. Now, get Full access to the Digital HRMS HR software platform Free for 90 Days. Available for Limited Period only!
Stay connected with us on Social Media for all the latest updates.
Read more: How to Manage Remote Employee Performance