Key Factors Affecting Employee Retention in 2021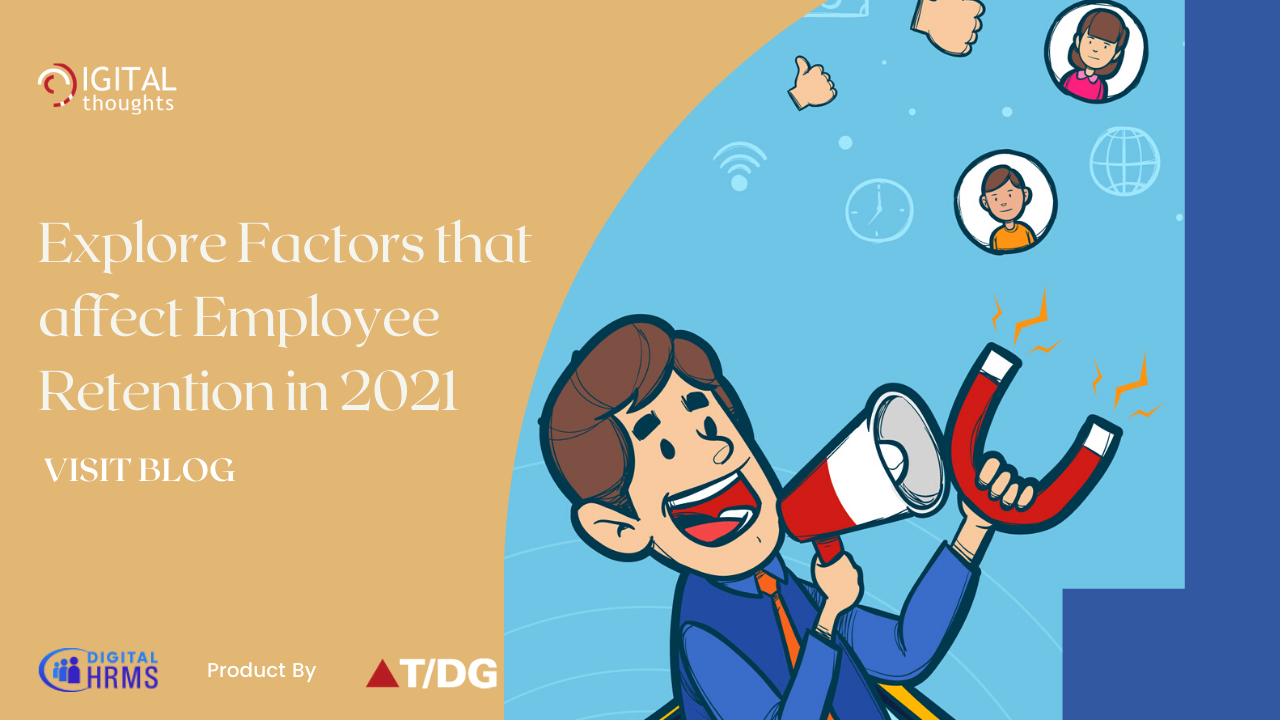 Retention is the term used to refer to the number of employees that organisations manage to retain over a period of time. In an ideal world, retaining employees should not be a challenge, however, if we look at the retention statistics across the globe today, we find that it paints a different picture.
20% of employee turnover happens within the first 45 days of work in a new company.
31% of employees quit the job within the first six months of starting.
65% of employees in the Technology Sector believe they can find a better position.
63% of CFOs believe employee turnover has significantly increased in the last 3 years.
All these statistics and more, highlight the fact that retention of employees has become a major challenge faced by enterprises today. The advent of the pandemic and its effects, have added to the complexity of the problem. However, an advanced HR software like
Digital HRMS
can help HR teams overcome the challenge of employee turnover and boost employee retention. Here we shall look at the key factors affecting employee retention in enterprises across the globe in 2021, and how an HR software like Digital HRMS can be the solution your HR team needs for successful employee retention.
Level of Employee Morale
The pandemic has taken a toll on employees and this holds true for every country on the planet. The long stretches of working in isolation is something that most employees were never used to. This has resulted in people feeling disconnected from their work, resulting in a drop in morale of the average employee. This has resulted in many employees quitting the job. This is one of the most significant factors affecting employee retention today.
How Digital HRMS Helps
Digital HRMS can help the HR team in this regard as it provides a platform for the employees to discuss issues with the HR and also find solutions to the challenges they are facing, on the HR Help Desk portal. This has helped hundreds of employees talk about their challenges and find solutions that work, which positively contributes towards employee retention in the long run.
Lack of Effective Work Life Balance
A healthy work life balance is important to help employees stay motivated at work and experience job satisfaction. However, the pandemic and the shift to remote work, has taken a toll on the work life balance of most employees. This has resulted in a drop in employee engagement and has been a major cause for employee burnout.
How Digital HRMS Helps
Digital HRMS is a platform that can be effectively used by the HR team to plan, organize and conduct fun activities with the employees as well as online training sessions. This helps employees have a much-needed break from the monotonous work routine and improves work life balance to a great extent.
Change in Approach towards Employee Onboarding
Employee onboarding is one of the most significant factors affecting employee retention. A systematic approach towards onboarding can go a long way in helping the new hires get familiar with the work culture and their roles and responsibilities. However, in the current scenario, employee onboarding in most organisations is not as effective as it used to be. This has resulted in high employee turnover in enterprises today.
How Digital HRMS Helps
Digital HRMS can play a significant role in improving the employee onboarding process through its dedicated employee onboarding module that defines a systematic approach towards bringing new hires on board. Also, the module can be extremely helpful in creating a remote onboarding experience for the employees that makes a significant difference to how they build their perceptions about the company.
Collaboration and Team Spirit
One of the major areas that has suffered a setback due to the remote work brought in by the Covid-19 pandemic, has been the collaboration between team members and activities to boost team spirit. This is because remote work can never be the same as real interaction among colleagues and team members. This has resulted in many employees feeling isolated and detached, making them feel less engaged at work.
How Digital HRMS Helps
Digital HRMS serves as a great platform for the HR team to engage the employees in team building activities. The platform is designed for effective collaboration between teams, and facilitates complete management of team building activities, which in turn boosts employee retention.
Want to discover more about how an advanced HR Software like Digital HRMS can help your HR team boost employee retention in times of the pandemic?
Visit our website
www.digitalhrms.com
or drop us an email on
marketing@digitalhrms.com
and our team will get in touch with you. Now, get Full access to Digital HRMS Free for 90 Days. Available for Limited Period only!
Stay connected with us on Social Media for all the latest updates.
Read:
Top 5 Must Have HR Software Features for the Post Covid-19 Workplace