Leave Management System Increases the Productivity of a WFH / Hybrid Workforce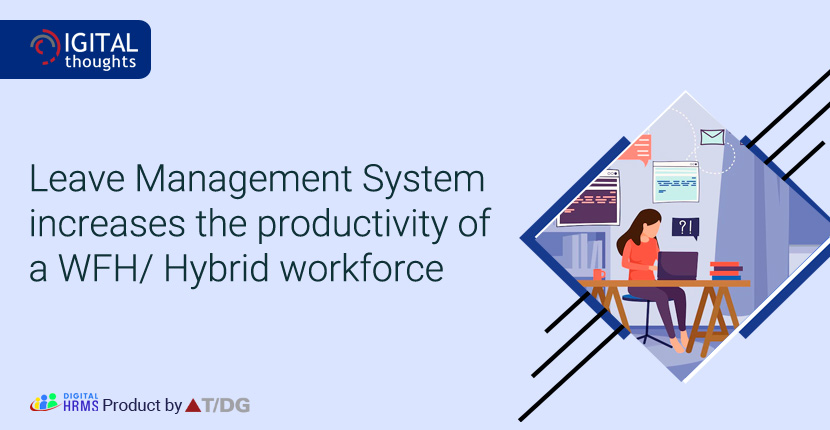 The Leave Management System enables you to handle all data with ease during WFH or Hybrid working model. The interface allows everyone, from employees to administrators, to view, modify, and update their information in real-time. Let us see what it has to offer -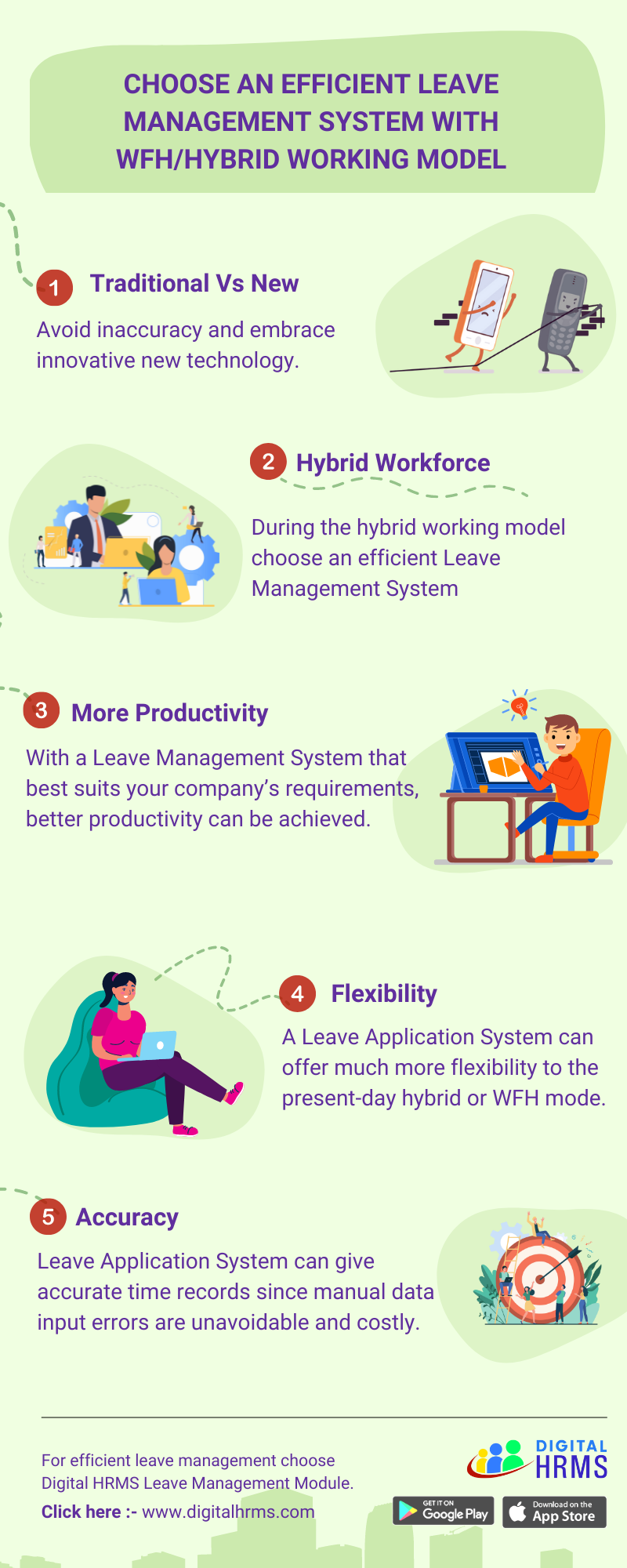 Traditional Vs New
According to the American Payroll Association, typical time and attendance systems had an inaccuracy rate of 1–8% of total payroll! At least once, 43% of employees polled admitted to exaggerating the number of hours worked.
With an efficient Leave Management System, all these HR problems can be solved.
Hybrid workforce
The hybrid work model has gained in popularity. According to an Owl Labs survey, in 2021, 39% of employees were entirely remotely working. These individuals, having experienced the benefits of working from home, are now ready to accept a wage drop of up to 5% in order to work remotely at least part-time.
As the hybrid model is accepted Globally and is the requirement of the time, we need to install a well-supported Leave Application System for HR-related tasks.
More Productivity
The new model supports a flexible approach to working hours since conventional employees struggle with tardiness. This has resulted in greater productivity, with 90% of respondents claiming to be more productive when working remotely. On the other hand, 55% of respondents said they are working more now than they were in the "office days."
The resulting better productivity can be better handled with a Leave Management System that best suits your company's requirements and monitors employees' performance.
Flexibility
Flexibility is definitely a gaining point for a business. A typical office worker is productive for 2 hours and 23 minutes each 8-hour working day, according to the Vouchercloud survey. With the move to home removing the possibility of just "being in the office" as "working," new methods of demonstrating productivity emerged.
The flexibility that the hybrid or WFH mode is offering can be managed through a Leave Application System. Check out a Leave Management System model that best suits your company.
Accuracy
Humans are prone to make mistakes, even if we provide them with computer assistance. Because manual data input errors are inescapable and costly, automated attendance management solutions ensure that time records are correct. Accurate performance and payroll statistics may be offered as a result of this dependable data.
An efficient Leave Management System aids any enterprise in remote work of the employees and helps develops more accuracy of data.
The Leave and Attendance module of the Digital HRMS allows employees to apply for and manage leaves, request work from home, view notifications, and manage optional vacations. Important notifications may be viewed by workers, and they can respond to them. The module consists of the following sections:
Notification
Leave
Attendance Regularization
Work from Home
Optional Holiday
Re-Assign Request
Employee Summary
Effective time and attendance management is crucial to an organization's success in terms of employee productivity. On the other side, poor leave and attendance management can have a detrimental influence on a company.
Visit our website www.digitalhrms.com or drop us an email on marketing@digitalhrms.com and our team will get in touch with you. Now, get full access to Digital HRMS free for 90 Days. Available for a limited period only!
Stay connected with us on Social Media for all the latest updates.