Rapid Test Automation with Zero Coding & Complete Test Management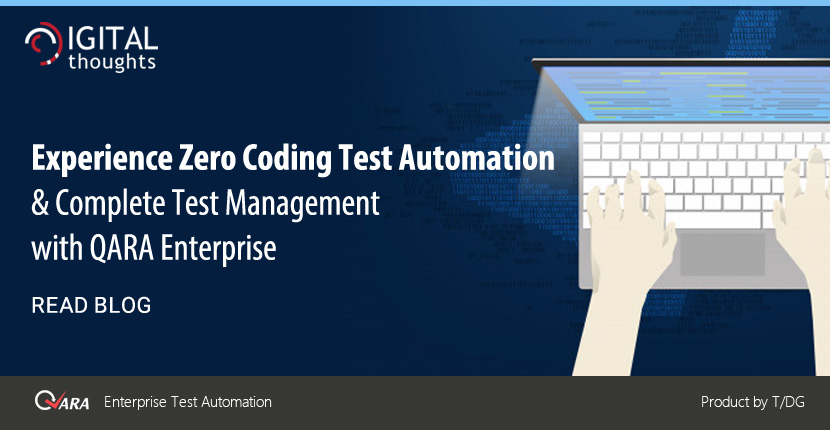 Automation is essential to successful software testing today, as the needs and requirements of software testing projects keep on changing as per the changes in the market. Today, as Agile and DevOps become popular with QA teams across the globe, there is a need for continuous testing. Also, the current scenario calls for frequent updates in the software applications in order to stay relevant to an audience with very short attention span. Hence, automation is essential to speed up the process of testing and to make this happen, enterprises need automation testing tools.
However, when switching to automation from manual testing, the biggest challenge that comes up is the fact that automation requires advanced programming skills – something that manual testers are not very much adept at. The solution lies in a platform like QARA Enterprise. Wondering why?
Rapid Test Automation with QARA Enterprise
It's simply because QARA Enterprise is a zero-coding test automation platform. It is an integrated platform that supports declarative, zero coding functional test automation design, management, planning, and execution along with built-in reporting capabilities. The platform is built on open source Selenium and offers excellent automated test tracking, management and reporting.
QARA is tailor-made for organizations that wish to convert their manual test cases to automation scripts with a lean automation engineering team and want to dramatically reduce the testing cycle time without compromising on the quality of test scripts, and QARA makes it possible with its automatically generated test scripts. It presently generates Selenium C# which can help the testing departments service larger client needs and focus on improved team productivity.
Choose QARA Enterprise for Complete Test Management
QARA Enterprise supports remote test execution, grid execution, multi-browser and multi-platform testing, test scheduling, test case management and test data preparation, along with JIRA and Team Foundation Server (TFS) integration. QARA also supports testing with Angular JS, BrowseEmAll, BrowserStack and Grid Execution, giving users the ease of handling tests using just one platform. Learn more about the Test Automation Approach of QARA Enterprise.
It is an integrated, enterprise agile-ready platform that provides a single management layer over several mature open-source test automation tools, namely Selenium, White, Appium and other open source frameworks. It also enables the centralized test case storage to popular version control systems and bug tracking tools such as JIRA and in-built support for industry-standard databases of your choice.
The following are the key benefits of implementing test automation with a platform like QARA Enterprise.
Keyword Driven Framework with user-friendly keywords

Library function support to perform conditional checks and looping

Reduced dependencies on subject matter experts and tool experience

Reduced test data setup time with increased quality and reliability

Reduced defects and faster time to market

Faster realization of Return on Investments (ROI)

Increased flexibility to reach multiple target devices and browsers

Significant cut down in regression and integration test cycles

Reduced (nearly 60%) manual regression and testing efforts
The Digital Group's QARA Automation Framework mitigates several risks associated with automation testing tool selection. It improves automation efficiency significantly and also reduces the costs for automating test cases, thereby giving an assured, measurable return on investments.