Resource Allocation with Digital HRMS: Why Resource Allocation is Key to Employee Management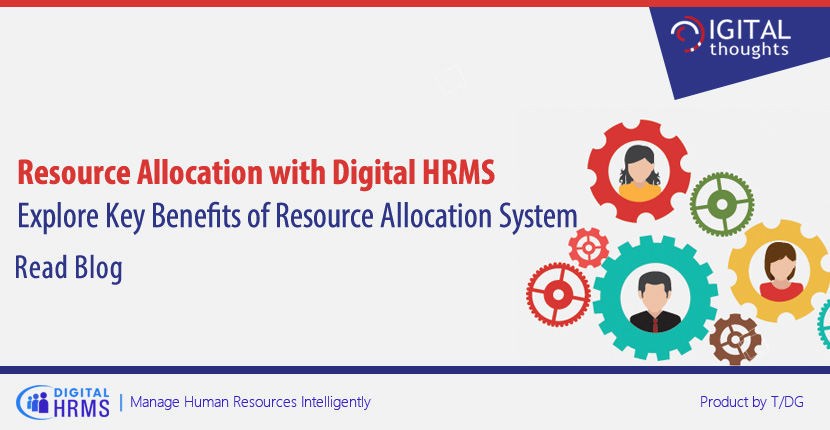 Productivity is one of the key words in the world of enterprises today because it is productivity that determines the efficiency of the organization and every process within the organization. In other words, the productivity of the employees is instrumental in taking the organization on the path towards success and excellence.
Hence, organizations today focus on employee productivity like never before, and the goal is to achieve the targets with the help of a highly efficient team. As resources in an organization work on multiple projects across various departments and business units, experts recommend that these resources should be allocated to the projects in a way that the best resources get to work on the projects and there is optimum utilization of resources in the organization.
The key should be to create the perfect balance in resource utilization so as to avoid underutilization of resources and also prevent too much work pressure on any of the resources. This is exactly what the role of resource allocation manager is in an organization. Here we shall look at the key benefits of resource allocation in an organization.
Facilitates maximum utilization of resources available with the organization and at the same time, prevents unnecessary hiring of new candidates.

Real time updates on the allocation status of each resource to enable the resource allocation manager to estimate the resource availability.

Prevents stretching of deadlines for projects due to sudden unavailability of resources.

Makes it easy to implement resource forecasting to maximize the utilization of resources and also to predict the availability of resources for a certain timeframe in the future.

Facilitates higher productivity of the team members and boosts the efficiency of the teams.

Prevents underutilization of resources.

Facilitates availability of resources with the most relevant skills for the various projects in the organization.

Allows the managers to plan better when it comes to capacity of the team in terms of resources and how to allocate them so as to generate the best output.

What enterprises need today is a resource allocation management system that automates the entire process and provides the insights to the resource allocation managers. Digital HRMS is an example of a resource allocation system that provides multiple features to facilitate the most optimum distribution of resources within the organization.
Want to discover more about how Digital HRMS can help you allocate resources more effectively? Now, get Full access to Digital HRMS Free for 90 Days. Available for Limited Period only.
Visit our website
www.digitalhrms.com
or drop us an email on
marketing@digitalhrms.com
and our team will get in touch with you. Now, get Full access to Digital HRMS Free for 90 Days. Available for Limited Period only.
Discover the Digital HRMS Mobile App for Android and iOS users