Surveys with Digital HRMS: Benefits of Employee Surveys for Enterprises Today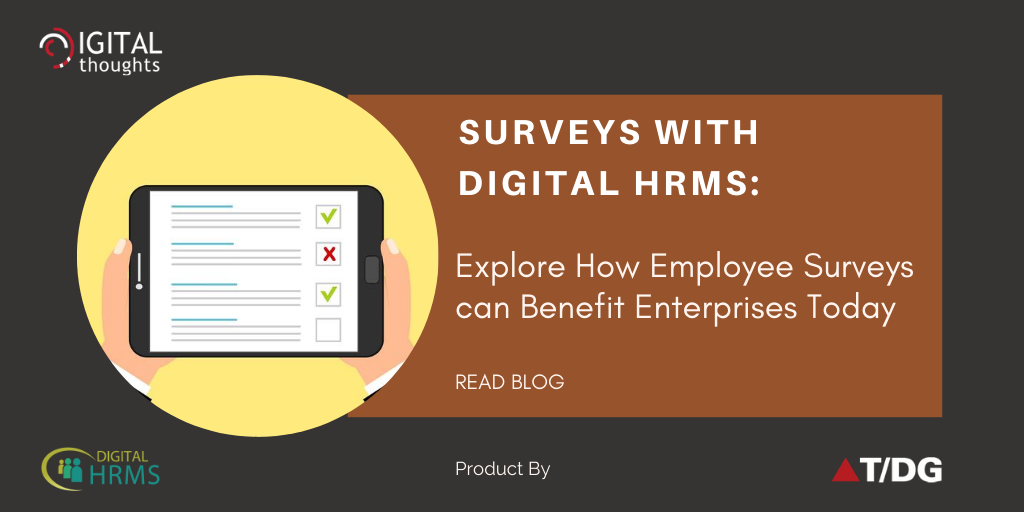 Enterprises today are waking up to the significance of employee engagement and its impact on the productivity of the employees and the organisation as a whole.
According to research by Smarp,
Companies with a highly engaged workforce are 22% more profitable.
Customer retention rates increase by 18% with high levels of employee engagement.
The above statistics indicate that employee engagement does have a key role to play when it comes to the overall productivity and profitability of the enterprise. In other words, engaged and happy employees are the best asset an organisation can have.
The HR department in organisations today are making efforts for boosting the employee engagement levels. The new age HR software is contributing to this regard in a big way. Digital HRMS is an example of an HR software that is designed to help enterprises boost employee engagement in many ways. Employee engagement surveys are just one of the many ways in which the new age HR software can contribute towards enhancing the levels of employee engagement.
How Digital HRMS can Boost Employee Engagement through Surveys
Employee engagement surveys serve a very important purpose – helping the HR department interact with the employees in a productive manner. Surveys help the HR understand factors that motivate employees as well as what they are not very happy about or would like to change. Since the employee surveys are usually conducted anonymously, it allows the employees to share their honest feedback and voice their concerns without any reservations.
Digital HRMS survey module brings the following benefits to an enterprise:
Provides significant amount of information on employee perceptions and feedback.

Provides the required insides to the management to introduce new policies towards benefit of employees.

Helps the management make the right decisions regarding enhancement of employee engagement levels.

Ensures that the responsiveness of the organisation towards the concerns raised by the employees boosts employee morale and improves retention.

Paves the way for enhanced employee productivity and efficiency.

Offers the insights required by the HR and managers for better employee management.

Provides the insights to bring in positive change in the organisation.

Generates automated Data Analytics reports to help the management understand the impact of new policies over a period of time.

So, we see that there are significant benefits of employee surveys for enterprises today. There are numerous ways an organization can use the survey module to connect with their employees and boost their morale.
Want to explore how Digital HRMS can help your business in employee management and enhancing the efficiency and productivity of the HR department? Visit our website www.digitalhrms.com or drop us an email on marketing@digitalhrms.com and our team will get in touch with you.