Surveys with Digital HRMS: Explore Key Features of an Ideal Survey Platform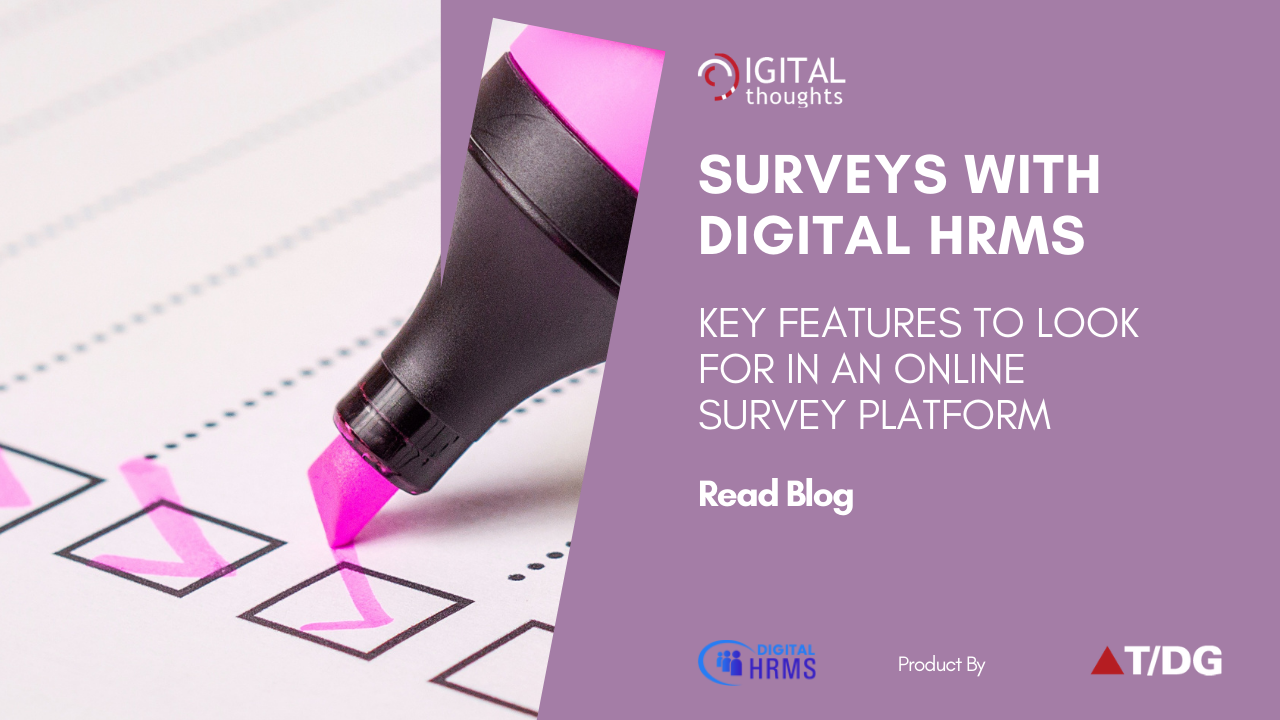 Employees are the most important asset of any organisation and it is one of the priorities of HR to keep the employees happy and boost employee engagement. However, statistics show that employee engagement is not close to what organisations would want it to be.
Almost 64% of employees in organisations today reportedly don't feel engaged at the workplace.

Hence, it is important for organisations today to come up with effective measures for improving employee engagement levels. However, in order to make this happen, one needs to be aware of what the employees are looking for, what would make them feel happy and connected to the organisation. This is where employee surveys come into the picture.
Surveys are a highly effective way to get access to the opinions of employees as well as their perceptions in general. Surveys can be conducted on any topic and if executed well, can bring great results. It can be instrumental for organisations to understand their employees better and figure out what they are looking for or the issues troubling them.
An automated survey management software is the ideal tool that organisations need in order to successfully conduct employee surveys.
Digital HRMS
is an example of a survey management software that comes with a dedicated module for planning and executing surveys. Given below are some of the key features to look for in a survey management software.
1] Customisation of Surveys for Different Departments
One of the very first things to look for when choosing a survey management platform is the option for customisation. Every organisation is different and even within an organisation, not all employees will have the same concerns. Hence, customisation plays a significant role in the success of a survey. An ideal survey management platform should offer the flexibility to create customer surveys for employees in different business units or departments. In other words, the platform should allow the creation of surveys in multiple formats and also for editing of the formats.
2] Auto Scheduling of Surveys
Sometimes, it can be a good idea to have similar surveys at regular intervals in your organisation. However, conducting recurring surveys manually can be a time-consuming process. The ideal Survey Management platform should be able to make scheduling surveys a cakewalk for your HR team. Also, the tool should be capable of archiving the results of the surveys for analysis later.
3] Making it Easy to Participate
People today are busy and employees in an organisation and no different. If you want your survey to work, you should ensure that your employees don't have to spend a lot of time to access it. If it's less accessible, it is bound to fail to get the desired response.
Digital HRMS survey management system resolves this issue by allowing employees to participate in the survey through the platform itself. This way, the employees are not required to login to multiple platforms. It saves time and efforts and improves the response to the survey.
4] Access to Analytics
The very purpose of conducting surveys is to understand your employees and this is possible only through access to analytics. Digital HRMS survey management platform has the automated report generation functionality that provides the insights the HR management needs. After all, surveys are always about the data and insights which can only be derived through effective reports.
In addition to the features listed above, a survey management platform should offer the provision to conduct surveys anonymously, as in many cases this helps the employees feel free to voice their concerns.
Want to discover more about how Digital HRMS can help you manage employee surveys? Now, get Full access to Digital HRMS Free for 90 Days. Available for Limited Period only.