T/DG Product Showcase: 3RDi Search – The Comprehensive Enterprise Search Platform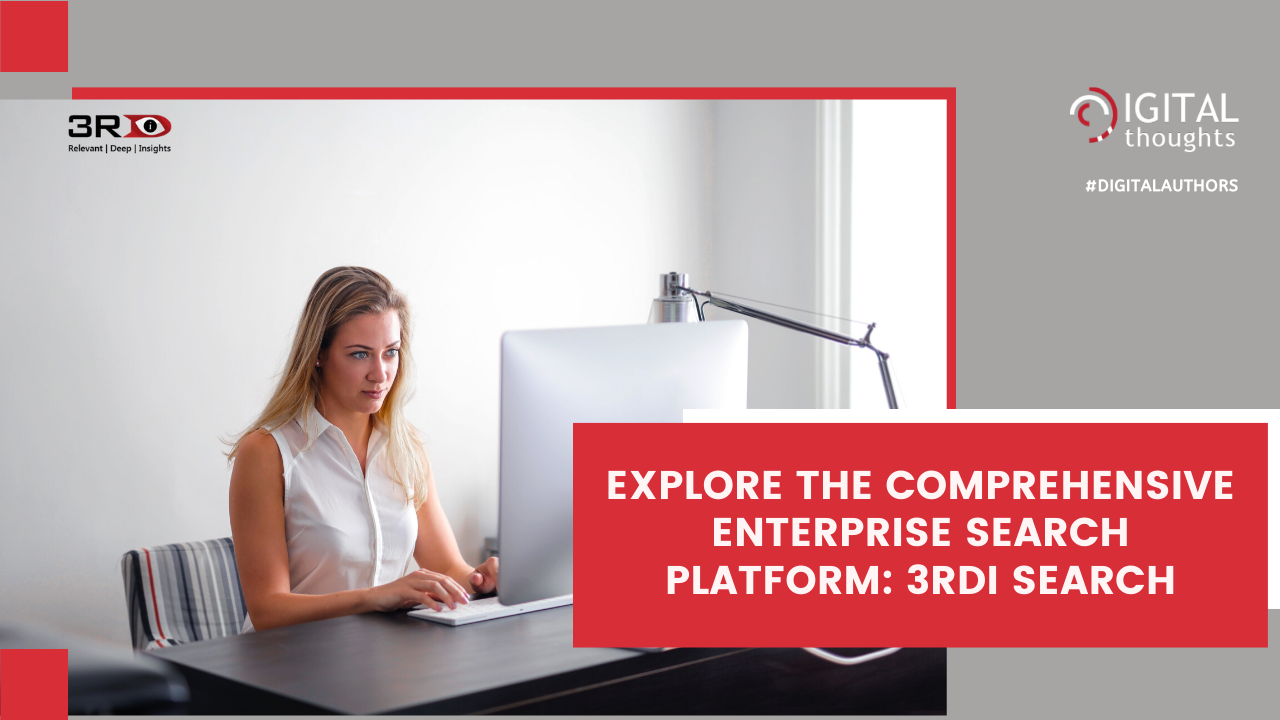 We live in an age when data and its optimum management and analysis is of paramount importance to any and every business. Today, the world is driven by data and it has emerged as one of the biggest assets an organization can have. In other words, we live in the times of Big Data, when data has emerged as a key determining factor in the success of an enterprise. This is because data has immense potential today as a source of insights that can be used for data-driven decision making to propel the growth of an enterprise.
However, the challenge lies in the fact that a major share of this ever increasing volume of data is unstructured. In other words, this majorly consists of data in various formats and from diverse sources. To analyze this data for relevant insights, one needs to have a text analysis platform that is powered by the most advanced technologies to analyze and derive insights from the most complex unstructured data.

This is where the new age enterprise search tool comes into the picture. 3RDi Search is an example of an advanced enterprise search platform that comes with every text mining feature that enterprises would need to make the best use of the large volumes of enterprise data they have. It is a complete suite of enterprise search products to cater to every text mining requirement one can think of. This blog is all about a closer look at 3RDi Search, its key features, and how it helps enterprises leverage their unstructured data. So, are you ready to grab a seat for a product tour? Let's get started!

How 3RDi Search Elevates Your "Intelligent Search" Experience
3RDi "Third Eye" Search
is an Enterprise Search Platform that is a comprehensive suite of products for the Enterprise Search needs of every business. It offers best-in-class solutions for every text mining need, such as Content Discovery, Semantic Enrichment, Governance, Analytics, Relevancy Management and Automated Testing.
While the complete suite of text mining solutions can do wonders for your business by reducing the costs and generating revenue, you have the flexibility to pick and choose solutions as per your needs. The following are the text mining capabilities offered by 3RDi Search.

1] Natural Language Processing (NLP)
Natural Language Processing (NLP) is a technology that helps computers to understand the human language. The NLP pack of 3RDi unlocks the true potential of your textual content using its state-of-the-art machine learning text mining algorithms and rule based semantic analysis. It offers varied benefits like world-class Named Entity Recognition (NER), sentiment identification, classification, similarity, mining and summarization. Users can easily map content to DBpedia, GeoNames, YAGO, Freebase or even their own
custom vocabulary.
Don't be limited by a search engine that doesn't understand the user intent or the context of your content. Enrich the content and align it to your domain and taxonomy. Improve the searching capabilities using our fast Semantic Search system. To help you easily skim through the results, we offer a wide variety of options like clustering, semantic cloud and intuitive facets. You could also get exploratory with our Concept Search.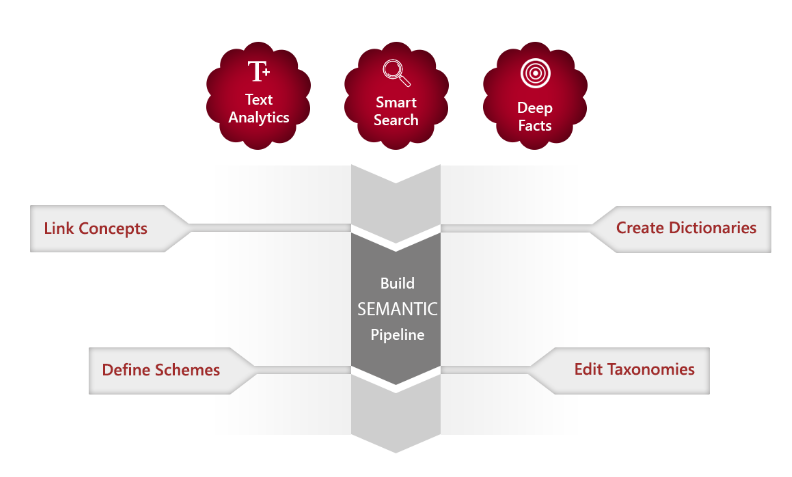 3] Content Integration
Are you concerned about the dispersed, varied and scattered data that grows constantly? Well it's quite natural to have data in the form of images, emails, graphs or that coming from social media or news feeds. That's why, the 3RDi platform comes with plugins and adapters that can seamlessly take-in a variety of data and merge it to your existing content and vocabulary. A high speed, fail-safe, cloud-backed mechanism promises an easier and faster integration.
4] Relevancy Management
Content grows rapidly and the search expectations change even more rapidly. You can control your search with 3RDi's revolutionary solution, which is based on the proven "define-measure-analyze-improve-control" approach. The robust workflow spanning across creating and scoping business rules, search benchmarking and regression saves you time and cost and makes users happy with customized relevancy.
5] Search Analytics
Search has always been considered as the clearest expression of what your customers want. But the search logs are so large and segregated that by the time you analyze them, the world would have moved on. With 3RDi, you get the benefit of real-time analytics, a flexible dashboard to recognize what users are engaging with and making intelligent decisions for your business. Convenient personalized content and smarter recommendations will keep your customers latched-on.

6] Research Case Management
A researcher's needs are different from those of just another normal search user. 3RDi offers an array of components that help in deeper study and literature exploration. Researchers certainly save a lot of time by using a variety of result analysis and advanced search options. Saving the search, citation views, and knowledge graphs will definitely keep the researchers subscribed to your system.
ResearchNet.io
is a biomedical research platform powered by 3RDi Search. It is an integrated platform for researchers to manage their research, authoring and collaboration needs. The following are the key features of the platform:
Researcher Profile, Publications and Library Management
Collaboration Platform with messaging, sharing and email alerts
Integrated, deeper, smarter and insightful Semantic search over the largest biomedical literature corpus
Extensive Discovery, Exploration and Analysis options
Automatic Evidence Level and Study Type categorization
Integration with PubMed and Zotero
An Introduction to Retina API – the Text Analysis Engine of 3RDi Search
Retina API is the Natural Language Processing (NLP) and Text Analysis engine of 3RDi Search. Retina API powers the "Intelligent Search" experience of 3RDi Search that helps users see through the unstructured content and discover hidden facts. It is configured with a comprehensive set of taxonomies and thesauri and you can integrate it with your custom as well as legacy vocabularies. It offers you a ready-to-use, flexible semantic enrichment that adapts easily to suit any specific domain.
Why Choose 3RDi Search for the Search Requirements of Your Enterprise
In addition to creating the "Intelligent Search" experience for you, here are more reasons to consider 3RDi Search for every search and text mining need of your enterprise.
Complete end-to-end, comprehensive and rapid search enablement program.
Built-in vocabularies for various domains with support for your own custom vocabulary.
Customizable and dynamic workflows with pluggable components.
Highly secured and available for distributed Cloud environment.
Open Source based infrastructure.
Advanced research tools such as R based Analytics, Knowledge Graphs, Research Case Management, Search Quality Analysis and Relevancy Sandbox.
Ready to use starter domain packs for health domain with pre-integrated knowledge base.
Admin center for search management and governance.
Highest quality and predictable roll outs through a high degree of automation.
Global strategic alliances and technology partnerships.
Deeper technical expertise.
Want to Know How 3RDi Search Helps Enterprises Derive Deep Relevant Insights from the Most Complex Enterprise Data?
Worry not, for we have something for you. Click on the Resources tab on the
3RDi Search
website to download Whitepapers, Brochure and Presentations, as shown in the screenshot below.