Training Management with Digital HRMS: Don't Let Remote Work Affect Employee Training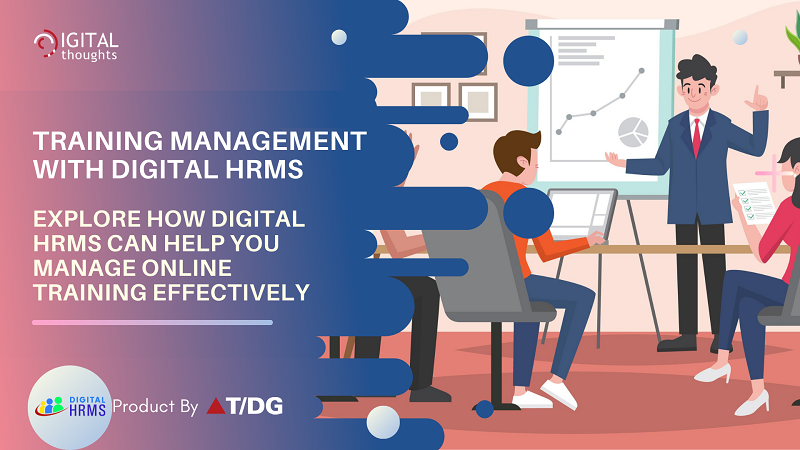 The goal of today's businesses is to increase employee engagement in order to reduce staff turnover. In other words, employee engagement is one of today's business goals, and it's being implemented in a variety of methods in businesses all over the world. One of the most effective ways to increase employee engagement in a firm is through corporate training. Most employees today prioritize the opportunity to learn and develop themselves over increased compensation and other benefits.
Planning and implementing training sessions is difficult because the majority of the workforce now works from home. The reason for this is that successful training programs require interaction with people, which is impossible to do while working remotely. As a result, many businesses have placed training projects on hold.
Digital HRMS Ensures Employee Training Continues Even in Times of Remote Work
The good news is that, owing to modern HR technologies, remote work does not have to imply the end of staff training programs. Yes, even during the current phase of remote work, HR software is the best instrument for businesses to manage employee training efforts.
The training staff can use the learning management system (LMS) of Digital HRMS to conduct evaluations, which include both pre- and post-assessments. In addition to participant evaluations, logging into the learning management system portal gives you the option of giving feedback on the effectiveness of the course. Here's an infographic that showcases the benefits of an advanced learning management system like Digital HRMS.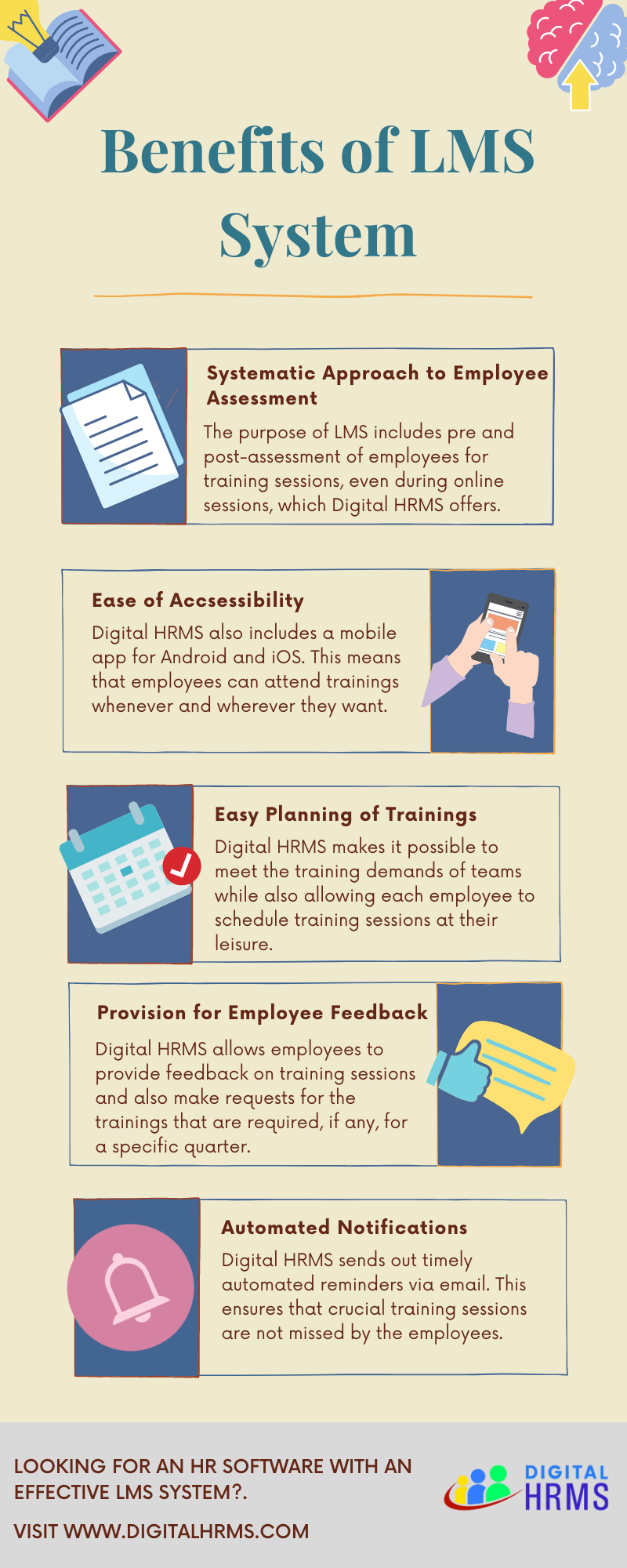 Benefits of Employee Training Management System with Digital HRMS
Given below are the key benefits of the learning management system or Training Management System of Digital HRMS.
1] Systematic Approach to Employee Assessment
The purpose of a learning management system also includes pre and post-assessment of employees for training sessions, whether they are delivered in a classroom or online. Assessments are crucial because they let both participants and trainers determine how effective the training session was and how well the participant understood the topic.
The easy accessibility feature offered by online learning management systems is the primary reason for their popularity. Given the hectic schedules of corporate employees, classroom training is not always possible. This is where an LMS system, such as the one provided by Digital HRMS, might really help, as Digital HRMS also includes a mobile app for Android and iOS. This means that employees can attend trainings whenever and wherever they want.
3] Easy Planning of Trainings
The training team can construct a training calendar on a monthly, quarterly, or yearly basis using the Digital HRMS learning management system. There is also a provision to assign a specific number of hours of training for each employee. This makes it possible to meet the training demands of teams while also allowing each employee to schedule training sessions at their leisure.
4] Provision for Employee Feedback
A sophisticated learning management system such as the Digital HRMS LMS allows employees to provide feedback on training sessions. They can also make requests for the trainings that are required, if any, for a specific quarter. This allows employees to get the most out of the training and learn what they need to know.
5] Automated Notifications
Employees typically have a hectic day with many tasks to complete. Making a record of training sessions in such a situation can be tough at times. This is where the Digital HRMS learning management system really helps, since it sends out timely automated reminders via email. This ensures that crucial training sessions are not missed by the employees.
Want to discover more about how Digital HRMS learning management system can help your HR team manage employee training during remote work?
Stay connected with us on Social Media for all the latest updates.