Training Management with Digital HRMS: Explore the Benefits of an Online Training Management Solution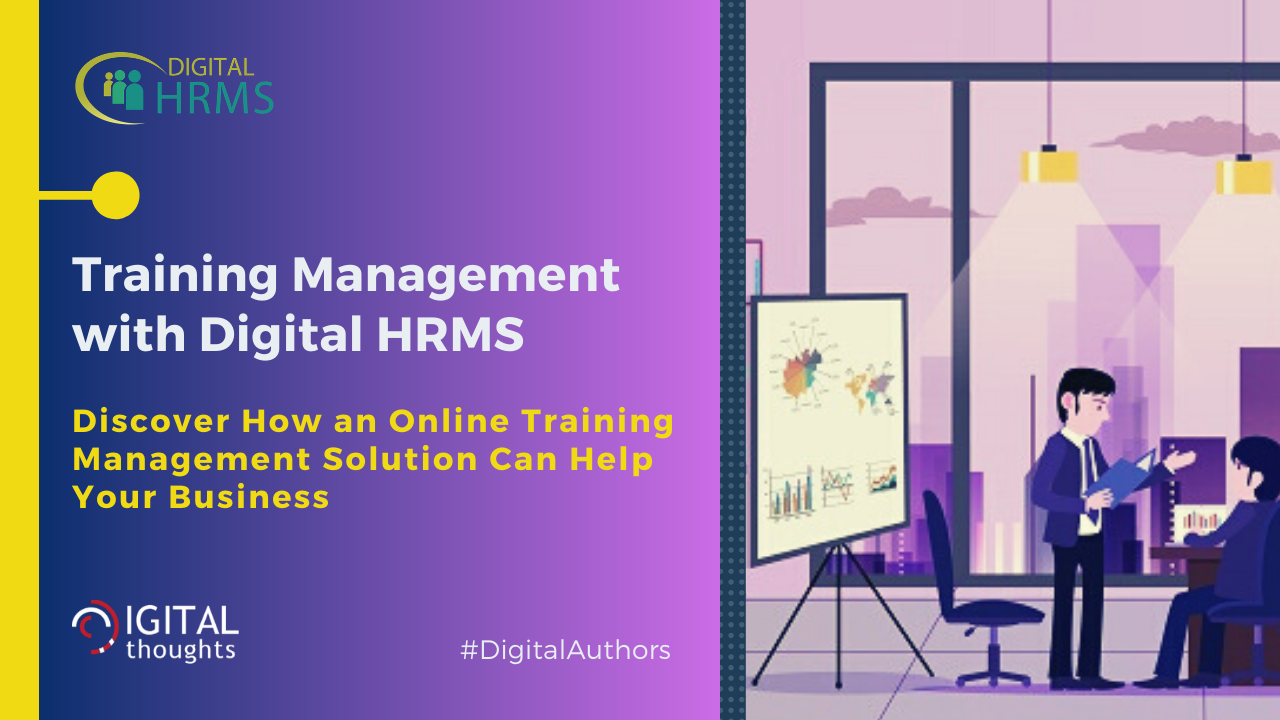 The concept of online training or e-learning has been a part of corporate training for long. However, the current situation in which employees are working remotely because of the Covid-19 pandemic, has made online training a necessary part of corporate training. Today, there is no provision for employees to attend classroom trainings organized in the office premises. However, this should not come in the way of imparting the necessary training to the employees. Online training is the solution that can bridge the gap, and with the platforms and technology available today, online learning can be as effective as face-to-face learning.
The need of the hour today is effective online training solutions, as well as strategies and technologies to help enterprises impart training to the employees through highly scalable custom solutions. Digital HRMS is an integrated modular HR software that understands the need of the enterprises to impart quality training to the employees and even manage online training requirements as and when required.
The online training management module of Digital HRMS is designed to help enterprises take a systematic approach to the entire training process, right from identification of training needs to assessment of employees. What's more, Digital HRMS ensures all of this can be seamlessly managed online, making it a relevant online training solution for organizations to offer online learning opportunities to the remote employees.
Why Choose Digital HRMS for Online Training Management
The online training management platform of Digital HRMS comes with features that have been carefully incorporated to cater to the training needs of organisations and help them design a customized e-learning program for their remote employees to learn at their own pace.
Emails triggered to the Employees a few days before training session is scheduled, informing them about what to expect from the session.

One-click sign up for training session enrolment through an enrolment link shared via email, on which the employee can click to enrol for the training session.

The Digital HRMS corporate training platform is available on the Cloud, which means employees can access the training material from their own devices and from any location on the globe.

The Digital HRMS training management platform is compatible across various devices and operating systems, which means employees can get access to quality learning experience from any device.

Employees can login to the Digital HRMS corporate training platform to access training material and content updated by the training management team, in the form of video clips. Employees can view the videos when they have the time.

The training management team can also use the training module to add pre-assessments as well as post-assessments for the employees participating in the training programs.

Digital HRMS allows employees to share feedback on the training session through the platform itself and also share suggestions if they want to.

With the features mentioned above, Digital HRMS serves as an effective online training management platform, helping enterprises experience the benefits of an organized approach towards online training management, which offers the following benefits.

Encourages employees to advance their skills, resulting in increased employee engagement and boost in employee morale.

Develop a work culture that focuses on skill development and self-improvement.

Quick and effective identification of employee training needs for insights on the specific list of skills the employees are looking forward to learning.

Allows employees to learn anytime anywhere, without the need to be present for a classroom training at a specific time, which ensures the employees don't have to skip training sessions because of other commitments.

Allows companies to provide training to employees at a fraction of the cost, eliminating the cost of venue and that of bringing in an external trainer.

Makes it possible for customized online training management based on the individual training needs of employees.


Offers the opportunity to the training management team to explore interactive training material and use videos to help employees get a broad perspective on a specific topic.
Want to explore how Digital HRMS can help you in effective online training management even when your employees are working remotely?
Visit our website
www.digitalhrms.com
or drop us an email
marketing@digitalhrms.com
and our team will get in touch with you for getting started with your online training management initiatives.
Now, get Full access to Digital HRMS Free for 90 Days. Available for Limited Period only.