How Digital HRMS is the Solution to Challenges in Effective Employee Engagement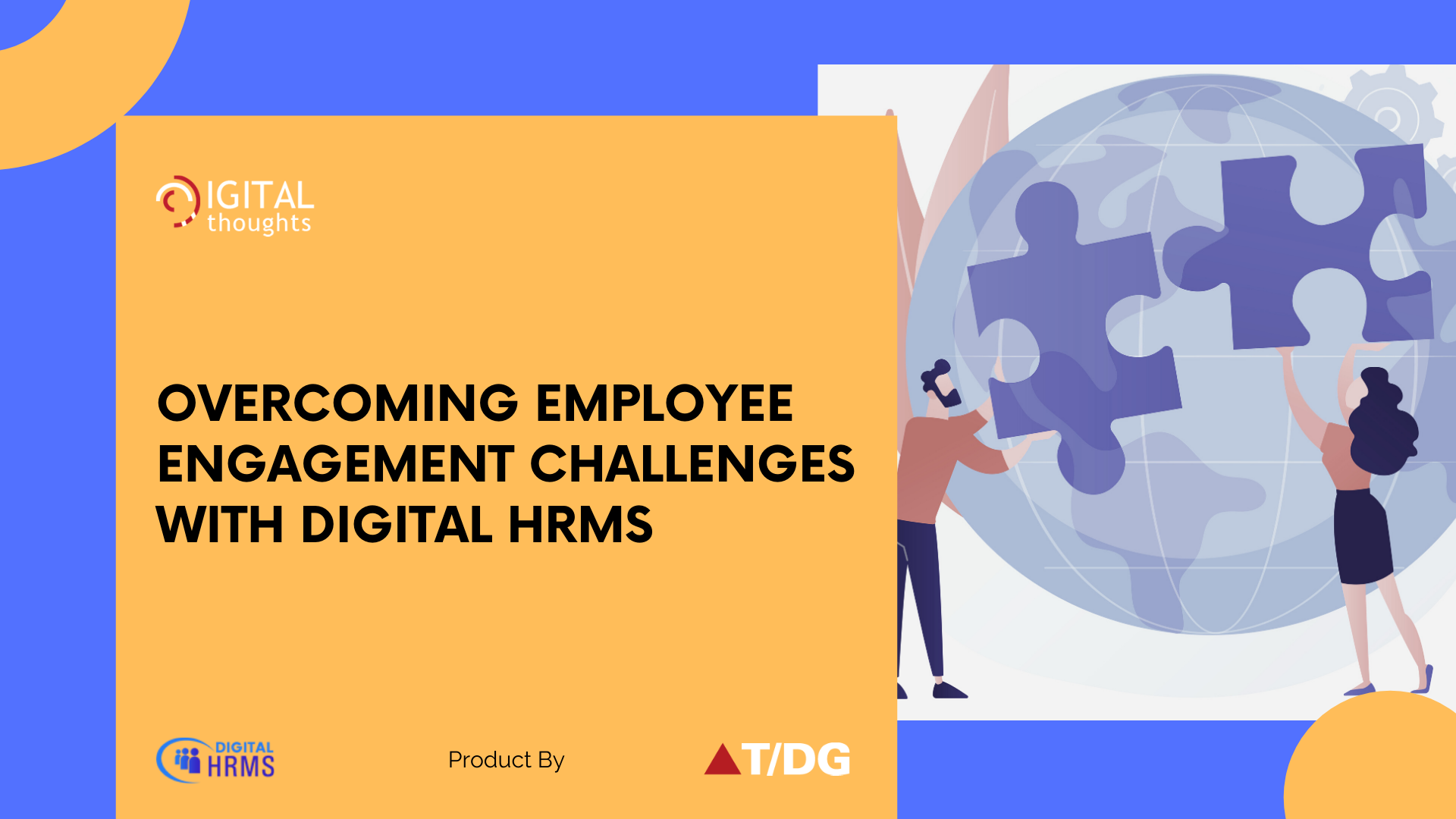 Have you heard of the term 'employee engagement'? Well, to put things into perspective, let us have a quick look at what Wikipedia has to say – "Employee engagement is a fundamental concept in the effort to understand and describe, both qualitatively and quantitatively, the nature of the relationship between an organization and its employees. An "engaged employee" is defined as one who is fully absorbed by and enthusiastic about their work and so takes positive action to further the organization's reputation and interests."

High levels of employee engagement indicate that the employees are happy at the workplace and feel connected to the work they are doing. So, are most people engaged at work? Here are some statistics…

Companies with a high level of employee engagement are more profitable by at least 21%. – Forbes

Enterprises with high employee engagement statistics had 89% greater customer care satisfaction. – Statista

Nearly 66% of all employees are disengaged. – Forbes

Disengaged employees in the U.S. cost their employer $450 to $500 Billion each year. – Gallup
What do these statistics portray? Well, one can easily conclude that while there are no two thoughts about the significance of enhanced of employee engagement for an enterprise, one finds that most employees across the globe are far from happy with their jobs. This is one of the biggest challenges faced by enterprises today.

Poor employee engagement is one of the biggest factors behind the high employee turnover in enterprises today. This has made the HR department of new age enterprises focus on
enhanced
employee engagement. After all, success of an organisation depends on how passionate and involved the employees are towards the goals and objectives of the organisation.
So, how can HR teams boost employee engagement? Well, the solution lies in a systematic manifold approach that can be implemented with the use of an advanced HR software like
Digital HRMS
.
Request a Free Trial of Digital HRMS. Click here.
Enhanced Employee Engagement with Digital HRMS
Digital HRMS is an example of a platform that can be used in multiple ways by the HR team for
enhanced
employee engagement. Here we shall look at how Digital HRMS can be used for making the employees in the organisation feel more involved and valued and motivate them to give their best to their jobs.
a] Recognition of Employees' Efforts
The Performance Management module of Digital HRMS ensures the employees get a fair appraisal and also rewards and recognitions for job well done. This way, the employees stay motivated and are inspired to perform even better and this proves to be beneficial for everyone in the long run.

b] Making the Employees feel Empowered
When it comes to empowering the employees, the Employee Self Service module of Digital HRMS is the solution! It allows employees to perform administrative functions by themselves without too much dependency on HR. The platform offers multiple features that contribute towards a boost in employee morale.

c] Encouraging Easy & Effective Collaboration
The Digital HRMS HR Software platform also serves as a single platform that brings together employees from across the globe for effective collaboration and awareness about all the updates. This brings a sense of belongingness within the employees, and it adds to employee loyalty.

d] Creating Opportunities for Skill Development
The Learning Management System module of Digital HRMS is what the enterprises need in order to impart the necessary training and skill development sessions to the employees. The LMS module even makes it possible to manage training sessions online, making it the ideal platform to help enterprises conduct uninterrupted training sessions even during the current times of remote work.

Want to discover more about how the Digital HRMS HR software platform can help your HR team boost employee productivity in your enterprise?

Stay connected with us on Social Media for all the latest updates.
Read:
HR Experts Talk about Employee Engagement Strategies