How Digital HRMS is the Solution to HR Challenges in 2020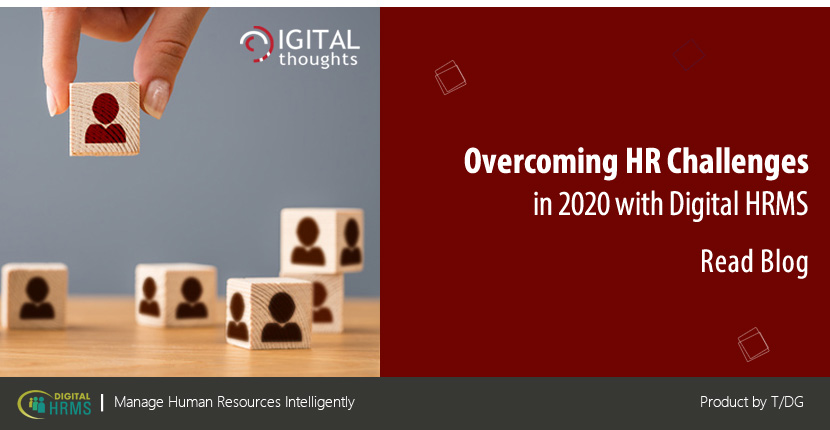 The HR department is one of the most significant departments in an organization and also one that has the highest responsibility. Every aspect of employee management lies with the HR department and it is highly significant that the HR team has the solutions to the most common challenges.
Effective workforce planning to maximize productivity and efficiency

Maximizing employee engagement levels at the workplace and ensuring the employees are happy.

Making all the employees aware of the company policies to prevent non-compliance.

Maintaining diversity at the workplace and creating an environment that is free of bias of any kind.

Discrepancies or errors in leave management that lead to errors in payroll.

Effectively managing employee benefits and ensuring the benefits comply with laws and regulations

Monitoring remote employees and taking care of their requirements.

Difficulty in managing employee attendance and tracking the work hours and productivity of the employees.

Ensuring a smooth and seamless employee onboarding process.

Finding the best talent for the organization within a stipulated timeframe.

Vulnerabilities in HR data and the risks of threats and attacks.

Difficulty in accessing the HR data anytime anywhere which is a challenge for implementation of enterprise mobility.

Making sure the privacy of user data is maintained and preventing its misuse.
Digital HRMS is an example of the new age HR technology that works wonders to increase the efficiency and productivity of the HR processes. Digital HRMS is an advanced HR platform that offers multiple modules for the automation of every HR function. So, be it leave management or managing travel and expenses of employees, Digital HRMS covers it all.
Key Features of Digital HRMS
GDPR compliant & highly secure scalable platform

Highly configurable modules for easy customization

Smart Links for approvals, without application login

Geofencing for automatic attendance capture

Multi entities & multi location feature in one application

Anytime anywhere access with Cloud & Mobile App

Dynamic workflows & role-based access

Seamless Integration with any Time & Attendance system
Want to discover more about how Digital HRMS can help you overcome HR challenges? Now, get Full access to Digital HRMS Free for 90 Days. Available for Limited Period only.
Visit our website
www.digitalhrms.com
or drop us an email on
marketing@digitalhrms.com
and our team will get in touch with you. Now, get Full access to Digital HRMS Free for 90 Days. Available for Limited Period only.
Discover the Digital HRMS Mobile App for Android and iOS users.