Recruitment with Digital HRMS: Understanding the Difference between Recruitment & Talent Acquisition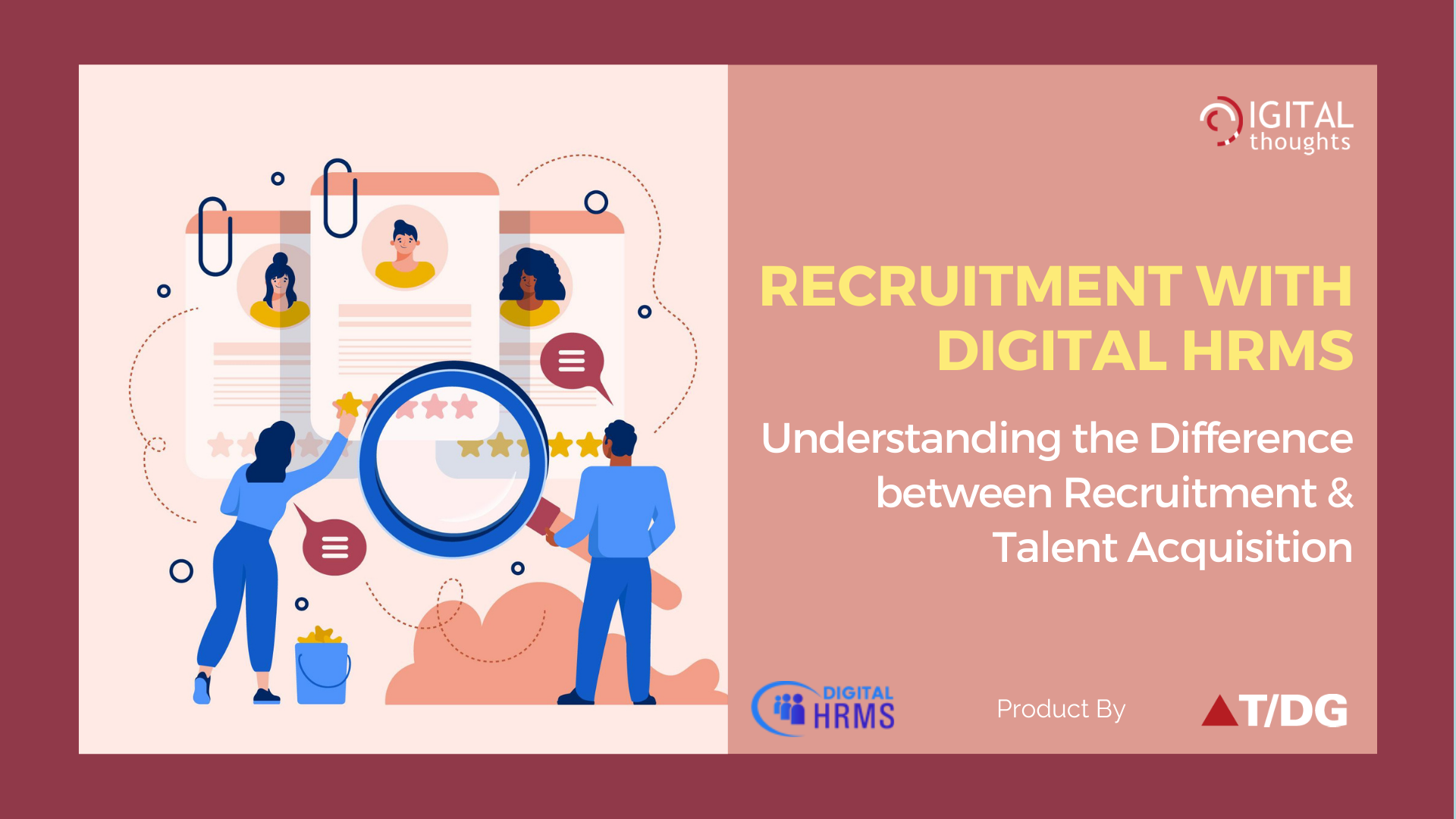 Recruitment and talent acquisition are both terms that are used in the context of hiring candidates with the desired skillset to work for a specific position in the organisation. These are terms that are used interchangeably, sometimes even by recruitment professionals themselves. However, if you ask an expert, you'll find out that there is indeed a difference. Today, we bring to you the key differences between recruitment and talent acquisition, based on the key parameters. Also, we talk about how an advanced HR software like
Digital HRMS
can help your enterprise improve on your strategy for recruitment as well as talent acquisition. So, let's get started...
Understanding How Recruitment is Different from Talent Acquisition
The following are the key factors when it comes to difference between recruitment and talent acquisition.
Definition
Recruitment is best defined as a linear process that involves searching for candidates with the specific skillset in order to fill up open positions in the organisation. Recruitment is a reactive response to vacancies created in the organisation.
Talent acquisition, on the other hand, is an ongoing process that involves continuous efforts by the HR team to analyse the future needs of the organisation and anticipate future hiring needs. This results in a sustainable pool of talent that can be tapped into when there is indeed an opening for one or more of these positions in the future.
Purpose
While the purpose of recruitment is to shortlist, screen and select candidates most suitable for current open positions in the organisation, the purpose of talent acquisition is more focused on the long term requirements of the business. So, a key difference between recruitment and talent acquisition is that while recruitment is reactive approach, talent acquisition is more of a predictive approach.
Understanding of the Workforce
Talent acquisition requires a deep understanding of the workforce and how it works in order to be successful. The Talent acquisition team should be aware of workforce segmentation within the organisation as well as the skills required for success in every key position.
Focus on Talent
When we say talent acquisition is all about focusing on the talent of the candidates, it doesn't mean that recruitment doesn't focus on talent. It's just that since recruitment is a time-bound process, with open positions waiting to be filled, sometimes it's about striking the right balance between talent and various other factors.
However, since talent acquisition is about the future and also focuses on the most niche job profiles, it is only about bringing the best talent onboard. For this the organisation has to work towards building the brand image and creating brand awareness, so as to attract the most deserving candidates.
Need for Talent Management
Since recruitment is more of a short-term process, talent management is not a big part of recruitment. However, talent management please use role in talent acquisition because necessary to manage all the deserving candidates for the long term by staying in touch with them. This calls for additional efforts on part of the Talent acquisition team.
HR Software for Effective Recruitment & Talent Acquisition
So, recruitment can be described as a part of talent acquisition strategy of an enterprise. So is your organisation taking the right steps towards effective talent acquisition? The new age HR software platforms the most effective solutions to up your game when it comes to talent acquisition.
Digital HRMS is an example of HR management software that helps enterprises implement a sound strategy for talent acquisition. The recruitment gateway of Digital HRMS is all your HR team needs in order to connect wait and find the best talent.
Digital HRMS is a powerful recruitment gateway that allows the Admin of your organization to customize the recruitment module as per the requirement of your organization by using the recruitment master set-up. An advanced human resource management system, Digital HRMS supports RRS creation, approval, and allocation. Recruiters can view job postings and schedule interviews from a dashboard. The platform also allows your recruiters to view status and status graphs of the interview process as well as individual candidates, and also track the interview process of each candidate. The following are the key features of the recruitment gateway of Digital HRMS.
Creation, approval and allocation of RRS
Provision for existing employees to refer candidates
Editing, adding & deleting job postings in a few clicks
Provision for Admin to use a question builder to define questions to be asked in interviews
Easy monitoring of candidate and interview status
Provision for shortlisting of candidates by recruiters and managers
Tracking shortlisted candidates for further interview
Resumes of rejected candidates archived in a resume bank for future reference
Detailed reports and email notifications
Dynamic workflows
Want to discover more about how Digital HRMS can help your HR team acquire and manage talent?
Visit our website
www.digitalhrms.com
or drop us an email on
marketing@digitalhrms.com
and our team will get in touch with you. Now, get Full access to Digital HRMS Free for 90 Days. Available for Limited Period only!
Stay connected with us on Social Media for all the latest updates.
Read:
How HR Software is Key to the Success of the Enterprise