Recruitment with Digital HRMS: Why Bulk Resume Parsing is What Your Recruitment Team Needs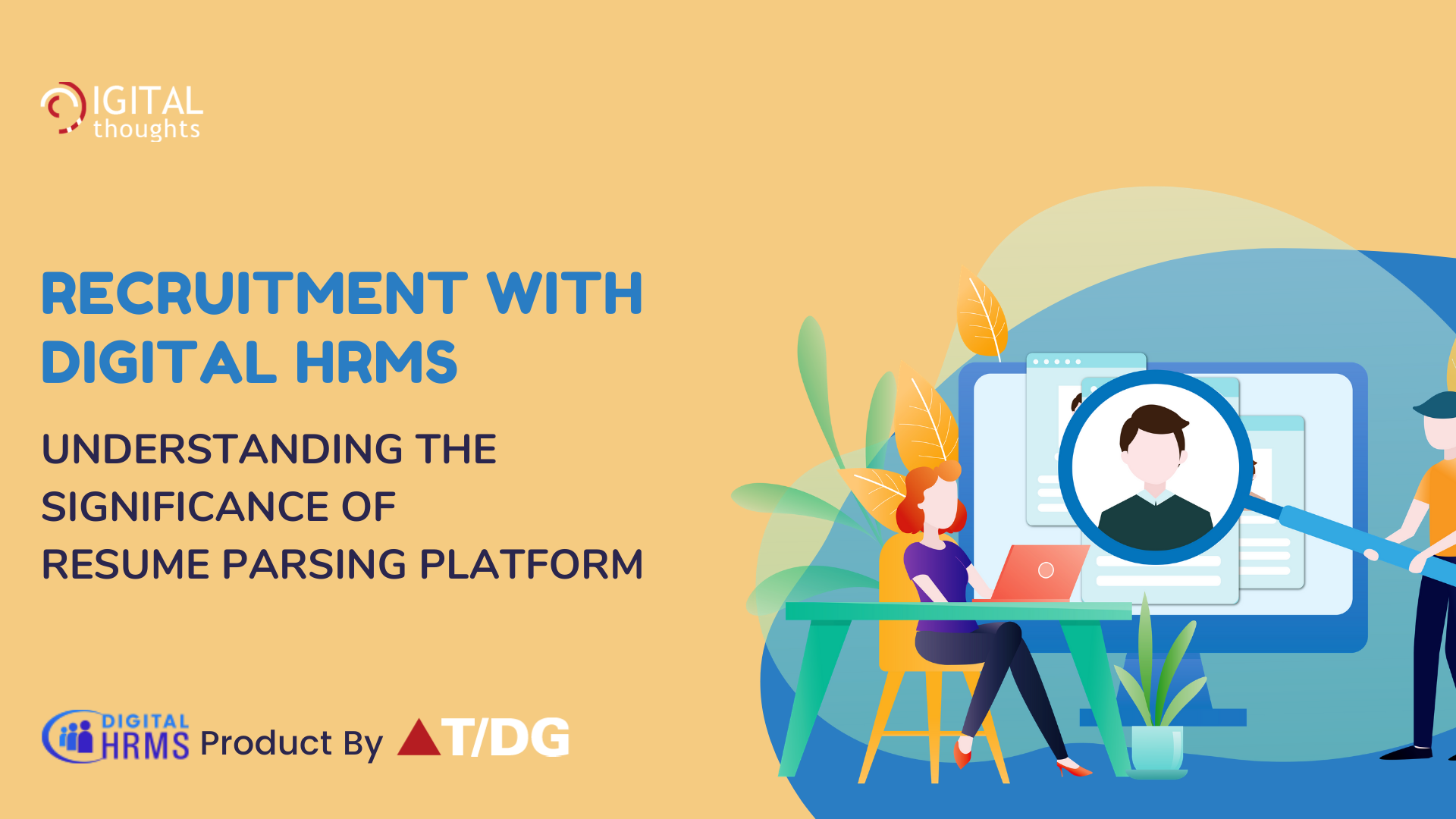 Resume parsing is the process by which HR teams browse through resumes of applicants to extract the key details, based on a set of pre-defined parameters, such as Name, Qualifications, Relevant Experience, Total Experience, Skills, and the likes. Going through every detail on a resume can be tedious in itself and when you have hundreds of applicants to consider for a specific position and multiple open positions to hire for, it can turn out to be a mammoth task, to say the least. What's more, such an enormous volume of manual work can elevate the chances of errors, making it a challenging process for the HR/Recruitment team in your organization.
The solution is to use an HR software with a program that automates the resume extraction process in order to save time and prevent errors, hence optimizing the procedure. This is precisely what a resume parsing platform is for.
The technology behind resume parsing software converts free-form web papers into structured data sets. This is powered by AI and intelligent analysis technology that facilitates extraction of specific information from resumes. The information is instantly saved, and recruiters can use search functions to find specific abilities and experience.
Automated Bulk Resume Parsing with Digital HRMS
An automated resume parsing platform like
Digital HRMS
, offers a wide set of features to help your recruitment teams to extract the most relevant data from hundreds of resumes in one go. Given below are some of the key features of the Resume Parsing platform offered by the Digital HRMS HR software, powered by advanced Artificial Intelligence (AI) technology.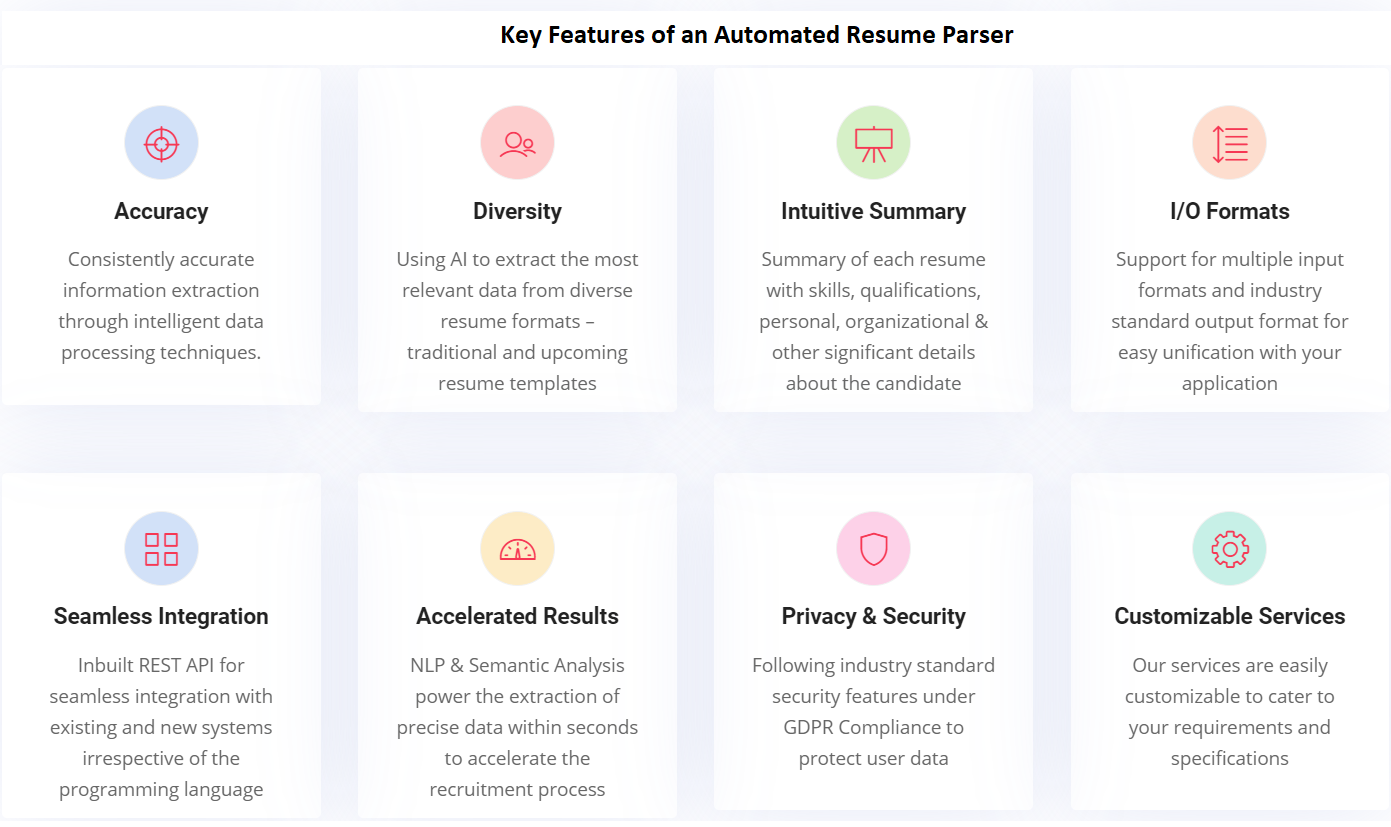 Intelligent data processing algorithms of the Digital HRMS Resume Parsing platform provide consistently reliable information extraction.
Using artificial intelligence to extract the most essential information from a variety of resume forms, including standard and emerging resume designs.
A summary of each résumé, including the candidate's abilities, qualifications, personal, organisational, and other relevant information is presented by the Resume Parsing platform.
For smooth interaction with your programme, multiple input formats are supported by the Digital HRMS resume parsing software, as well as an industry standard output format.
REST API built-in enabling easy integration with existing and new systems, regardless of programming language.
To speed up the recruitment process, NLP and Semantic Analysis technology used in the resume parsing platform enable the extraction of exact data in seconds.
Under GDPR compliance, we deploy industry-standard security mechanisms to protect user data.
Our services are easily adaptable to your individual needs and specifications.
Digital HRMS
is an HR software that
offers the resume parsing platform as a feature in the Recruitment Gateway module. However, The Digital Group also has the
Digital Resume Parser
, an independent resume parsing tool software.
Want to discover more about how the Digital HRMS resume parsing platform can help your HR team manage recruitment initiatives more effectively?
Stay connected with us on Social Media for all the latest updates.
Read:
How Enterprises should Change their Recruitment Strategy Post Covid-19