Surveys with Digital HRMS: Choosing the Right Survey Management Platform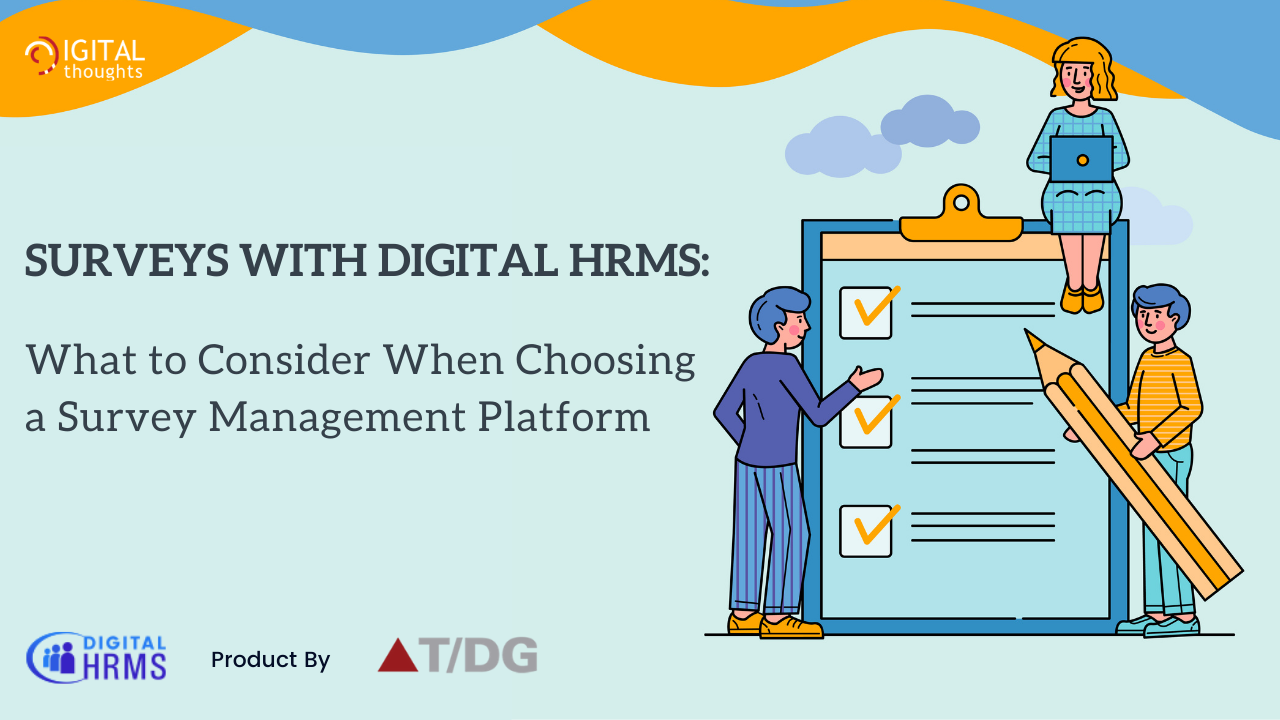 Highly engaged teams are 21% more profitable. -Gallup
The statistics above, along with may others, show that investing in essential employee engagement survey technologies and other engagement tools can have a big effect on a company's financial well-being.
Those figures are unmistakable proof of the critical role that employee engagement plays in the financial success and viability of virtually any company. However, the term "engagement" may be a bit of a misnomer. The concept can be simply defined as the connection your employees have with their jobs, coworkers, and your business. However, how does a business go about increasing employee engagement?
Employee feedback & survey tools form the foundation for all employee engagement initiatives. An advanced Survey Management platform like
Digital HRMS
is what you need. Digital HRMS helps you develop a survey approach that feeds all of the other communication resources, from academically researched survey questions to actionable observations. Surveys with an advanced Survey Management platform give you the insight into your people that you need to make informed decisions.
Why Need a Survey Management Platform
It's the survey software platform that enables you to gather real-time feedback, spot patterns, and gain real-time insights into how the workforce's various drivers of engagement operate. Furthermore,
employee engagement
the survey app allows you to monitor your progress with follow-up pulse surveys and polls after data collection, review, and action planning on areas for change.
To put it another way, better survey solutions transform the employee engagement plan into a self-sustaining, ever-evolving loop that is constantly looking for and addressing pain points.
Choosing the Right Survey Management Platform
So, how do you choose the ideal
employee engagement
survey management platform? Here are 5 things to consider to help you get started.
1] Simple & Easy to Use
Remember that your employees might be filling out surveys while on the go, at the workplace, at a client location, while travelling, or even while walking down the street! It is recommended that you conduct engagement surveys twice a year, to improve participation, and also the outcomes will be more significant in terms of chalking out quick actions. This calls for a Survey Management platform that is simple and easy to use. If it's too long or difficult to navigate, employees will hardly complete the survey, which defeats the purpose.
2] The Right Set of Metrics
When it comes to a successful Survey Management platform, defining the metrics is a critical step. It's all about converting "how people feel" into business metrics that can be used to set concrete performance improvement targets. The ability to build the right measurements and narrative for your company is vital to the survey's success. This is where an
employee engagement survey
platform like Digital HRMS that allows you to customize the set of metrics based on your requirements, is what you need.
3] Privacy of the Survey Platform
Employees expect their survey results to be confidential, which is a key aspect to consider when choosing an employee engagement survey tool. The key point to consider is how it handles personal information and whether it complies with GDPR regulations. An advanced
employee engagement survey
platform like Digital HRMS is GDPR compliant that ensures the data is safe from unauthorized access and misuse.
4] Accessibility on Mobile
When it comes to engaging employees, you must reach out where they are: on their smartphones. When respondents can quickly access the survey and associated imagery on their mobile devices, they are more likely to complete it during their commute or free time. To ensure that your survey is mobile friendly, the Digital HRMS team tests it internally with a beta community first.

5] Access to Actionable Insights
Multiple frequency options (beyond annual) and a scientifically-backed survey design are essential, but you should also consider what the tool provides in addition to raw data. Look for a method that can turn input and data into actionable steps that managers can take before the next survey; otherwise, employees would regard the surveys as meaningless and the employee experience as a low priority. A platform like Digital HRMS gives you the insights you need for informed decision making.
Want to discover more about how Digital HRMS can help your HR team manage employee surveys effectively?
Stay connected with us on Social Media for all the latest updates.
Read:
How HR Software is Key to the Success of the Enterprise