T/DG Product Showcase: Digital HRMS - The Ideal HR Software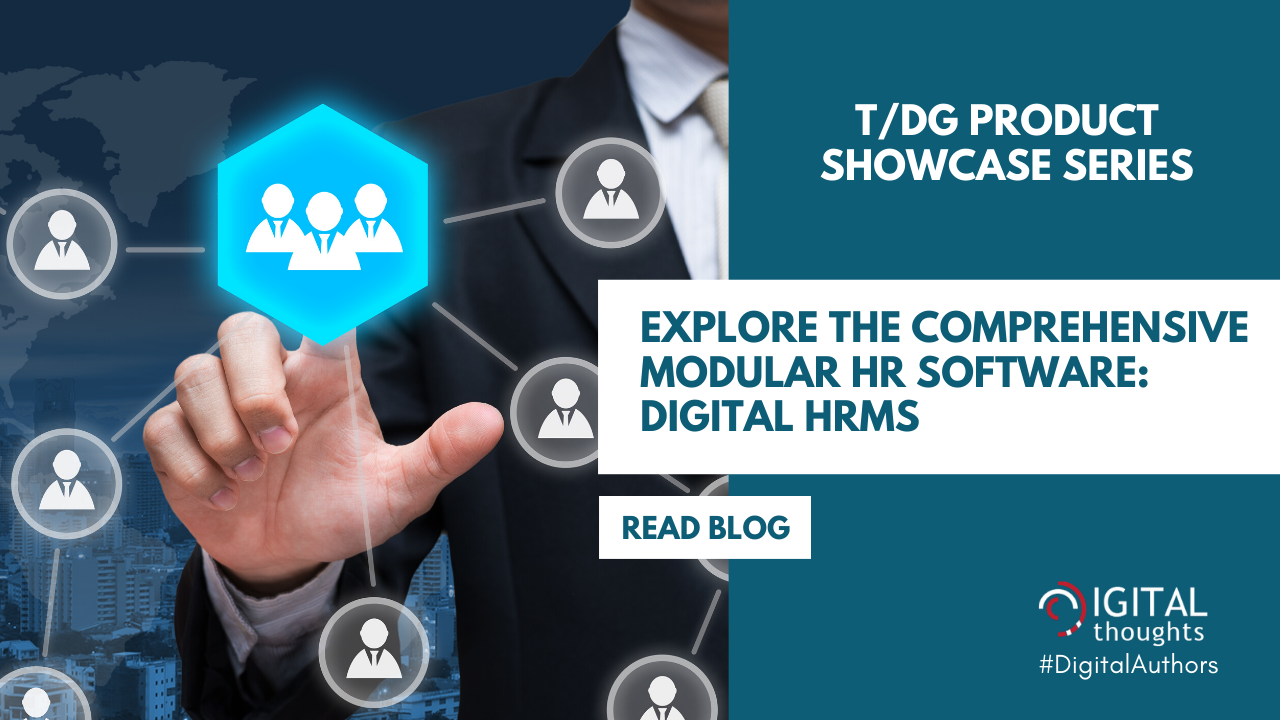 Today, when enterprises are focusing on automation of various business processes, the automation of HR processes is also becoming a norm. After all, the HR department is one of the key departments in any organization and is entrusted with some of the most important tasks and responsibilities. Employee motivation, salary and payroll, leave and attendance, employee performance assessment, and employee onboarding, are some of the tasks the HR department needs to perform. Automation of HR tasks results in increase in efficiency and productivity of the HR department, which has an overall positive impact on every aspect of the organization.
Talking about the automation of HR processes, you need a HRMS software for the purpose – one that has the capability to automate every task and let the organization enjoy the benefits. Digital HRMS is a HRMS software that is developed by The Digital Group (T/DG). It's designed as a modular software that allows an organization to pick and choose the modules that best cater to their business requirements. This blog is all about a closer look at Digital HRMS, the benefits it brings, and the modules it offers. So, are you ready to grab a seat for a product tour? Let's get started!

Why Digital HRMS is a Win-Win Solution for Employers & Employees
One of the first things you'd like to know about Digital HRMS is the fact that it has a long list of benefits that appeal to both, the employers as well as the employees. Here are the benefits at a glance.

Key Benefits in Store for the Employers
Serves as the ideal platform that effectively reflects the core HR policies of an organization.
Assures complete confidentiality of employee data through secure login credentials.
Makes it easy to create standard emails real fast with the in-built Email Builder.
Prevents misuse of data by unauthorized access, with the implementation of strict role-based access control.
Eliminates the chances of errors in the payroll management.
Streamlines the process of performance assessment of employees.
Generates quick reports to help the management get the right insights for decision making.
Saves time and effort of the HR department and management as all the relevant employee information is just a click away.
Streamlines the employee onboarding experience, making it effective yet hassle free.
Allows for easy management and identification of the training needs of employees through a single portal.
Makes it easy to manage the travel expenses of employees in the organization.
Paves the way for the successful implementation of enterprise mobility.
Makes the process of allocation of resources to different teams and projects a seamless task.
Key Benefits in Store for the Employees
Serves as a single platform with all important links and company information.
Makes it easy for employees to connect with the HR department for issues or queries.
Offers an easily accessible platform for grievance redressal.
Offers easy accessibility as it's available on multiple platforms.
Makes it easy and seamless to apply for leave, Attendance Regularization (AR) or Work from Home (WFH) requests and monitor the status of the approval process.
Allows the employees to perform basic tasks with a few clicks, by logging into the platform.
Contributes towards a good employee onboarding experience.
Makes booking a conference room quick and easy with just a few clicks.
Allows employees to fill a form and apply for self-assessment.
Generates quick reports with key information about work hours and leaves.
Makes it easy for employees to access leave history and plan leaves accordingly.
Allows employees to identify and share their training needs and enroll for training sessions accordingly in order to improve their skills.
Ensures timely approval of travel requests and reimbursements.
Ensures there are no discrepancies in the payroll processing.
Now that we are aware of what to expect when it comes to the benefits, let us explore the modules that Digital HRMS offers. After all, it's the modules that hold the key to the overall functionality of Digital HRMS.

A Quick Glance at the Modules of Digital HRMS
Recruitment Management
Employee Management
Employee Information Management
Leave & Attendance Management
Employee Self Service
Training Management
Travel Management
Expenses & Reimbursement Management
Performance Assessment
Resource Allocation Management
Employee Separation
1] Recruitment Management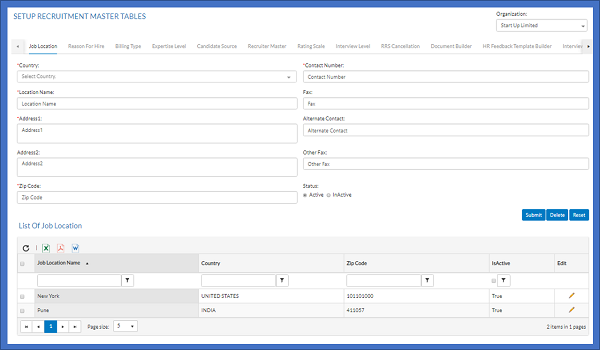 Digital HRMS allows recruiters to view status and status graphs of the interview process as well as individual candidates, and also track the interview process of each candidate.
Key Takeaways
Creation, approval and allocation of RRS
Provision for existing employees to refer candidates
Editing, adding & deleting job postings in a few clicks
Provision for Admin to use a question builder to define questions to be asked in interviews
Easy monitoring of candidate and interview status
Provision for shortlisting of candidates by recruiters and managers
Tracking shortlisted candidates for further interview
Resumes of rejected candidates archived in a resume bank for future reference
Detailed reports and email notifications
Dynamic workflows
2] Employee Management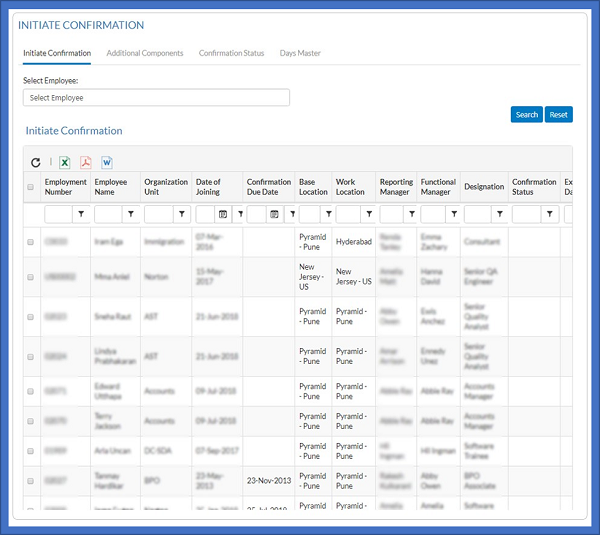 Digital HRMS makes it easy for your HR department to create a good onboarding experience for your new hires, by minimizing paperwork. The Employee Management module is designed to streamline all your onboarding procedures.

Key Takeaways:
Addition, modification and deletion of employee details
Employee history easily accessible
Provision to fetch names of recruited employees for onboarding process
Continuation of extensive background verification of employees even after joining
Provision for offering global access to employees by Admin
Effortless employee allocation to the designated process
Employee can view work anniversaries and birthdays of other employees on the Home Page
Skill and competency management
Pop-up alerts if incorrect information is entered
Approval can be reassigned by Admin
Detailed reports and email notifications
Dynamic workflows
Environmental issues addressed with minimal paperwork
3] Employee Information Management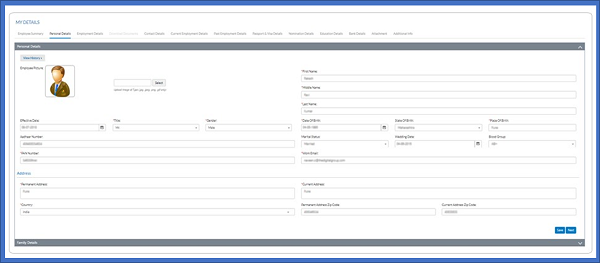 Digital HRMS lets the HR/Administrator maintain in-depth employee information including personal, academic and employment details as required by an organization. To avoid data breach, companies can provide role based permissions to view/edit employee information.
Key Takeaways:
Central repository of employee information – personal, academic and employment
Easy search tool to lookup employee information
Provision to view Quick Links to Employee Manual, HR Helpdesk, HR Contact Details, Holiday List, Newsletter, and more. This is customizable.
Provision for employees to download documents from the system. That are uploaded by HR/Admin
Time-saving bulk information update feature
Configurable role based access to information
Detailed reports and email notifications
Dynamic workflows
4] Leave & Attendance Management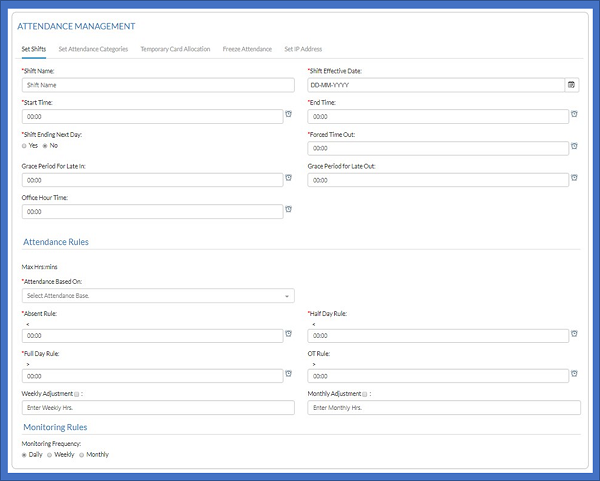 Digital HRMS is your ideal partner when it comes to tracking working hours, requests for regularization of attendance and work from home requests, along with defining the optional holidays for employees. With Digital HRMS, the Admin/HR of your organization is allowed the provision of configuration of leave types and also define rules for leave credit and leave balance adjustment.

Key Takeaways:
Seamless integration with the existing Access Control System
Easy Attendance Regularization and Work from Home requests
Option to set up leave types as per company policy
Flexible Shift Management and leave credit rules
Customizable & comprehensive leave & attendance reports
Leave details and leave calendar visible on the Digital HRMS dashboard
Provision to apply leave directly from dashboard
Manager can view leave details of the employees in the team
Employee work hours visible on the Digital HRMS dashboard
Do-it-Yourself employee portals
Detailed reports and email notifications
Dynamic workflows
5] Employee Self Service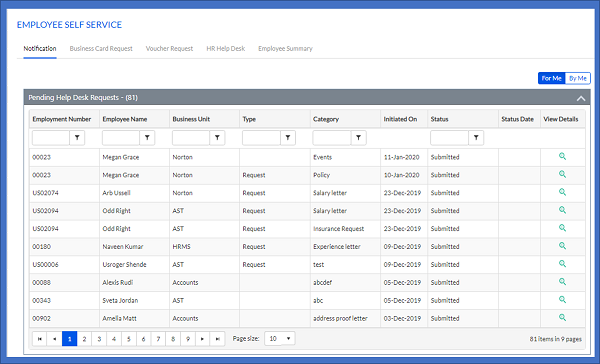 Digital HRMS allows an organization to give more power to employees through the Employee Self Service module. This allows employees to view notifications and raise requests for vouchers and business card. The employee can also view Employee Summary in this section and also notifications pertaining to the self service activities, at a glance.

Key Takeaways:
Provision to view a list of notifications for voucher applications, business card requests, and other activities pertaining to this section
Provision to request for a business card
Provision to request for vouchers
Provision for information from the HR Help Desk
Provision to view Employee Summary
Allows employees to track the status of requests
Detailed reports and email notifications
Dynamic workflows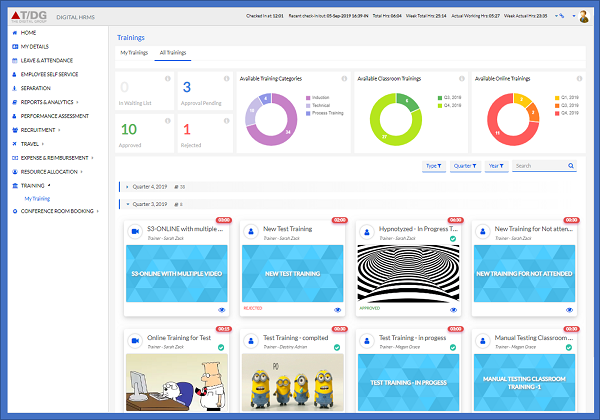 Digital HRMS allows the Training department to allocate online training sessions for the employees and also allow them to schedule classroom training with ease. The module also allows users to view their training calendar, and the trainings that that are available for them for every quarter. It allows for a seamless management of employee training requirements, with a balance of classroom and online trainings.
Key Takeaways:
Provision for employees to take online trainings on the platform, at their convenient pace and time.
Graphical representation of training calendar for easy tracking.
Provision to track status of training nomination requests at a glance.
Online trainings showcased in a tile format with thumbnail images and other relevant details.
Provision for employees to complete pre as well as post assessments on the same portal.
Availability of all training-related details on a single platform for ease of planning.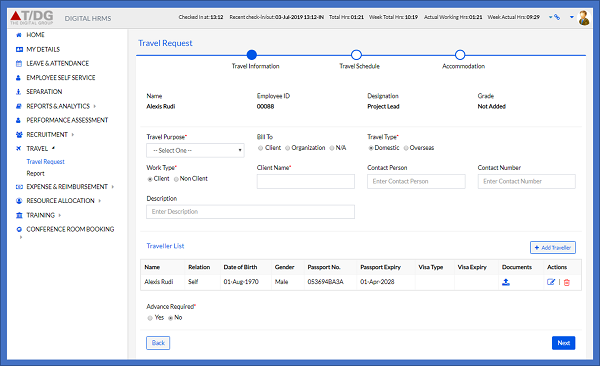 Digital HRMS offers the Travel module for users to create travel requests for official tours within the country and abroad. Employees can create and track travel requests, update itinerary, add accommodation details and more. The module also allows employees to search for and view details of travel requests created in the past.
Key Takeaways:
Provision for employees to raise travel requests on the platform.
Transparent monitoring of travel requests with ease.
Quick sorting of existing requests.
Provision to define travel type, purpose and date.
Provision to view a list of raised travel requests and their status.
Provision to raise requests for the team.
Quick and detailed reports on the travel requests of employees.
8] Expense Management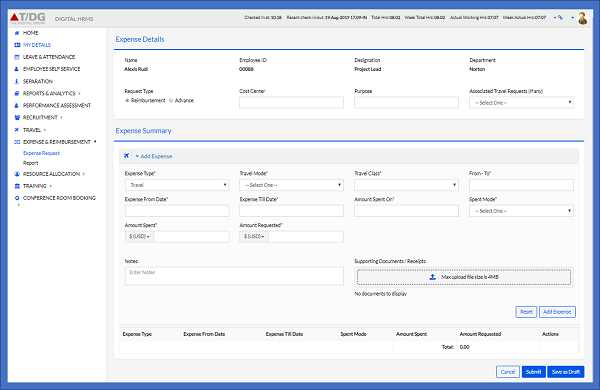 Digital HRMS caters to the requirement of every organization that has employees travelling for work to different regions in the country or abroad. The Expense & Reimbursements module is designed to help employees raise reimbursement requests for their expenses during office tours. It's a fully customizable module that allows the organization to customize every element according to their company policies.
Key Takeaways:
Provision for employees to raise expense requests on the platform.
Effective monitoring of expense requests with ease.
Quick sorting of existing requests.
Provision to define expense type, purpose and date.
Provision to view a list of raised expense requests and their status.
Provision for managers to raise requests for the team.
Quick and detailed reports on the expense requests of employees.
9] Performance Assessment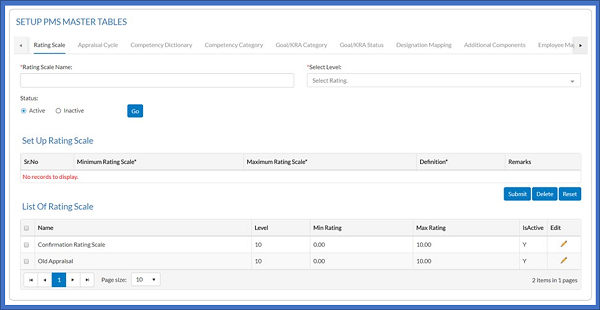 Digital HRMS offers a unique module for Performance Assessment, which allows employees to rate their performance based on various parameters. The employees get a complete freehand to customize performance appraisal forms, including determining the appraisal cycles, rating scales, competencies, goals and KRAs.

Key Takeaways:
A unique self-assessment form for performance appraisal
Performance based on average score for different competencies
Modifiable appraisal cycles, rating scales, competencies, KRAs & goals
Smooth transition from appraisal/confirmation initiation to closure
Easy-to-explore confirmation status – approved, extended, pending or submitted
Seamless shift from confirmation initiation to closure
Modifiable rating scales
Confirmation period configuration
Detailed reports and email notifications
Dynamic workflows
10] Resource Allocation Management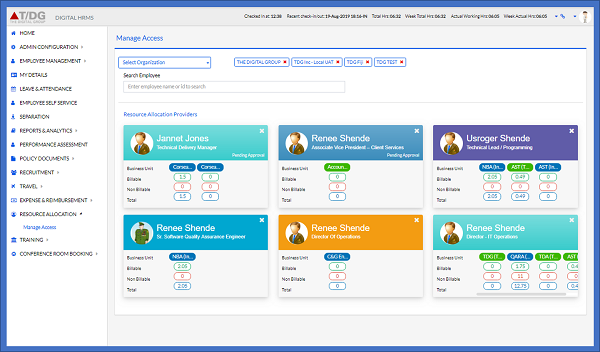 Digital HRMS facilitates the management of resource allocation process to ensure that every project gets allocation of resources that match the required skillsets for the project. There is a RAS Provider in every organization who looks after the allocation of resources for various projects within the organization. The Resource Allocation module is designed to automate the process of resource allocation, to allow for transparency and to ensure optimum utilization of resources within the organization. Even new employees are assigned to the respective teams this way by the Admin.
Key Takeaways:
Allows Admin to manage access and permissions for the Resource Allocation process in a few clicks.
Provision for the RAS provider to end previous allocation and add new allocation to a resource from a single interface.
Employee Search option makes searching for an employee quick and easy.
Provision of RAS reports for details of allocation.
Allows RAS providers to view the allocation details of resources for seamless allocation.
Provision for complete as well as partial resource allocation.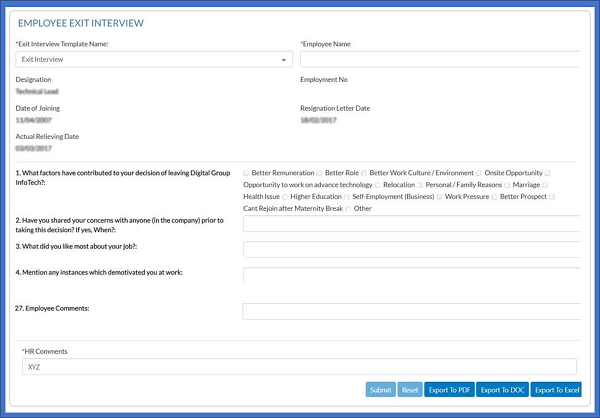 Digital HRMS ensures that everything from the scheduling of Exit interview and collecting valuable feedback to deactivate the employee, can be done at the click of a button. The Admin can also configure the workflow for approving/rejecting a resignation. The option to temporarily reactivate and deactivate an employee is also available.
Key Takeaways:
Stress-free resignation recording/pullback process
Customizable exit interview surveys
Quick exit interview scheduling and feedback review
Employee deactivation at the click of a button
Dynamic workflows
Temporary disablement/enablement of employees
Quick clearance activity from all the departments
Detailed reports and email notifications
Dynamic workflows
So, that was a quick look at the modules of Digital HRMS. It's important to note here that Digital HRMS is a modular HR software that allows you to pick and choose modules to create your own customized software that best caters to your specific business requirements.

Have You Discovered the Digital HRMS mobile app Yet?
Well, the newly launched Digital HRMS mobile app is now live and it's available for Android and iOS users. So, that's definitely the icing on the cake, as it allows greater accessibility to the platform as you can access the app anywhere anytime. What's more, it is designed to make the best use of the hardware on your phone to offer some cool features like fingerprint/Face ID sensor along with a faster performance.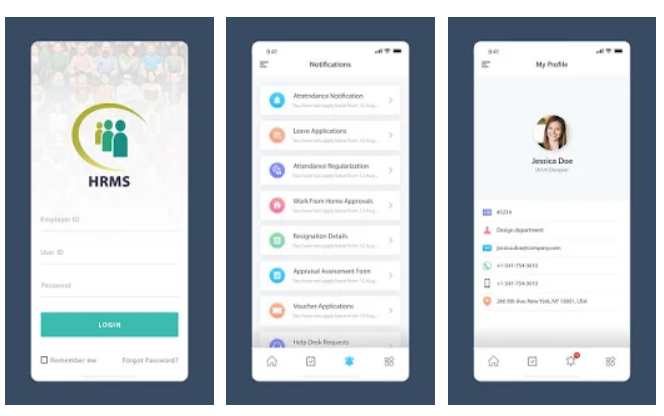 Want to Know How Digital HRMS Works to Help a Business overcome Key HR Challenges?
Worry not, for we have something for you. Click on the Resources tab on the
Digital HRMS
website to download a case study, as shown in the screenshot below.