What Experts Have to Say on Recruitment and Employee Onboarding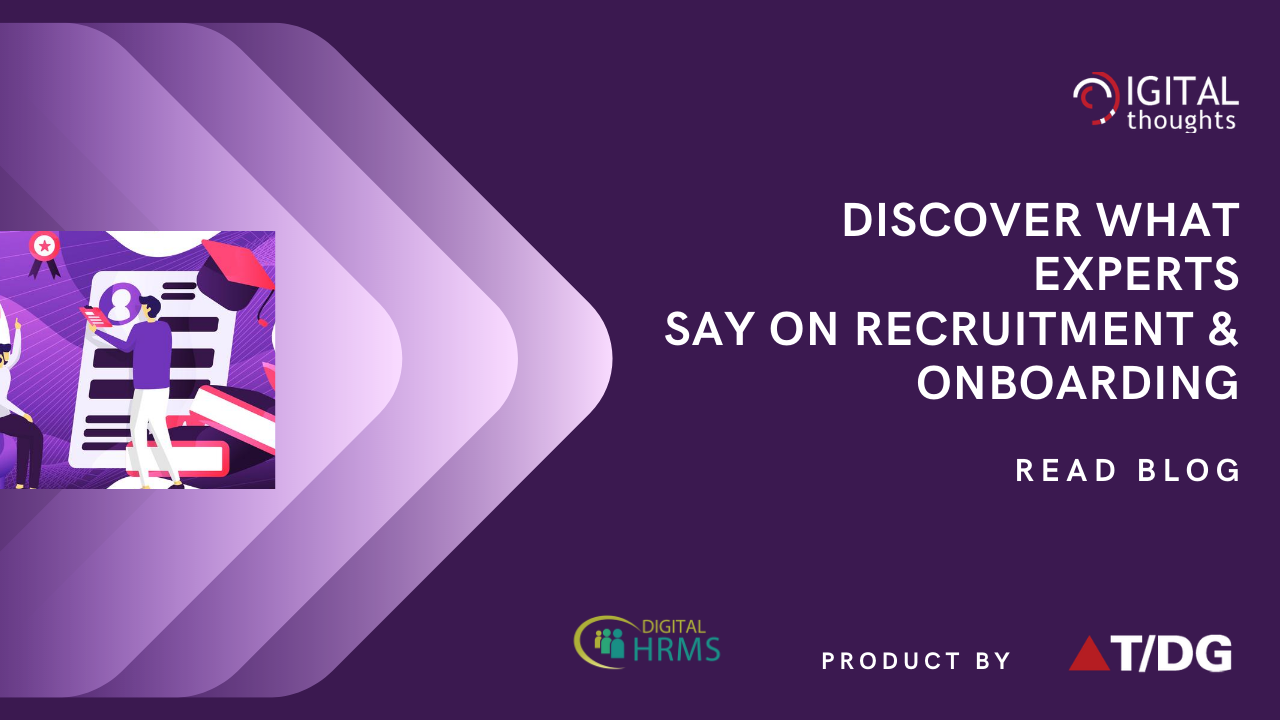 Onboarding of new hires is one of the most significant processes in the employee lifecycle, as well as the one that leaves the biggest impact. Statistics indicate that 69% of employees are likely to continue working with an organisation if they experience a good onboarding process. Since employee turnover has a highly significant impact on the cost of a company, it can be safely concluded that employee onboarding is one area which all companies should take care of in order to deal with employee attrition. According to experts, an Employee Onboarding system can be useful in streamlining the onboarding process.
Now that we have understood the significance of a systematic approach to recruitment and employee onboarding and the fact that an Employee Onboarding system can help, let us have a look at what some of the renowned HR experts have to say in this regard.
1] Setting the right goals can make a difference
Megan M. Biro, HR influencer and author
, talks about how defining the shared goals can be the first step towards building a team that works together to attain the targets. When discussing goals with the team, there should be focus on a shared sense of responsibility towards the team. This will make the employees clearly see themselves as the part of a bigger picture. Meghan says, "Build your organization's goals around a shared sense of work and responsibility, sense of optimism, healthy scepticism, enthusiasm and confidence in the organization's mission."
An HR software can help the team collaborate to share goals and objectives and work towards a collective success.
2] Understanding the role and significance of HR Technology
David Ulrich, co-founder of RBL Group and renowned author
, mentions the fact that there are still several organisations out there who are following the age-old, paper-based manual HR processes. This indicates that there is still a lot to learn about the capabilities of HR software. Enterprises today need to embrace HR technology because of its multiple benefits. An advanced HR software like
Digital HRMS
can help enterprises automate the entire set of HR processes, including onboarding, and boost employee engagement. In today's times, when people are working from home, HR Technology
the new age HR software
has a new role to play. David says, "The domain in which HR tends to be the weakest is in understanding and applying technology to build HR."
3] Challenges work wonders to motivate employees
Lou Adler, CEO of Hiring Learning Systems
, talks about the significance of challenges and how they motivate the top talent to continue with an organisation. The point here is that even though employer branding is a thing and does make a difference, when it comes to hiring and retaining the top talent in any field, this alone is not enough.
The most brilliant minds out there are looking for new and challenging opportunities that help them learn and grow. Therefore, it is recommended that enterprises consider investing time and efforts in well-structured learning programs for the employees and also provide them with the opportunity to take up new challenges. Adler says, "Recruiting the best is not about selling or charming. It's about providing big challenges and career opportunities and a little money thrown in."
Moreover, an HR software also includes an Employee Onboarding system as well as a recruitment management system for 360 degree efficiency of HR processes.
4] Having a feedback loop in place
Elon Musk, CEO and CTO of Tesla
, insists on the need for a feedback loop to help employees learn and improve. What enterprises need to adopt today is the concept of on-the-spot recognition instead of the annual performance review. The on-the-spot approach will be more in line with what the young talent today is looking for. In other words, continuous feedback is the way to go. Musk says, "I think it's very important to have a feedback loop, where you're constantly thinking about what you've done and how you could be doing it better."
With the implementation of an effective Employee Onboarding system, this on-the-spot rewarding approach can be implemented right from day one, which can go a long way in motivating the new hires and reducing employee turnover in the organization.
5] It's time to take up a collaborative approach to recruitment
Steve Jobs, co-founder and former CEO of Apple Inc
., explains how hiring the best talent can be a collaborative effort. The point is that collaboration can make the process easier and a lot less stressful for the recruitment team. Referrals are a great way to involve other employees as they help the organisation find the right candidates. Involving senior team members in the screening process is also a great idea to ensure that only the most talented individuals become a part of the team. Steve had mentioned, "You need to have a collaborative hiring process."
A recruitment management system is what the enterprises need right now to make collaborative recruitment a reality.
So, that was about what the experts have to say on recruitment and employee onboarding. Good employees are one of the biggest assets of enterprises and so it becomes essential for enterprises today to follow the most effective approach towards hiring and retaining good talent. An Employee Onboarding system is the need of the hour for every enterprise and so is the recruitment management system. A new age HR software like Digital HRMS can give enterprises the benefits of both and more. Explore the HR software platform today. Visit
www.digitalhrms.com
.