7 Most Popular IT Services for Businesses: First Important IT Service for a Business is Software Development Services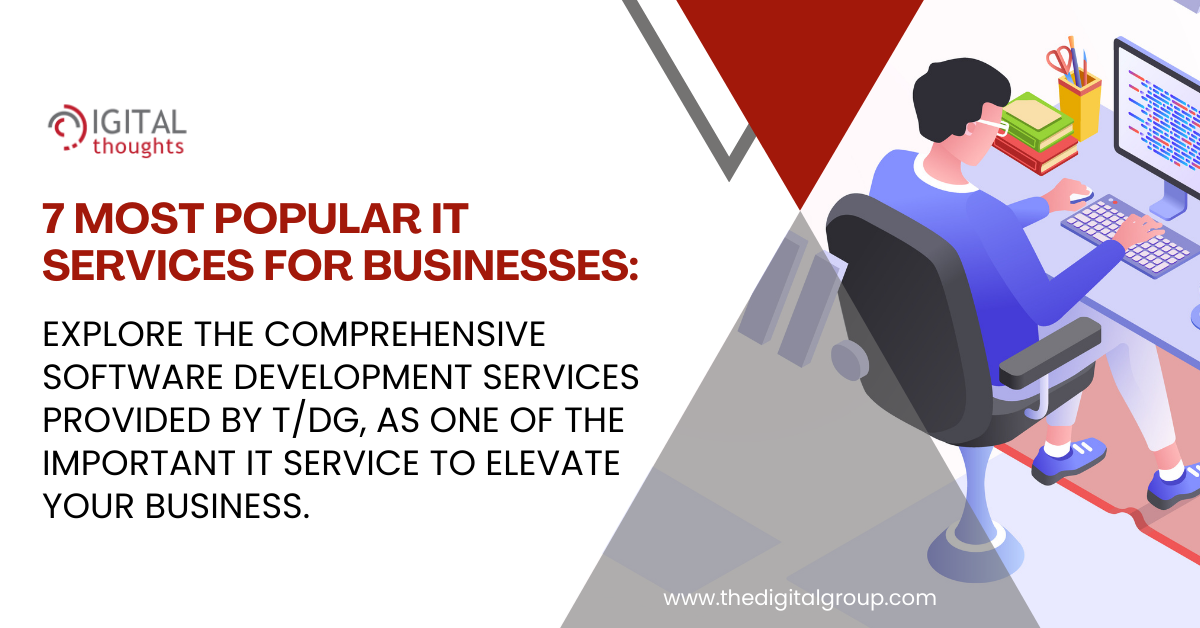 Effective IT services and systems are necessary for any business, regardless of size, to boost productivity. Strong and dependable IT services help businesses stay competitive, whether it is by utilizing the benefits of in-house IT staff or outsourcing technical support. As a result, it is essential for businesses to keep abreast of the most recent technological developments and concentrate on regularly updating their current computer systems. In this blog series, we will cover the 7 most popular IT Services for Businesses. This particular blog covers all the details of the first important IT Service, i.e., Software Development Services.

Why Software Development Services Are Vital?
Globally, businesses are struggling to keep up with the complexity and mounting expectations brought on by customer behavior shifts, innovation problems, technology improvements, and commercial rivals. The Digital Group is equipped with the necessary skills and knowledge to offer businesses complete custom software development services and solutions, including product initialization/prototyping, product development, product reengineering services, product testing, and round-the-clock global support.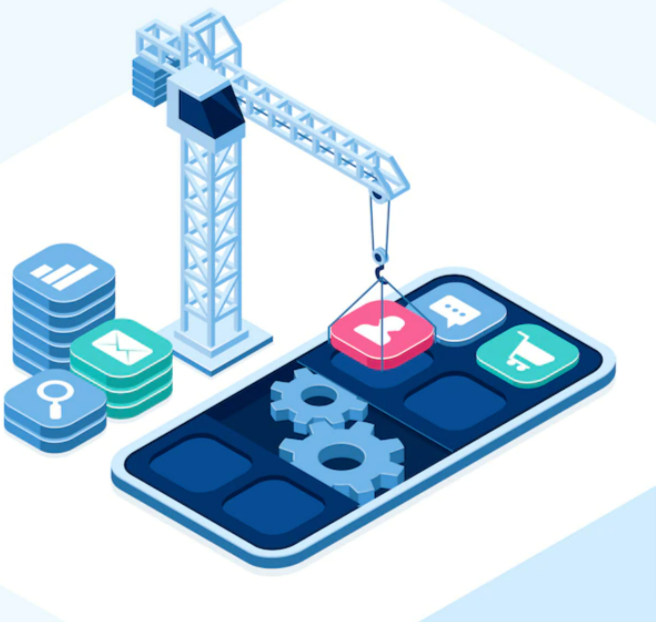 The following are some challenges that businesses face when developing software:
TCO (Total Cost of Ownership) reduction through smart business efforts is crucial.
The capacity to originate, plan and carry out new projects quickly enough to stay competitive
Customer wants are always changing, and market competition is also evolving.
Technologies that are not supported come with significant maintenance concerns for applications
Incompetence and lack of strategic capabilities
Application portfolio redundancies across corporate functions and technologies
Customized Solutions to Boost Business Value
The Digital Group provides its clients with total transparency while bringing a variety of vertical domain skills, and extensive technological platform competencies, including Cloud, Mobile, and SAAS, as well as best, practices and rigorous QA standards. In order to meet all corporate difficulties, we combine our knowledge, process maturity, and low-cost services to offer high-quality onshore and offshore software development services at a great price.
Here's How T/DG Can Help You
A. Solutions Conceptualization Services
Most of the time, the pre-packaged solution for the product that is chosen has to be adjusted in order to benefit your organization or solve a particular problem. The remedy put in place today could not work tomorrow. The Digital Group assesses how important conceptualization or visualization is in offering businesses affordable solutions. After doing an analysis of cost-effectiveness, customer expectations, changeability, and best suited to satisfy corporate objectives, we provide effective solutions. Here are a few of the problems that businesses frequently run into when trying to conceptualize good product solutions that can really be used to produce useful outcomes.
It is challenging for businesses to discover creative solutions to software issues that arise during the creation of software products.
It's crucial to gather ideas or assess concepts that have the potential to improve the company.
It is challenging to provide an immediate technical fix for software faults.
A great deal of competency and knowledge are needed for the technical solution's testing and analysis.
Businesses are unable to provide a range of solutions during the course of a project's development.
Innovative Ways to Address Those Software Limitations
The professionals at Digital Group are capable of conceiving solutions that make the client's vision a reality. Throughout the project's lifetime, we provide unique product solutions concepts for the products. For instance, during the phases of project initiation, planning, analysis, development, and testing, the specialists work arduously to present solution ideas and implement them.
The Digital Group offers solutions conceptualization services.
Putting the idea into technical shape by working together with the customer, comprehending the needs, and the business procedure, and producing the appropriate product specs
Investigating current market models and goods for comparative analysis
Creating a high-level prototype of the product to gain the required business support
The product is properly priced.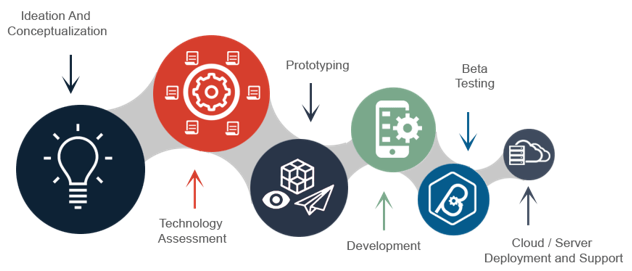 Why Should You Consider The Digital Group for Conceptualization Services?
Unified product solutions - Our product conception services and solutions aid intelligent goods. We guarantee that these goods interface with other devices and operate smoothly across several platforms.
Smartly Integrated Infrastructure Solutions - A unified and informative experience from anywhere, at any time, on any supported device.
Engineering Process Solutions - We combine engineering and information technology expertise to create best-in-class solutions and universal acceptance through an efficient product conception process.
Improved efficiency, lower risk, and high-quality software product maintenance
Innovative concepts for organizational change are achievable.
Rapid technology solutions to minimize downtime
B. Product Engineering Services
The complete process of design and development for the purpose of creating a system or product intended for sale is referred to as product engineering. The Digital Group's software specialists provide technical solutions for software products that work with cutting-edge technologies and architectures. To implement cutting-edge software products, organizations require top-tier software product engineering services and solutions. Here are a few of the main obstacles that businesses encounter while using product engineering services.
Always innovate to introduce new goods.
Competence in engineering to provide a technical solution.
Regular product maintenance to cut costs.
Portfolio maintenance for products.
Product capability enhancement through product optimization to satisfy market expectations.
Products are localized and customized to be used in different geographic places.
Cost-effective Methods for Improving Product Quality
The software development staff at The Digital Group does intelligent work. For software products, we provide excellent product engineering solutions and services. Our software specialists produce best practices, innovations, and frameworks with continuous business value to fulfill the overall purpose of competitive progress and innovation, assuring operational dominance in product engineering.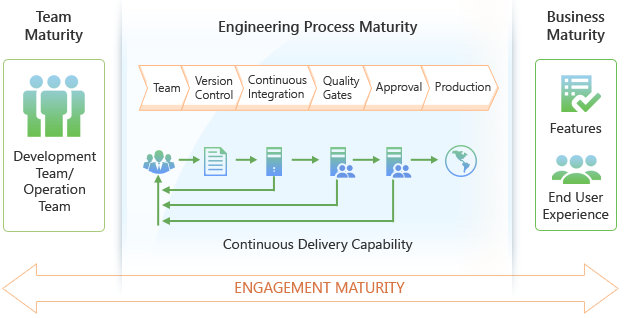 We firmly believe in enhancing the caliber of software goods and provide expert product engineering consultation. The following are some of the services that The Digital Group offers:
Creation of functional and non-functional requirements outlining a range of inputs and outputs
Architect, create and display essential elements of the product
Develop prototypes, test them, and look for potential issues that need hardware and software setup.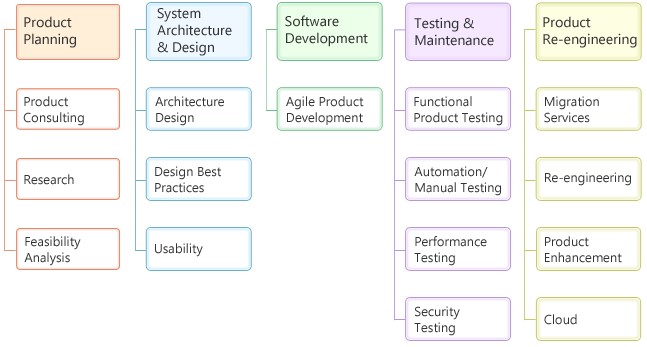 Why Should You Consider The Digital Group for Product Engineering Services?
Throughout the product lifecycle, our product engineering services and solutions include new product development, product testing, product re-engineering, and improvement, and deliver the following benefits to the organization:
Reduce time-to-market by developing, testing, and maintaining products more effectively throughout a shorter product life cycle.
Increase efficiency while maintaining product quality.
Create client-centric goods to increase consumer happiness.
Improved engineering technologies and techniques for the creation of novel software products
C. Product Development Services
Product development aids in the alignment of a company's business strategy with its goods by using processes and procedures that lessen risks and uncertainties connected with the products being envisioned. The Software Product Development team of The Digital Group is committed to providing high-quality product development services. To create software, we take a very collaborative approach. The Digital Group provides original ideas, keeps up with consumer demands, and incorporates new architecture and technology to give our clients with software product development benefits. Our greatest strength is our ability to react to changing business requirements while maintaining high quality. Here are some of the most common product development issues that businesses confront.
Time and money spent developing new products or services in the face of frequent regulatory and compliance changes. The constant change in customer expectations and needs Incorporating the most recent platform, technology, or architecture necessitates a high level of competence and skill.
It is critical to provide complete product development services, from product design to migration and modernization with proper models.
From Concept to Market, Custom Services and Solutions
The Digital Group's product development process includes a fuzzy front end, product design, development, and product commercialization. Customers are actively involved in the product development process at the Digital Group. A product must go through several stages, beginning with conception and ending with design, development, and market launch. A graphical illustration of the many stages of a new product's development is shown below.

When off-the-shelf software fails to fulfill your business objectives, we will create and discover the best solution for the most difficult technical requirements and business difficulties. We have extensive expertise in bespoke software product development and can provide solutions that exceed your expectations while remaining within your schedule and budget limits.
T/DG handles all parts of the software development life cycle, and the product development phases at T/DG are as follows.
Conceptualization of a Product:
Detailing the concept in a more technical form through collaborative interaction with the client, understanding the customer's needs, and business process, and producing the appropriate product standards.
Investigating existing market items and concepts for comparative analysis
To obtain the essential business buy-in, create a high-level prototype of the product.
Product Design and Engineering:
Create functional and nonfunctional requirements that specify a collection of inputs and outputs.
Architect, design, and modeling of critical product components
Prototype, test, and discover potential faults, including hardware and software setup.
Implementation:
Create the software product.
Product testing and certification
Prepare the product for commercialization.
A flowchart of our Product Development Cycle is shown below.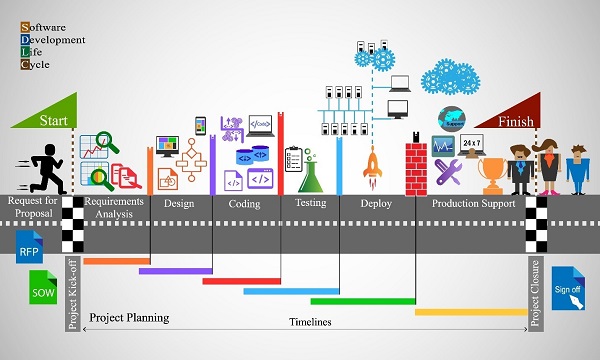 End-to-end software product development services or technology services at certain stages of product development are typical concepts. However, we propose that most of our customers include us from the beginning of the product conception process. In this manner, we can assure that the best engineering methods are used to obtain the best results.
Our approach to building software product development solutions is defined by our effort to build creative and transparent models that will self-fund and commit to transition expenses throughout contract deadlines. The following development/operational models are used by us:
SCRUM Methodology
Waterfall Model
Prototyping Model
Spiral Model
Rapid Application Development
Iterative Model
Rational Unified Process Model
Why Should You Consider The Digital Group for Product Development Services?
The models employed are regularly benchmarked and modified based on new knowledge, best practices, and technological advancement.
Project-specific models are created by tailoring conventional models to the needs of the user.
We have a dedicated Expert Panel that continuously reviews third-party and in-house products related to Project Management, Process Management, and Software Engineering in order to maximize our value proposition to our clients.
Cutting-edge applications are employed to suit the business objectives of customers while optimizing application ROI.
To provide quick client assistance, we design apps on time and under budget.
D.

ERP and LOB Integration Solutions
Many business operations are carried out manually in the absence of an integrated solution, which wastes time. The majority of company systems are behind a corporate firewall and are not freely accessible. An in-house enterprise system is the first choice for major organizations. However, some businesses may want to host a portion of their operations in the private, public, or (public-private) hybrid cloud. The Digital Group offers Line of Organization (LOB) solutions that link with ERP (Enterprise resource planning), guaranteeing that your systems are properly and efficiently integrated so that you may develop your business more quickly. We have the knowledge to combine these many systems or applications in order to achieve data integration and provide ERP and LOB integration service benefits to enterprises. Here are some of the major problems faced by organizations when it comes to ERP and LOB integration:
System Variations Bring Complications During Integration - When systems must communicate with one another and send information to a newly developed system, system variations introduce complexities during integration. One of the most typical ERP and LOB integration service difficulties that businesses confront is this. For example, if a mobile application wants to provide the end user or customer with the most recent status of an order, a specific interface with the order processing system on the ERP platform is required. Customer feedback is stored in Salesforce on a private cloud, while visits or sales are stored in cloud analytics tools. All of this data must be presented in a readable fashion on web-enabled devices.
Data Access Difficulties - Timely and correct access to data is critical for making timely choices in response to changing company models and market requirements. The lack of a system that allows for smooth data access and transmission might be a barrier to a company establishing a competitive advantage.
Inconsistency in Records Management - Manual data input may be time-consuming, not to mention prone to mistakes and inaccuracies. There is also the potential for data duplication and difficulties in updating the data.
Overcoming System Variations for Seamless Data Integration
The Digital Group analyses and assesses the appropriate set of tools and methodology for implementing ERP and LOB integration solutions that securely connect corporate systems to external platforms. Some connections may necessitate large-scale data migration within or between systems, as well as from one business unit to another. We create and perform data transfer services utilizing a variety of choices, including bespoke integration solutions, ETL workflows, and the use of relevant and compatible data platform solutions based on the customer's needs.
We also assess the customer's business requirements to offer solutions when the customer is unclear about the options available. We optimize LOB integrations in order to decrease point failures in the integration process. Our LOB integration architects also assist businesses in integrating their growing systems and apps with corporate systems.
Why Should You Consider The Digital Group for ERP & LOB Integration Services?
Insight Trends - Gain access to a wide range of Sales business data that aids in the identification of sales trends.
Access Information Anywhere and Anytime- Allowing employees to discover information inside the applications they use every day, increases productivity.
Mobile Access- View sales data from any device, including order quotations, revenue trends (current and historical), invoice data, and so on.
Accurate Account and Contact Information - All information is correctly synchronized between ERP systems and databases, allowing you easy access to critical contacts whether at work or on the road.
Alerts on Critical Tasks - Automated Alerts notify you when a key prospect places an order and allow you to browse a list of previous orders.
360-degree Access - Get a 360-degree view of all Accounts, including opportunities, notifications, emails, and location monitoring, among other things.
Visibility and Transparency - Executives may get a consolidated picture of sales that provides a landscape perspective across the territory, region, and the whole business.
Sales Analysis - Understanding Profit Margin and Sales Analysis Access to current sales as well as historical data via infographics and data visualization.
Increased Sales - Gap Analysis allows you to find gaps and enhance sales.
Now that you know all about the Software Development Services and the solutions provided by The Digital Group. In the next topic, we will be covering Software Testing Services, which is another important IT Service.
Coming up Next-
7 Most Popular IT Services for Businesses: Second Important IT Service for a Business is Software Testing Services.