Employee Engagement Tips for Remote Employees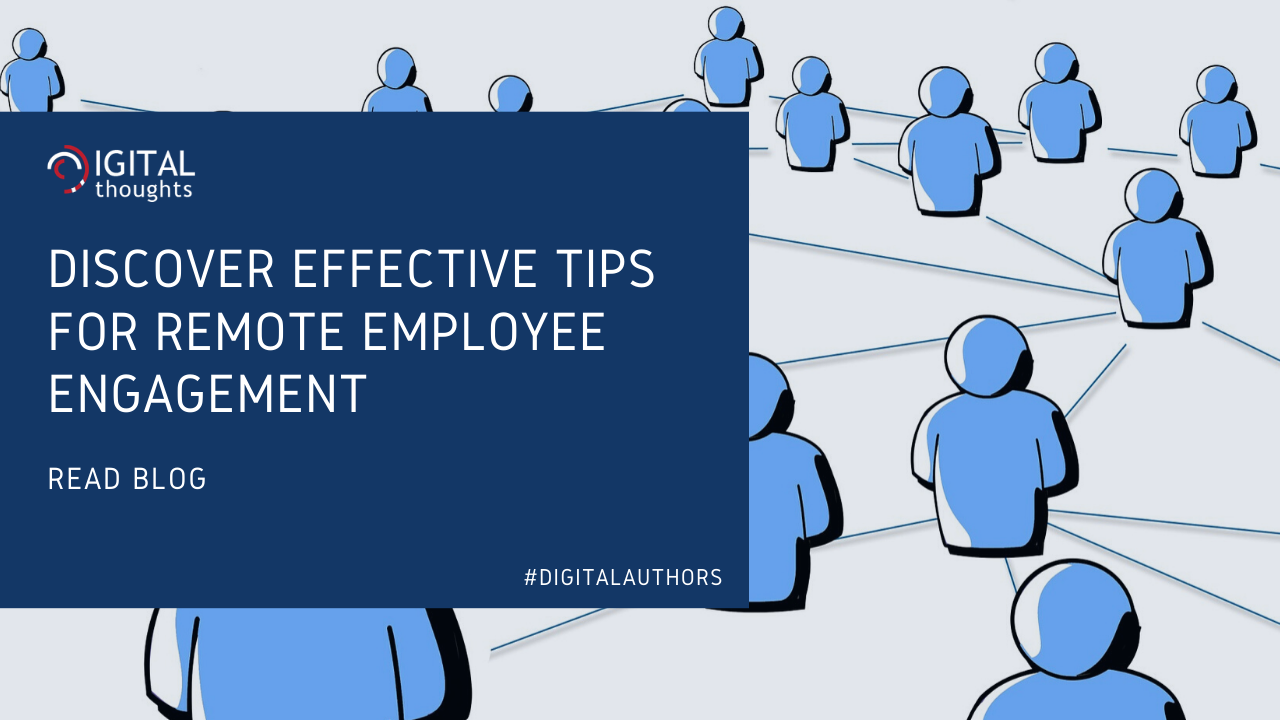 According to Global Workplace Analytics, the percentage of remote employees has grown by 103% since 2005, among the non-self-employed population.
This shows that enterprises worldwide are opening up to the idea of remote employees in their team. The term 'remote employee' refers to any employee who is working away from the office, be it working from home or at an office that is away from the main office where the rest of the team is. Now, remote working arrangements are getting popular, as it serves as a win-win solutions for the employers as well as the employees. The employees who work remotely get to experience a better work-life balance and reduced stress levels. The employer, on the other hand, make substantial savings, with fewer devices in the premises.

However, remote employees tend to experience a lack of motivation as they feel cut off and isolated from their team. The solution? Optimum employee engagement directed towards keeping the remote employees feeling a part of the team, in spite of not being physically present at the office with everyone else. The great news is that keeping your remote employees engaged is not as complex as it may appear to be. What works for your in-house team can work for your remote team as well. So, here we go with some effective ways to make your remote employees feel engaged.

Increasing Employee Engagement with a HRMS Software
A great to start to your efforts of increasing remote employee engagement, is to get an advanced HR software like
Digital HRMS
. It promotes
employee engagement
and makes it possible for you to offer all your employees a common platform to make way for easy communication. There are many ways a HR software like Digital HRMS can facilitate employee engagement. To begin with, Digital HRMS is available on the web, which means remote employees can access it on the go from any device.
The platform also offers a training module through which all employees of the organization can attend online training sessions. So, even if your remote employees are away in another location, they need not miss out on an opportunity to enhance their skills or gather useful insights. The image below shows a snapshot of the Training module of Digital HRMS showcasing the trainings available for Quarter 4 of 2019.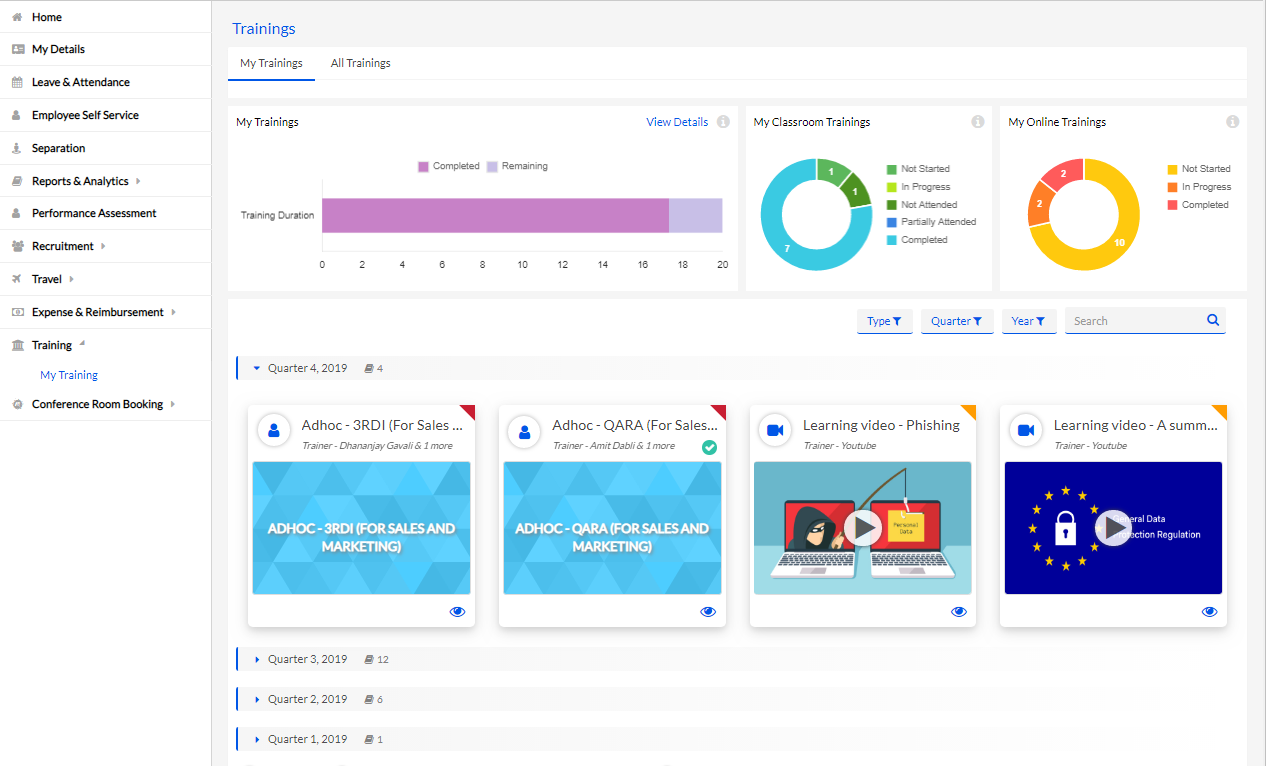 Also, the portal showcases important announcements from the HR and other important info on the home screen itself. So all an employee needs to do to stay updated, is just login to the portal and bingo! All the important information is showcased right there! Digital HRMS also showcases the link to the monthly newsletter and recent blogs on the home page itself so that every employee is always on the loop and never misses out on key information. This is shown in the screenshot below.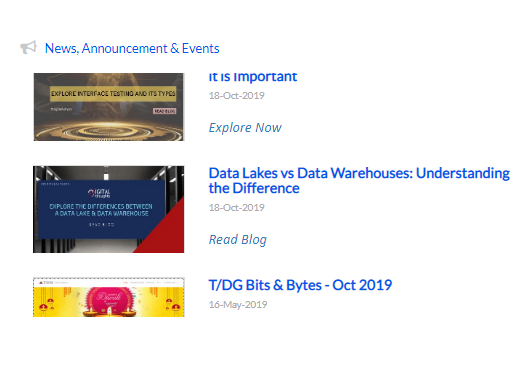 In addition to this, Digital HRMS also showcases the birthdays of employees on the home screen. This feature can help remote employees to never miss out on the birthdays of their team members, and is shown in the screenshot below.

In addition to the engagement options that a HR software offers, there are other ways to enhance remote employee engagement too, as mentioned below.

a] Connect with them & Encourage Communication
Communication is key to a successful team, no matter whether you have in-house members, remote members or both. Today, you have technology that can make seamless communication possible within your team. Get tools like Trello or Slack for a fun way to keep all your employees on the same page and communicate on the go. Even tools like GoogleHangout can be a great way to interact with remote team members, or even organize a team lunch with everyone involved for some light conversation.

b] Conduct Team Building Activities
If you thought team building activities can only be conducted for your in-house team, think again! With the latest technology that supports real time communication, there is no reason you cannot successfully involve the remote members of your team in fun activities. Participation in activities with the team can be a great way to make the remote employees feel included. For example, organizing an online gaming tournament can be a great idea.

c] Assign them Greater Levels of Responsibility
Being a remote employee can make one feel they are not an important part of the team. This is common human psychology. To prevent your remote employees from feeling this way, you need to ensure they are allocated tasks and projects that call for real responsibility. This will make them realize that the team banks on them for critical tasks, and that they are an important part of the team.

d] Communicate Clear Goals and Expectations
In the absence of clear directions, a remote employee can feel directionless and lost. After all, they don't have the privilege to meet up with the team everyday to discuss where a project is heading to and what is expected of them. Hence, it is a good idea to define their goals and what expectations you have from them regarding tasks and deadlines. This way, it will be simpler for them to know if they are on the right track.

e] Reward your Remote Employees
Lastly, it is important to reward your remote employees whenever they perform a task well and it works every time to give them the motivation they need. Everyone likes when their hard work is appreciated and when your remote employees get rewarded, it's special because it assures them that even though they are not a physical part of the team, they are making a positive difference.
Conclusion
So, that was about great ways to keep your remote employees engaged. The key is to ensure they feel happy and valued by the team. Have you ever worked remotely? If yes, what is the biggest factor that motivates you? Share your thoughts with our readers in the comment box below.