15 HR Statistics You Need to Know Right Now (Infographic)
The last few years have witnessed a significant evolution of Human Resources (HR) with the advent of technological breakthroughs like artificial intelligence (AI) and automation of HR processes with new age HRMS
software
. Here are 15 HR statistics you should know that provide you a valuable insight about the world of Human Resources as it is today.
1] 53% of HR professionals say that an improved onboarding experience increases employee engagement. [Source: Rise People]
You simply cannot ignore the need for a systematic employee onboarding process that makes it easy for new hires to understand the work culture, their roles and responsibilities, and get familiar with the team they are going to work with.
2] 72.8% of employers struggle to find relevant candidates for their businesses. [Source: TalentNow]
When it comes to hiring the right talent, there is stiff competition out there, because finding a candidate with the right skill set and experience can be difficult. HR experts recommend maintaining a database of applicants to fall back on whenever there's a requirement in the organization. A HR software is what organizations need for this, which takes us to the next statistic.
3] 97% of HR leaders are planning to increase their investment in recruiting technology by the year 2020. [Source: Rise People]
Investing in new age human resource management systems that offer a recruitment module can help the recruiters reach out to more candidates and also makes the entire process of recruitment quick, effective and streamlined. Not just that, a
paperless system
also offers many other benefits.
4] Employee turnover is 25% lower at companies that support remote work. [Source: Capterra]
Yes, that's a clear indicator that employees today want the freedom to work remotely, even if it's occasional. This explains why organizations are increasingly investing in
enterprise mobility solutions
.
5] 66% of employers are willing to hire and train employees who may not have all the skills for the job, but who show the potential to do well. [Source: Careerbuilder]
HR professionals are giving preference towards hiring employees with the right aptitude for the job, even if they are required to be trained to acquire the desired set of skills.
6] Only 14% of talent acquisition professionals believe AI will take away their jobs. [Source: Global Recruiting Trends]
That AI is all set to grab the jobs of recruitment professional is a myth and we all should wake up to this fact. Recruitment is about building professional relationships and a machine can never replace a human when it comes to understanding human behavior.
7] A staggering 85% of employees globally have reported feeling disengaged at work. [Source: Gallup]
That's shocking, isn't it? Maybe it's time the HR department thought of ways to boost employee engagement. A Human Resource Management software that allows employees to perform various tasks on their own, and allows them access to key information, is one way to get started.
8] 70% employers refer to the social media profiles of the candidate before deciding to hire them. [Source: Business News Daily]
We all knew this, didn't we? After all, what better place to find more about a candidate than on their various social media platforms? Active social media accounts can indirectly add to the credibility of the candidate.
9] 70% organizations have reported that an employee friendly leave policy adds to the productivity. [Source: TalentNow]
Paid family leaves serve as a great motivation for employees, studies indicate. Also, an employee friendly leave policy, coupled with ease of managing leaves with a leave management system can add to the positive employee experience.
10] While 72% of hiring managers say they provide clear job descriptions, a mere 36% of candidates agree. [Source: HR Dive]
Well, this means the recruitment professionals should take note. While posting jobs on multiple channels using advanced new age HR software is a great idea, there's a need to ensure the aspirants understand what the organizations are looking for.
11] 51% of employers say health and wellness benefits will have a bigger impact on enhancing employee loyalty and retaining talent in the next 3–5 years. [Source: Metlife]
Health benefits are at the top of the list when it comes to what employees really want, and this is not going to change anytime soon. A good health benefit program with extended benefits can serve as a perk your employees will appreciate.
12] 78% of businesses say employee well-being is a critical part of their business plans. [Source: Virgin Pulse]
That sure is a good sign, isn't it? It is an indication that organizations are finally taking employee well-being more seriously than ever.
13] There are over 21 different types of HR software including types such as employee wellness, employee benefits, and time tracking software. [Source: G2 Crowd]
Today you have comprehensive Human Resource Management Systems that offer a module for every HR functionality, as well as individual software for every module. This offers enterprises the option to automate one or more HR processes, as per their requirement.
14] 48% of employees are responsible for data breaches. [Source: Staff Monitoring]
The solution is upping the employee data security game by investing in a HRMS software that is designed to offer maximum data security. Thankfully, the new age Human Resource management software offer advanced data security features.
15] 86% of candidates say that a negative interview experience changed their minds about a specific role or company they liked before [Source: LinkedIn]
What organizations need today is to invest in technology to streamline the entire interview process, to make it faster and more effective. An advanced HRMS software is designed to help the recruitment team to view and manage the data related to the interview, from one central location and also track the interview process for each applicant.
Here's all the above HR statistics at a glance in the infographic given below.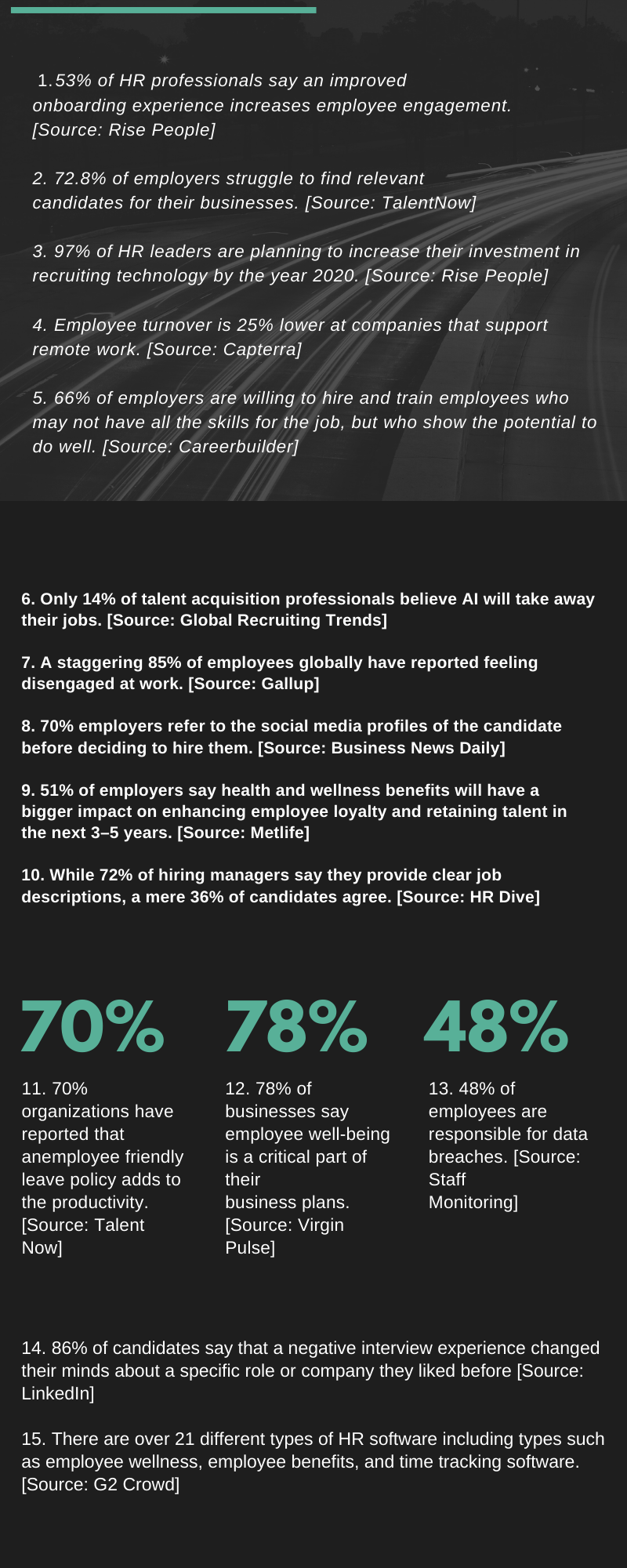 Conclusion:
So, that was a quick glance at the key HR statistics that throw light on the current trends in organizations when it comes to recruitment, employee engagement, employee retention, data security and more. Do you have any interesting statistic to share? Just mention it in the comments section below.