What HR Experts Say about the Importance of HR Technology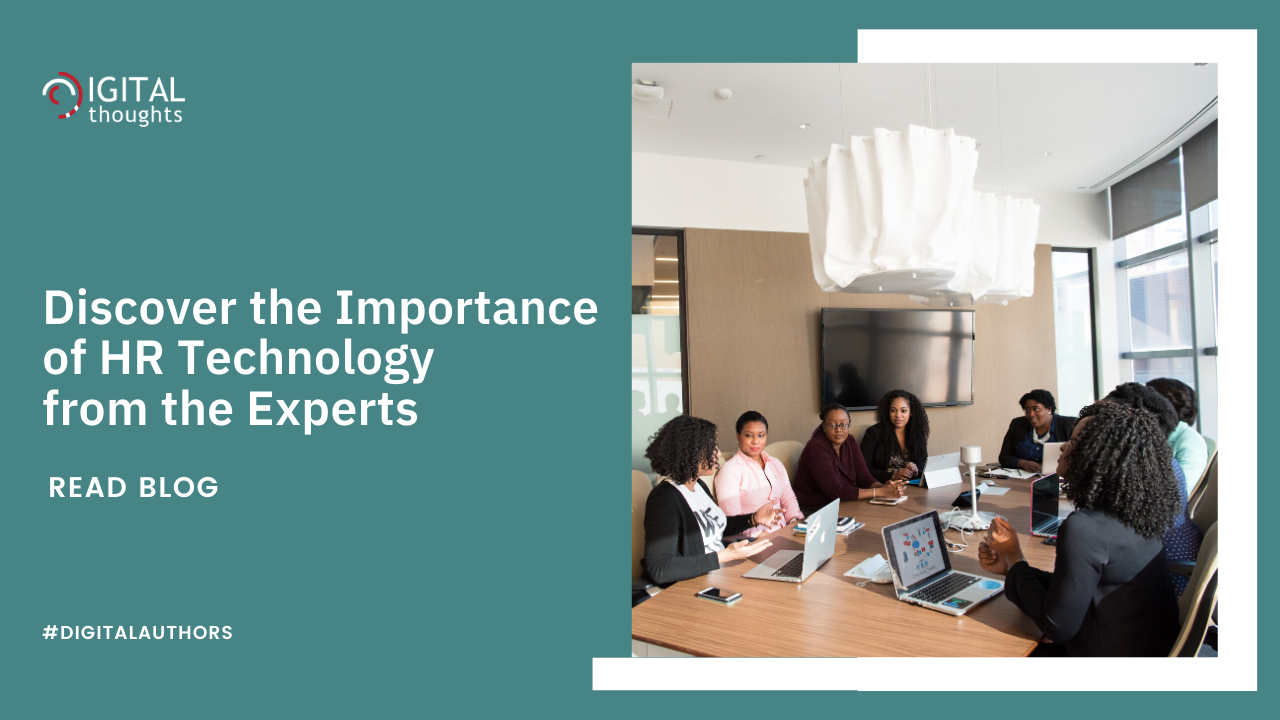 Today every enterprise is taking a step towards digitization and this holds true for every department. Enterprises today are investing in software for the digitization of everything from business processes to technical aspects like software testing. There are many advantages that digitization brings, and increased productivity, higher efficiency and reduced costs are just a few of them. The HR department is one of the key departments in an organization, and the department has many responsibilities. Hence, automation of the HR processes is something that organizations are taking up as a priority. This has created the need for a comprehensive HRMS
software
which is designed to automate every HR task in an effective way, so that the HR personnel can have time to focus on more important tasks at hand.
Whether you're considering to invest in a HRMS software or looking for ways in which the HR software can help you, this blog brings to you some excerpts of what some leading HR experts have said about HR technology. So, let's get started…

1] HR Technology provides Organizations what ERP Systems Cannot
Tim Sackett, President at HRU Technical Resources
and a HR/Recruiting Talent Pro, compares the capabilities of ERP systems with that of core HR technology when he says in his blog, "In a world where big ERP systems are taking over HR technology (Oracle, SAP, Workday) there is a need for technology for organizations that actually need some higher-level ability when it comes to learning, reskilling, performance, and talent management."
Tim tells you why HR technology is irreplaceable even though ERP systems like SAP are taking over the functions of HR software in many organizations today. In his
blog
, he explains why HR technology should matter to you as a business owner. HR technology comes with capabilities that your ERP software can never completely compensate for, when he says, "The enterprise ERP HCM systems are actually fairly good at core HR and payroll, but fairly vanilla when it comes to things like learning, performance, and recruiting." There are aspects like training, performance assessment, employee empowerment and bringing new talent on board, that will always remain beyond the scope of ERP systems, which makes HR software a must-have.
2] Small Businesses & Startups Need to Leverage HR Technology Early On
Sabrina Baker, founder of Acacia HR Solutions
which is a HR consulting firm based in California, recommends that small businesses and startups start investing in HR technology early on, before waiting for the team to grow upto a specific team size. She mentions in her blog, "Whenever a small business asks me when they should make that second HR hire, I ask them to tell me about their technology stack first. It may be that an investment could be made in technology that could irradicate the need for additional support."
Sabrina explains why small businesses need to leverage HR technology before they think of expanding their HR team. In her
blog
, Sabrina says that more often than not, small businesses run HR processes manually with the help of MS Excel or some legacy software that is a far cry from the latest HR technology available today. In such a scenario, there is a huge scope for a HRMS software. She further talks about the 2 primary reasons she recommends investing in technology, as she mentions, "First, implementing technology is cheaper the smaller you are. If you go with a larger tech system you can start with just what you need and then build as you have the additional need and budget to do so. Second, if you hire before leveraging tech, you are simply passing on manual processes to another person. Nothing gets automated or streamlined."
3] HR Technology is a Powerful Means to Employee Empowerment
Karen Azulai, Co-founder of HRTechnation
, insists on the role of the new age HR tech as the ultimate tool for employee empowerment. She states in her blog, "As I see HR Tech now, it is nothing more than a MEANS TO AN END. An ENABLER. And, that is in my opinion, the total and outmost empowerment of people in the workplace…"
Karen talks about how the new age HR solutions are designed to make the employee feel more empowered than ever before. And today, we're indeed witnessing how new age HR solutions are revolutionizing employee empowerment, as employees now have the power to perform basic activities themselves through the HRMS portal. What's more, the new age HR software has made it possible for employees to track the status of the requests they have created. Karen writes in her
blog
, "most CEOs or many CEOs are beginning to realize that employees are actually more important than customers because the employees are not happy, the customers aren't happy either."
4] AI is all Set to Revolutionize HR Technology
Bill Kutik, leading influencer and expert on HR technology
, talks about how artificial intelligence is all set to bring new avenues to HR technology. He mentions in his blog, "Artificial intelligence will be another successful big new technology for HR."
Bill explains how AI will be the next big thing in HR technology. AI is making a big difference in our lives already, with the advent of smart devices like Google Home and the Amazon Alexa. Now, the AI technology has moved into the sphere of business operations and the new age HRMS software is an example. Every other HR software today claims to be powered by AI capabilities and rightfully so. With AI bringing in that factor of smartness, the future looks promising, but currently even though almost every HR Software provider is talking about AI, as Bill says in his
blog
, "almost nobody agrees on what that umbrella term actually means, including full-time AI experts. There were 2,300 attendees at the recent AI World Conference in Boston, with reportedly half as many differing opinions."
5] Ignoring Tech is Commercial Suicide in Today's Business Climate
Barry Flack, HR and Business Change Mentor
, talks about how the enterprises today are waking up to the need for advanced HR technology. In one of his
interviews
, he says, "A decade ago, I was the oddball advocating HR Technology when our profession viewed it as an obvious threat to be managed… Thankfully the tables are turning."
Barry says he has always been passionate about helping businesses adapt to the changing demands of the market. According to him, today adopting HR technology is not just an option but a necessity for businesses to survive the highly competitive market. Talking about how organizations are sometimes not very sure how their employees will adapt to new HR technology, he says, "Whether people fear the risk to their reputation, or the data-related issues, we need to move on from the opinion that we can't trust employees with new technology." He further adds, "HR Tech is an amazing enabler to enhance productivity. It lets us focus on the important stuff, like engaging personally with our people."
So, that was a few ideas shared by leading HR experts on the HR technology and its importance in the current scenario. There are many reasons an enterprise today needs to invest in HR technology and you can explore them in the blog